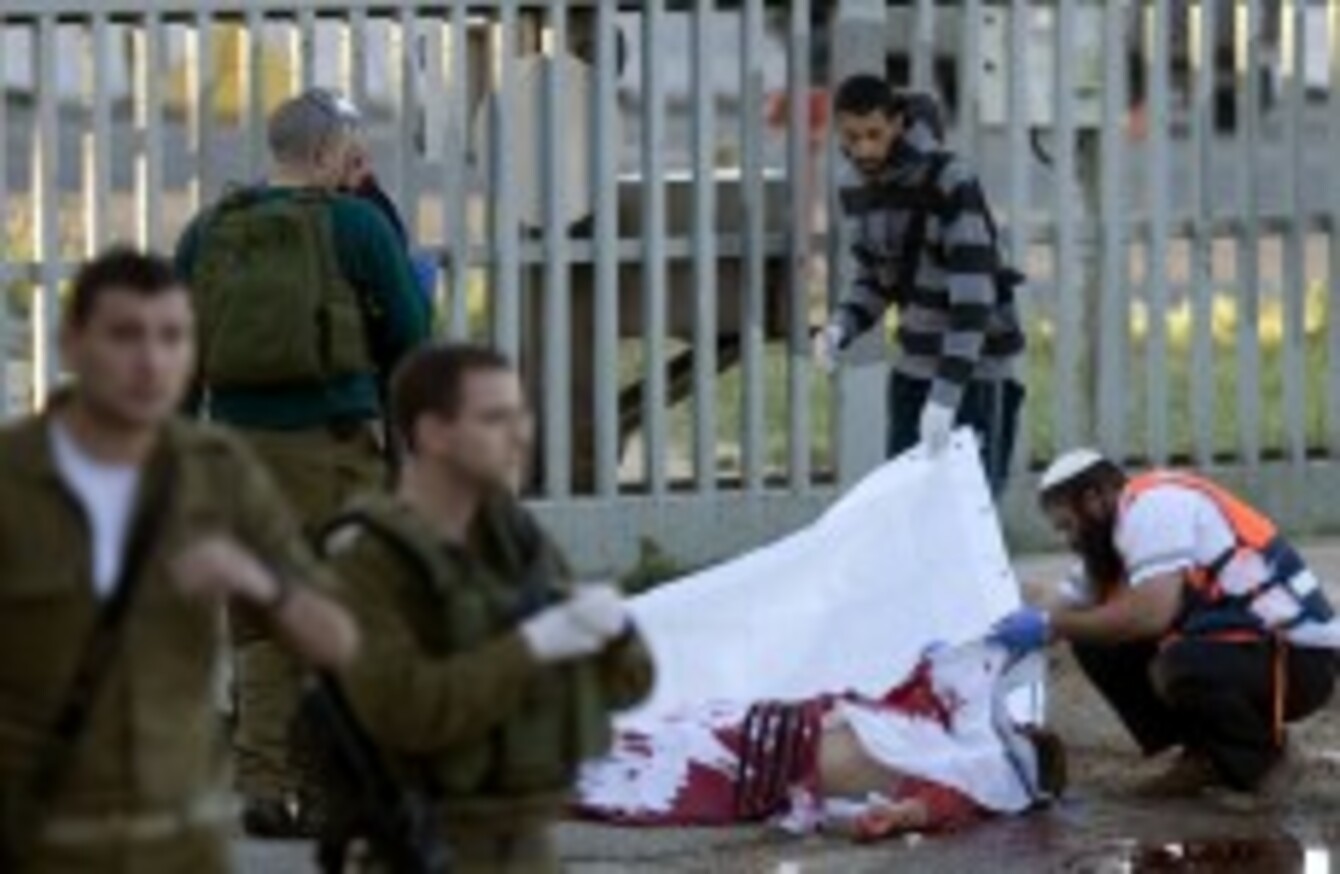 Israeli security officers and paramedics examine the body of the Jewish worshipper shot and killed in Nablus on Sunday
Image: Ariel Schalit/AP/Press Association Images
Israeli security officers and paramedics examine the body of the Jewish worshipper shot and killed in Nablus on Sunday
Image: Ariel Schalit/AP/Press Association Images
A PALESTINIAN POLICEMAN opened fire at a group of Israelis who had come to pray at a Jewish holy site in the West Bank without authorisation, killing one and wounding four on Sunday, the Israeli military said.
The shooting threatened to inflame tensions in the West Bank, where Jewish settlers and Palestinians live in uneasy proximity and where settlers have responded to attacks in the past with violent reprisals.
Israeli police identified the dead man as Ben-Yosef Livnat, a Jerusalem resident in his mid-20s. Israeli media reported that Livnat was the nephew of Limor Livnat, a prominent hardline Cabinet minister from the ruling Likud Party.
Limor Livnat, who attended the funeral, was quoted by the Maariv daily's website as saying her nephew had been killed by a "terrorist disguised as a Palestinian policeman."
Ben-Yosef Livnat and several companions entered the Palestinian city of Nablus early Sunday to visit a site known as Joseph's Tomb.
Jewish worshippers regularly enter the city with a special military escort to pray at the small building traditionally identified as the gravesite of the biblical Joseph, located inside a Palestinian-ruled area.
Those visits are coordinated with Palestinian security forces. Israeli and Palestinian officials said Sunday's visit was not cleared with either side.
Palestinian officials notified the Israeli military that the Israelis "were shot by a Palestinian policeman who, after identifying suspicious movements, fired in their direction," the Israeli military said.
Israeli and Palestinian security forces work closely together to prevent violence. A meeting between the sides was scheduled Sunday to discuss the shooting, the military said.
Jibril al-Bakri, the Palestinian governor of Nablus, said the Palestinian Authority was investigating. "The main problem is that they (the Israelis) entered the city without coordination," al-Bakri said.
Israel's defense minister, Ehud Barak, termed the shooting "murder."
"No coordination error can justify such an incident and shooting at innocent people," he said in a statement.
Shortly after the incident, a crowd of Palestinians gathered at the tomb and vandalized the empty building, setting fires inside and throwing stones.
Hours later, Jewish settlers attacked Palestinian cars south of Nablus, setting fire to one after its passengers fled and stoning passing vehicles before Israeli soldiers dispersed them.
The Palestinian Authority governs parts of the West Bank, though Israel retains overall security responsibility. Nablus moved from Israeli to Palestinian control in the mid-1990s as part of the Israeli-Palestinian peace process.
- AP