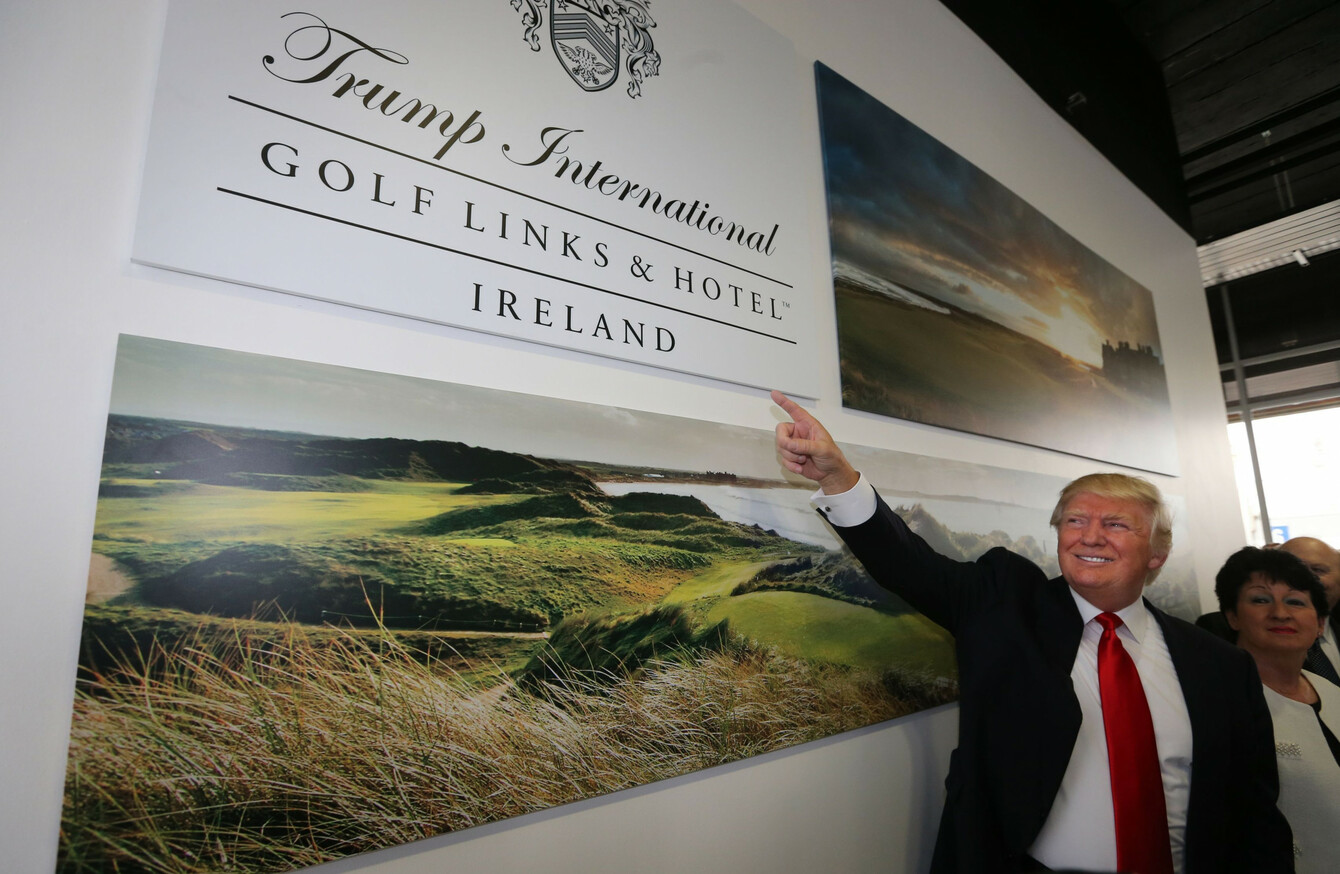 File photo
Image: Niall Carson
File photo
Image: Niall Carson
OPERATING LOSSES AT the Trump-owned Doonbeg golf resort in west Clare almost halved to €330,030 last year as revenues increased.
That is according to new accounts just filed by TIGL Ireland Enterprises Ltd with the Companies Office which show that the firm's operating losses reduced by 46% from €610,117 to €330,030 as revenues increased by 15% from €9.2 million to €10.66 million.
The Trump Organisation has been investing millions into the course since its knockdown purchase of the property in February 2014 and the resort's directors state that they are confident that the resort will return to operating profit this year.
The accounts show that the company recorded a pre-tax loss of €1.74 million in 2017 and this was 12% down on pre-tax losses of €2m in 2016.
The €1.7 million pre-tax loss includes non-cash depreciation costs of €1.4 million.
US president Donald Trump's sons, Eric and Donald Junior remain on the board of the TIGL firm – Trump and his daughter, Ivanka stepped down as directors on 19 January 2017 – one day prior to President Trump's inauguration.
The directors state that the company carried out a capital spend of €1.4 million in 2017 to improve the golf course and property which came after a capital spend of €3.1 million in 2016.
The firm received a further €2 million cash injection from the Trump Organisation in 2017 and this followed a €4.5 million cash injection in 2016.
The directors state that they are confident "that in the forthcoming year, the continued redevelopment will contribute positively to an increase in turnover and the return of operating profits in 2018".
The business currently has plans for a €40 million development that includes 53 cottages along with new conference and  leisure facilities.
The directors state that the new plan "if approved will have a positive impact on top line revenues, enhance the customer experience and have a positive effect on trading results for the entity".
At the end of December last, the firm had shareholder funds of €20 million.
This was made up of accumulated loses of €8.7 million and 'other reserves' of €29 million.
Numbers employed by the business last year increased from 200 to 213 as staff costs increased by 14% from €5.26 million to €6 million.
The firm's tangible assets had a book value of €20.8 million at the end of last year.
General Manager with Trump Doonbeg, Joe Russell said: "We are pleased with our continued growth last year, underpinned by an excellent performance from our golf operation, growth in members and increase in bed nights.  2018 is going to out perform last year overall."