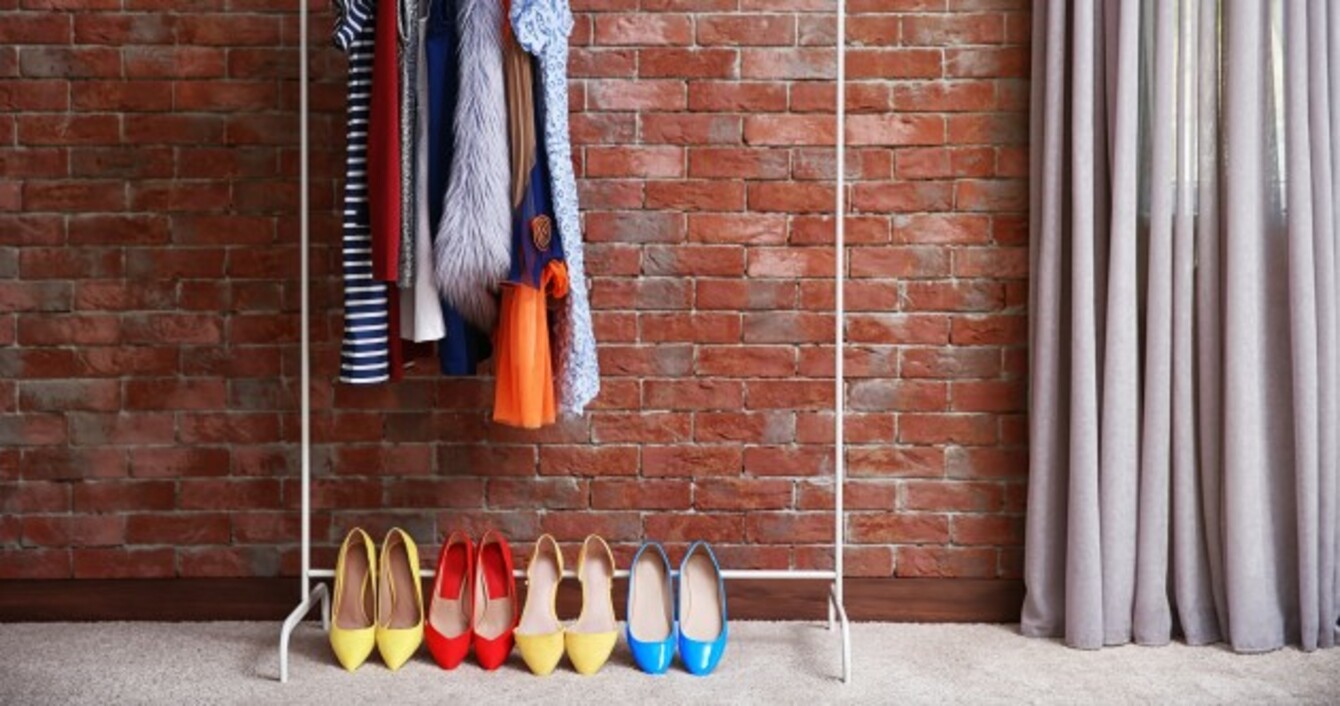 Image: Shutterstock/Africa Studio
Image: Shutterstock/Africa Studio
READY FOR A wardrobe clear out? First things first – put the bin bags down for a second.
Before dressing the outside, you have to address what's inside: no amount of organisation hacks or clever Pinterest ideas will make up for not exploring any of the emotional reasons why you might have a way-too-full wardrobe.
"Our closets are more than just a collection of clothes – they are a collection of our memories, emotions that have built up over time, which is why we find it so difficult to get rid of stuff," says Annmarie O'Connor, fashion editor, stylist, 'wardrobe wellness coach' and author of The Happy Closet. She helps people declutter their wardrobes by using mindfulness techniques.
"It's often emotional hangups and the unconscious habits that create war in our wardrobes."
Here's how to tackle them. 
1. Start with the emotional stuff
Festival t-shirts, a dress you wore on a date, or those I'll-fit-into-them-someday-jeans can create little points of stress and friction every time you get dressed. Of course, it's okay to hold onto keepsakes, but Annmarie recommends trying to avoid keeping stuff just for the sake of it.
If it's a truly precious memento, consider boxing it up in storage so at the very least you're not having to move it out of the way every time you go hunting for something to wear to work.
2. Dress for who you are now
For a truly hardworking wardrobe, you need to dress for the person you are today. "We either dress the person we were or the person we wish to be, and rarely do we fall kind of somewhere in the middle, which is who we are today," says Annmarie.
Looking at your wardrobe through this lens will make it much easier to figure out what to cut and what to keep. "The architecture of our life changes in so many ways, you need to have regular audits and weigh up each item according to your needs right now."
3. Declutter as if you were shopping
While a good declutter can be cathartic, it's not a case of simply chucking anything you haven't worn in a while. Instead, try using this as an opportunity to curate your wardrobe – have you got a collection of go-to basics? Are there any gaps that would help pull things together and work harder (eg a pair of black jeans, a smart blazer)?
"It's not about getting rid of everything, Marie Kondo-style, because sometimes you have something that does spark joy, you just haven't figured out how to wear it yet, but you know it has potential," says Annmarie. "You have to put in the effort, test things out. Your lovely trousers aren't just going to jump off the hanger and go 'I have an idea, I think I would look good with this T-shirt'."
4. Does your wardrobe pass the Ryanair test?
Having interchangeable pieces that work well together is the secret to a clutter-free wardrobe and stress-free dressing. "Basics that function well help you create harmony. It's important that everything speaks the same language, otherwise it's going to be like Babel's Tower." Hardened hoarders might struggle to figure out what should go and what can stay, and this is where Annmarie's 'Ryanair theory' comes into play.
"This test shows how excess clothing can hold you back. There are 20 pieces of clothing that can give you two weeks' worth of outfits. Think about filling a small airline case and try use it for a week to see if you can get by. You'll be surprised to find you don't actually need all that stuff."
5. Separate out anything off season
The Irish weather can make seasonal dressing laughably hard – you might need your sunnies and shorts today only to be pulling on a jumper and grabbing a brolly tomorrow. However, keeping seasonal items either packed away or in a separate space can free up a lot of space.
This is especially true for bulky coats and jumpers. "I have two closets," says Annmarie. "I have the closet that I use every day and then I have one with coats, a few sweaters, boots and stuff like that."
6. Store like with like
Once you've culled, you can go about storing things in a way that will help prevent future pile ups. Aim to sort first by type – shirts with shirts, trousers with trousers etc – and then by colour. This means next time you go shopping and are tempted to buy yet another white shirt, you'll have a visual image of the five near identical ones hanging in your wardrobe already.
7. Hang, fold or roll?
When it comes to storing and sorting, Annmarie advocates a blended approach. "I fold things like jeans and jumpers, because they take up a lot of room, and I hang everything else." Doing things this way creates the boutique effect, and makes it much easier to see what you have.
Now that you have a well edited collection, it's time to hit up Pinterest for ideas based on the type of space you have.
Command strips and hooks inside wardrobe doors are great for accessories, using old shoe boxes as drawer dividers can help keep things tidy and vertical storage solutions can quite literally double the amount of space in a small wardrobe.
Some basic hanging etiquette can go a long way as well. Keep bulkier wooden hangers for heavy things like coats and cardis and go for good quality thin ones for everything else as they take up the least amount of space. When it comes to folding, instead of piling things on top of each other try stacking them so you can see them (filing cabinet style). "This way, pulling something out isn't going to cause an avalanche," says Annmarie.