Oscar Pistorius arriving in court in Pretoria today.
Image: Themba Hadebe/A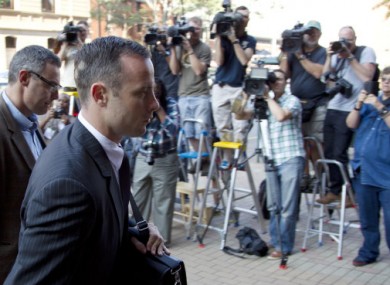 Oscar Pistorius arriving in court in Pretoria today.
Image: Themba Hadebe/A
POLICE PHOTOGRAPHS OF the blood-spattered scene where Oscar Pistorius shot his girlfriend dead indicated that evidence was moved around in violation of procedure during the investigation of the killing, the chief defence lawyer said in court today.
Warrant Officer Bennie van Staden took hundreds of photos of the scene, including of blood marks, bullet casings, a gun and a cricket bat found inside Pistorius' bathroom in the hours after the double-amputee athlete killed girlfriend Reeva Steenkamp before dawn on 14 February last year.
Lawyer Barry Roux has challenged previous police witnesses, seeking to uncover contradictions and reported mishaps to support his argument that officers bungled the investigation. He asked van Staden to explain differences in photographs of the 9 mm pistol that Pistorius used to shoot Steenkamp through a closed toilet door, and of a cricket bat that the Paralympian used to hit the door.
"It seems there was movement of the bat" in the interval between two photographs taken by van Staden, Roux said.
"It seems like that," van Staden conceded.
The police photographer also acknowledged that two photographs of the gun indicated that a mat underneath it could have been shifted. Roux said one photo also differed from the other because it showed a wooden splinter on the gun handle, and he questioned van Staden's statement that he remembered being alone while taking photographs.
"Are you sure that you were alone up there?" Roux said, citing timelines from the photos of another officer as evidence that they were in the same area at the same time. "There was a great overlap early in the morning … You were together in the bathroom, sometimes together in the bedroom."
Van Staden said he was sure that he was alone.
He has said he took nine photographs of Pistorius soon after the shooting, with the athlete seen in some of the images standing in blood-stained prosthetic legs and wearing blood-soaked shorts in the garage of his home.
Pistorius, 27, is charged with premeditated murder for killing Steenkamp, 29. He pleaded not guilty to murder and says he shot his girlfriend accidentally, thinking she was an intruder in a toilet cubicle in the bathroom, and that he struck the toilet door with a cricket bat to get to Steenkamp after realizing what he had done.
Prosecutors charge that Pistorius killed Steenkamp after an argument.
Van Staden's testimony was delayed by over an hour today give the policeman time to collect photo records and discs at the defence's request. The defence also requested results of gunshot residue tests conducted on Pistorius.