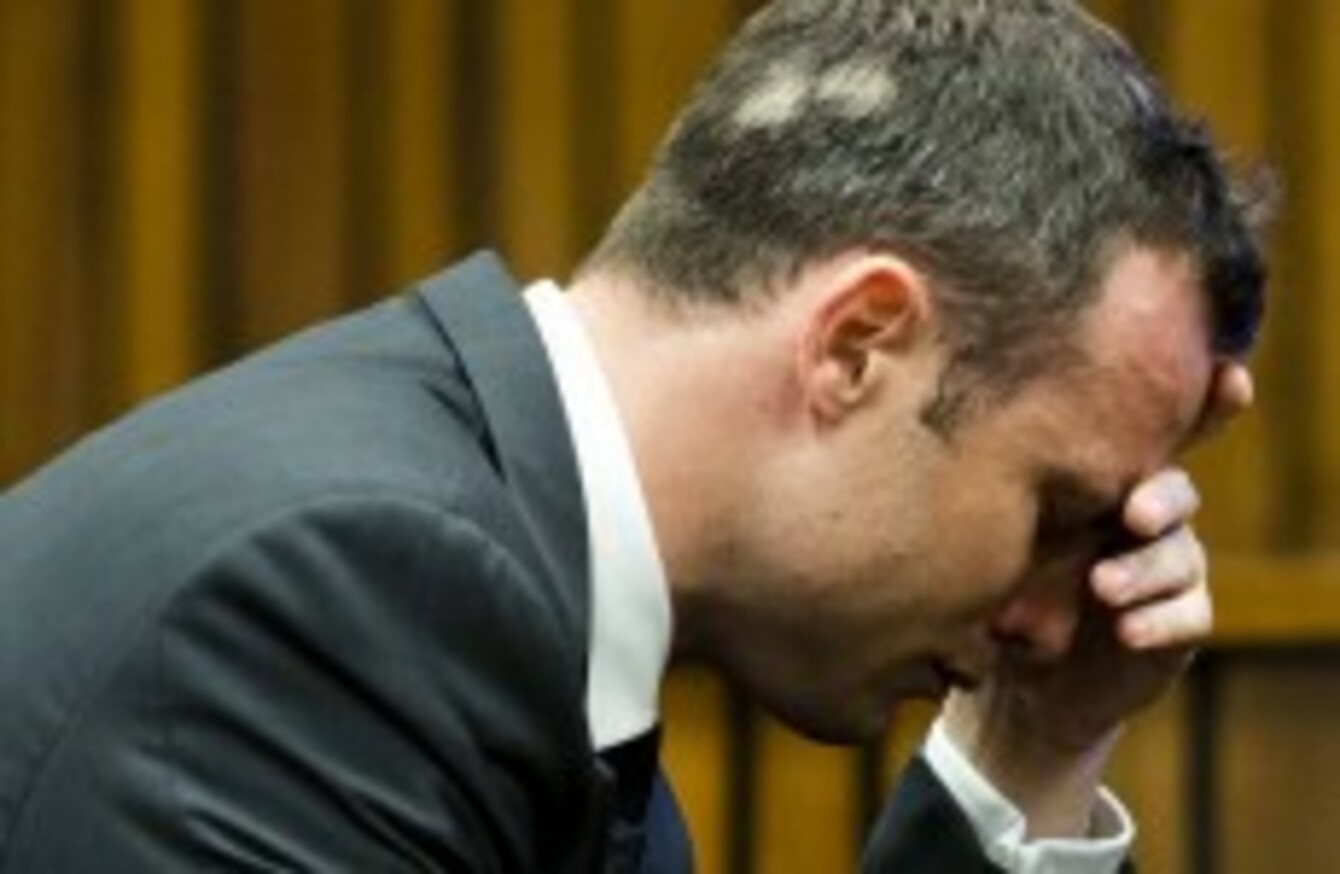 Oscar Pistorius puts his hand to his face while listening to cross questioning about the events surrounding the shooting death of his girlfriend Reeva Steenkamp
Image: AP Photo/Theana Breugem
Oscar Pistorius puts his hand to his face while listening to cross questioning about the events surrounding the shooting death of his girlfriend Reeva Steenkamp
Image: AP Photo/Theana Breugem
A SECURITY GUARD who said he spoke with Oscar Pistorius soon after the fatal shooting of Reeva Steenkamp was questioned by the defence today about his recollection of the sequences of the events that night.
The sequence is important for the defence because, if it can prove that Pistorius called security first, it could support the contention that he was seeking help as quickly as possible.
Testified
The guard, Pieter Baba, had recalled a conversation with Pistorius, who killed Steenkamp in his home in the early hours of Valentine's Day last year.
Baba testified on Friday that he called Pistorius and was told "everything is fine" on the telephone. Baba said Pistorius then called him back moments later, didn't speak, was crying and the second call then ended.
Baba said he was responding to neighbours' reports of gunshots coming from Pistorius' home after 3am on February 14, 2013. He drove with a fellow guard to Pistorius' villa and made the call from outside the house.
Baba's statement that he called Pistorius first could back the prosecution's case that the killing was premeditated, and that Pistorius was trying, at least initially, to conceal what he had done.
Today, however, Roux said call records showed Pistorius called security first, but couldn't speak because he was "indeed crying."
Pic: AP Photo/Schalk van Zuydam
"I'm the one who called him first," Baba insisted.
"His call was first and your call was second," countered Roux, saying he had documents, including one from the police, which showed his assertion to be true.
"I put proof in front of you that Mr Pistorius called first," Roux said, referring to the call records from the night. Roux said Pistorius had called before the guards went to his house.
"If Mr Pistorius called me first, then I would have known that something was wrong at his house," Baba replied, repeating his version.
Roux also asked the guard if Pistorius had not said "I am ok" or "I am fine" and not everything is fine.
Baba has denied that.
Pistorius, an Olympic runner, is charged with premeditated murder for Steenkamp's shooting death. The 27-year-old Pistorius says the killing was accidental because he thought his girlfriend was a dangerous intruder in a toilet cubicle in his home.