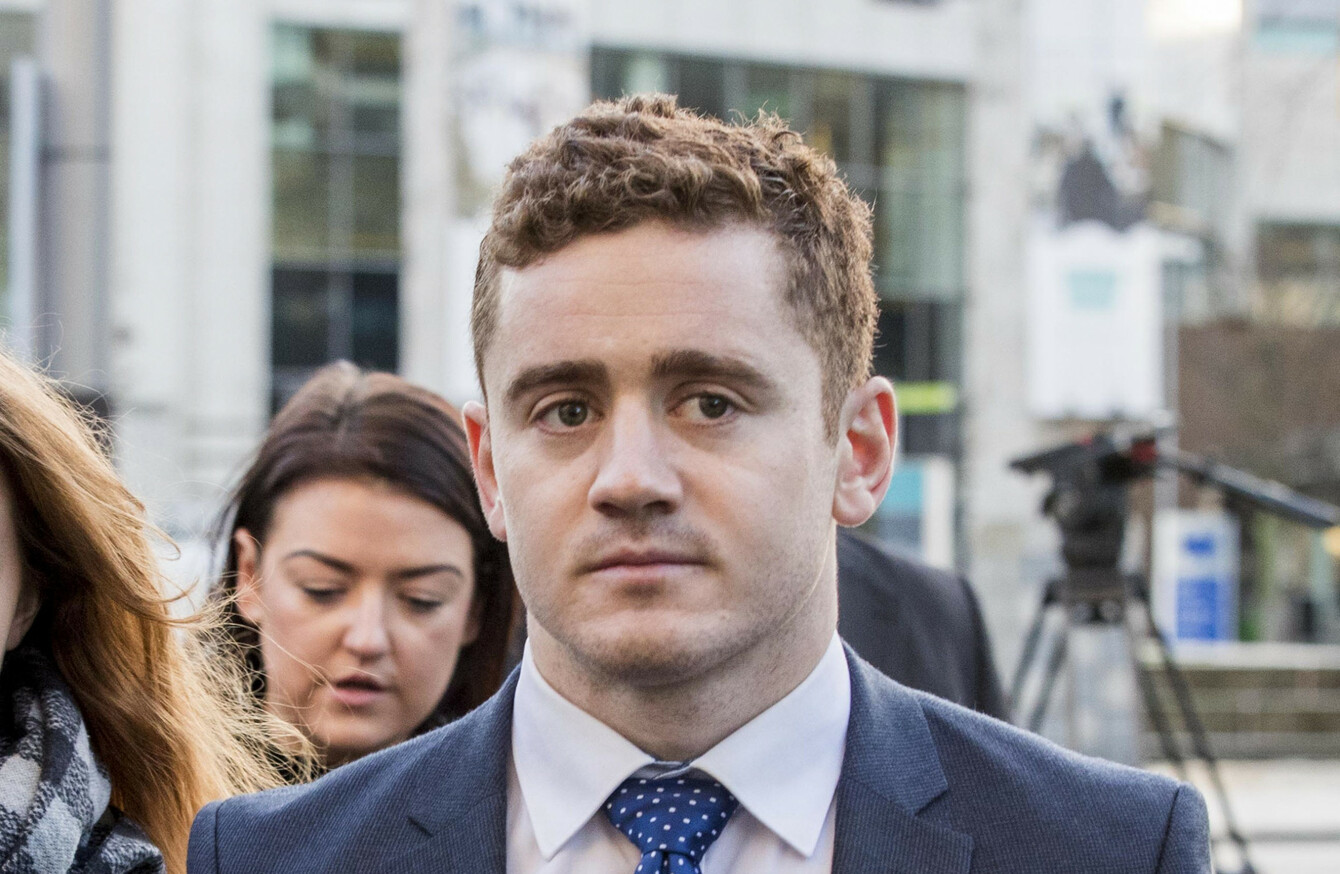 Paddy Jackson arriving at Belfast Crown Court yesterday
Image: PA Wire/PA Images
Paddy Jackson arriving at Belfast Crown Court yesterday
Image: PA Wire/PA Images
Update 2.35pm
A STUDENT WHO claims she was sexually assaulted by international rugby players Paddy Jackson and Stuart Olding broke down today as she told of the moment she was pushed onto a bed and raped.
The 21-year old, who cannot be named to protect her identity, told a jury at Belfast Crown Court that she told Jackson, "I don't want this to happen", but "he kept going".
The woman alleges she was raped by Jackson (26) in the bedroom of his Oakleigh Park home in the city after a night out in Belfast, and that during the attack she "froze".
Breaking down on several occasions as she gave evidence from behind a screen, the woman said that when Jackson's teammate Stuart Olding (24) entered the bedroom "my heart sank … I knew what was going to happen".
She said she was raped at the same time by both men, and when a third male, 26-year-old Blane McIlroy entered the bedroom naked and with his penis in his hand, she said: "It was at that point that my fight instinct kicked in."
All three men are standing trial, alongside a fourth defendant Rory Harrison (25), on charges arising from the alleged incident in the early hours of 28 June 2016.
Jackson from Oakleigh Park in Belfast, and 24-year old Olding, from Ardenlee Street, have both been charged with rape, while Jackson also faces a charge of sexual assault.
Blane McIlroy, from Royal Lodge Road in Belfast, has been charged with exposing his genitals, and Rory Harrison from Manse Road, is facing charges of perverting the course of justice, and withholding information.
All four men have denied all the charges against them.
The jury of nine men and three women heard how the woman had been with friends in Olly's nightclub and had gone back to Jackson's house.
She said she didn't follow rugby, had never been to an Ulster rugby match and had only met Jackson once, briefly in a social setting.
The woman – who drank one and a half large glasses of wine in her friend's house before Olly's, following by three double vodkas in the club – believed she was going to an after-party in Jackson's, and thought her friends would also be attending.
Telling the jury she soon realised it was "by no means a party", she said those present were Jackson, Olding, McIlroy, Harrison and three girls were friends of a friend.
When she was asked if anything had initially occurred between herself and Jackson back at the house, she said:
Yes, we kissed. It was completely consensual but it was instigated by Patrick Jackson.
"He tried to undo my trousers, but I told him firmly I wasn't interested and went back down the stairs." When asked by Crown barrister Toby Hedworth QC if at that point Jackson "tried to take matters further", she replied "No."
The woman said she soon felt "the mood has shifted" in the house, she believed it was "abundantly clear no-one else was coming back to the house, there wasn't going to be a party, so I decided to leave".
She looked for her clutch bag and after realising she had left it upstairs, she went back to retrieve it.
She tearfully said:
The image I have stuck in my head is of Patrick Jackson standing at the foot of the bed. I'm not sure whether that was before or after I got my clutch. After already telling him I didn't want to do anything further with him, he grabbed my trousers by the waistband.
"He undid them and pulled then down to my knees. In that moment you think you are going to kick and scream and fight, but it doesn't work that way.
"I just froze. I knew where this was going but… it just happened so quickly. The next thing I remember is, he pushed me down on the bed. Because I was wearing white trousers, they were quite tight so when he pulled then down, they caught on my knees. I couldn't actually move.
"After that it just went so quickly. The next thing I remember is lying face down on the bed and he was having sex with me."
When asked by Hedworth if Jackson said anything, she answered: "No. I tried to push his hand away when he started. Verbally, I had already told him I didn't want things going any further. There was nothing about me physically that was telling him to keep going.
I knew I didn't want this to happen, but he kept going.
The woman said Olding then came into the bedroom. She said: "My heart sank. I knew what was going to happen. I looked Patrick Jackson straight in the eye and said, 'Please no, not him as well.' The next thing I remember is my trousers are off. Patrick Jackson was behind me having sex and Stuart Olding was forcing me to give him oral sex."
The student said while she was being sexually assaulted by the two rugby players, one of the girls who had come back to the house opened the bedroom door.
She said she thought she was going to be filmed as lots of pictures had been taken down the stairs. The woman said the door opened, the girl said 'oh' and then told the court "Patrick Jackson asked her if she wanted to stay. I can't remember her exact response, but it was a no, and she shut the door."
#Open journalism No news is bad news Support The Journal

Your contributions will help us continue to deliver the stories that are important to you

Support us now
Saying she "couldn't stop" what was happening to her, the woman broke down again as she recalled a "completely naked" McIlroy walking into the room with his penis in his hand.
She managed to get off the bed, telling the court and jury:
It was at that point that my fight instinct kicked in. There was not a chance I was letting that happen again.
Describing McIlroy's stance as "so agressive", the woman claimed that as she was leaving the bedroom, she said: "How many times does it take for a girl to say no, for it to sink in."
She added: "I ran down the stairs and out of the house."
She said Rory Harrison then came to her aid, and offered to take her home in a taxi. Saying she was a "complete mess" and at this point was bleeding, the woman said Harrison comforted her and got her home.
When asked if she reported the matter to police immediately, the woman said she didn't, as she felt she wouldn't be believed.
And when asked what made her change her mind, she replied: "Because the more I thought about it… Rape is a game of power and control. They rely on your silence, and you take the power back over the situation when you actually do something about it.
Going to the police meant I was doing something about it, I was preventing it happening to someone else.
"It could easily have been any one of my friends standing outside Olly's. It could easily have been my sister outside Olly's."
She said going to the police was "the best decision I made".
She added: "No-one should have to go through what I went through. People can't just think they can get on like that and it's okay, nothing is going to happen. I am not going to stand for it."
The trial continues.
Comments are disabled as legal proceedings are ongoing.