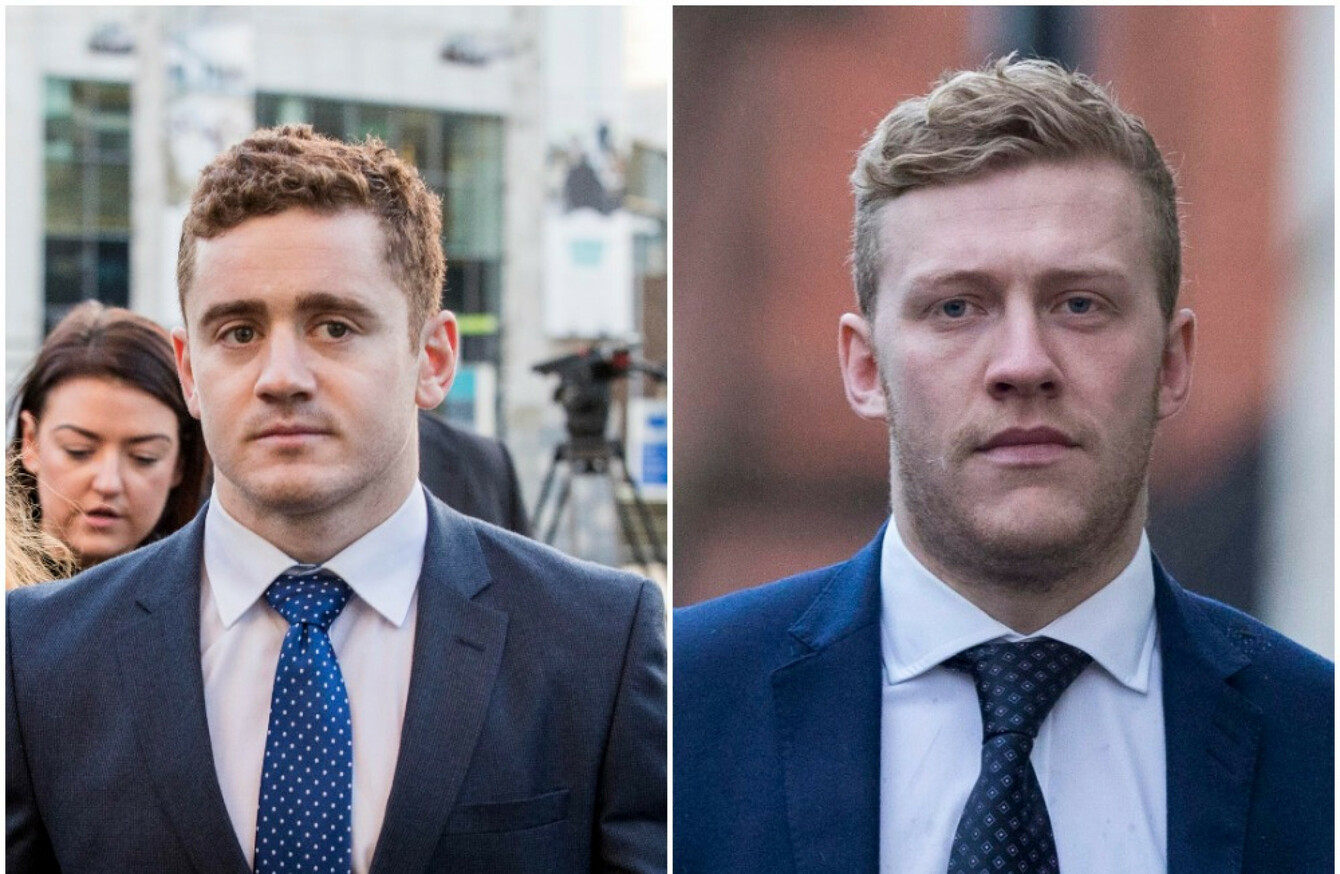 (L) Ireland and Ulster rugby player Paddy Jackson (R) Ireland and Ulster rugby player Stuart Olding.
Image: Liam McBurney/PA Wire/PA Images
(L) Ireland and Ulster rugby player Paddy Jackson (R) Ireland and Ulster rugby player Stuart Olding.
Image: Liam McBurney/PA Wire/PA Images
A YOUNG WOMAN at the centre of a high-profile rape trial at Belfast Crown Court today confirmed she consensually kissed Paddy Jackson prior to the alleged incident – but said "that's not indicative of consent for anything else".
As she spent her fourth day in the witness box at Belfast Crown Court, the 21-year-old student said the kiss wasn't "that passionate" and ended when Jackson "start[ed] to undo my trousers".
The student has accused 26-year-old Jackson and his 24-year-old teammate Stuart Olding, from Ardenlee Street in Belfast, of raping her in the bedroom of Jackson's Oakleigh Park home in the early hours of Tuesday 28 June 2016.
Jackson has also been charged with sexually assaulting the woman, with all charges denied by the pair.
As her cross-examination by Jackson's barrister Brendan Kelly QC continued, she was asked about the kiss she and Jackson shared prior to when she claimed she was raped by him.
When asked if her "focus" back at Jackson's was on the rugby player, and whether she was attracted to him, the woman – who was 19 at the time – said you didn't need to be attracted to someone to kiss them.
She has already told the jury that she kissed Jackson once upstairs, returned back to the party, but went back upstairs to retrieve her bag as she wanted to go home. She claimed that at this point, she was then raped by Jackson, before being forced to perform oral sex on Olding.
When asked again about this kiss, she agreed it was consensual. She claimed Jackson instigated the kiss, and when asked if it was a 'proper kiss', she told Kelly "to be honest he sort of lunged at me".
Kelly then asked if the kiss was passionate, to which she replied: "It didn't last long before he started to try and undo my trousers. It wasn't that passionate."
And when asked by the barrister "If you didn't like him, why were you kissing him in his bedroom?", she said "I'm not entirely sure".
She also rejected a suggestion from Kelly that Jackson left the bedroom first because he "became tired" of her teasing him. Instead, she said she went back down the stairs after he tried to undo her trousers.
When the woman was questioned about the alleged rape, and when she was asked if the incident started with a second consensual kiss between her and Jackson, she said: "That's completely incorrect."
She said Jackson "wasn't taking no for an answer", that "everything about me was saying no physically", and said "you cannot underestimate how scared you are in those situations".
When Kelly proposed that the activity between her and Jackson amounted to "mutual sexual touching", she answered "that is completely incorrect".
Kelly then said: "Within a short period of time, Stuart Olding opened the door and entered the room. Why did you not say to Stuart Olding 'Paddy Jackson is raping me, can you help?', to which she replied "because it was obvious what Stuart Olding's intention was as well."
She denied she "motioned" towards Olding then performed oral sex on him, saying "that wasn't how it worked out", and reiterated her claim that any activity in the bedroom was "non-consensual".
Rory Best
The judge presiding over the trial of the two rugby internationals accused of raping the woman also addressed the jury today on media coverage surrounding the presence of Ireland captain Rory Best.
Best attended last Wednesday's hearing and was seen in the public gallery – which attracted attention both on mainstream and social media.
Judge Patricia Smyth told the jury of nine men and three woman: "You may have been aware of press coverage or coverage of some nature about the appearance at this trial of Mr Rory Best, who I understand is the captain of the Ireland Rugby team.
"I want to make it absolutely clear to you, and I want to make it clear to the public, the only reason Mr Rory Best was in this court last week was because he was directed to be here by senior counsel.
"That's the reason why he was here, and as a jury you should know that."
Comments are closed as the case is before the courts.