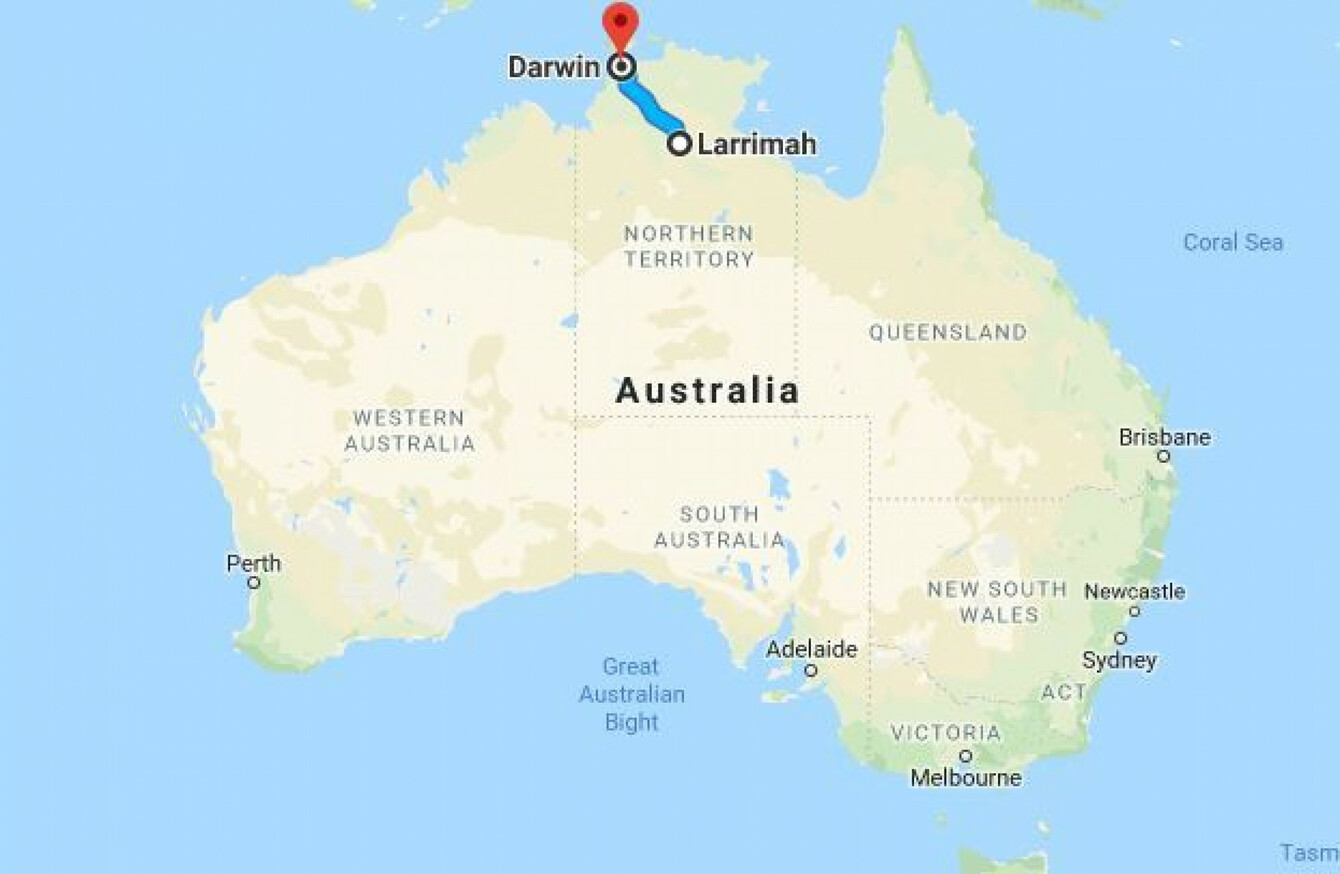 The isolated town of Larrimah, south of Darwin
Image: Google Maps
The isolated town of Larrimah, south of Darwin
Image: Google Maps
POLICE IN AUSTRALIA say it is unlikely that an Irish man, who has been missing in the Outback since mid December, will be found.
70-year-old Paddy Moriarty, who emigrated from Ireland in the 1960s, disappeared in his home town of Larrimah on 16 December.
"No, I don't (think Moriarty is alive)," Detective Sergeant Matt Allen of the Northern Territory Police told Australian network ABC for an in-depth report on the disappearance.
We conduct routine checks. We check banks, we check transport companies, we check Centrelink where he was on some sort of pension where he gets regular payments.
"All those signs of life have been checked with unfortunately negative results. There is a remote possibility but I would say it's unlikely," he added.
Isolated Larrimah is situated some 430 kilometres south of Darwin in Australia's northern territory, at the end of the 3,000 km-long Stuart's Highway.
Local authorities say that Moriarty's disappearance is compounded by the fact that he lived alone and had a highly-structured routine to his daily life – which involved drinking eight beers in his local pub the Pink Panther each evening before returning home before dusk.
On 16 December, Moriarty and his dog Kellie left the Pink Panther to return home. They were never seen again. The alarm was raised the following afternoon when he failed to show up in the pub as was his custom.
Local feuds
The population of Larrimah is barely a dozen, with local enmities and feuds leaving a situation where next door neighbours often ignore each other completely.
ABC's report meanwhile suggests that Moriarty was far from popular with many of the local residents.
But each in turn has denied having anything to do with his disappearance.
His house remains untouched – his glasses, wallet, and hat are all accounted for, and his vehicle, a quad-bike, is still in his driveway.
#Open journalism No news is bad news Support The Journal

Your contributions will help us continue to deliver the stories that are important to you

Support us now
The only other thing missing bar Moriarty himself is his dog Kellie – whom local police believe may be key to explaining the mystery.
"The key to this is the dog, the dog hasn't come back," said local mechanic Mark Rayner.
Find the dog, you find Paddy, we think.
Allen suggests that the dog may have been left at a shelter or with a vet and will lead police to find out what's happened to her owner.
Attempts to contact Moriarty's relatives (if they exist) in both Ireland and Australia have meanwhile proved fruitless.
Police have compiled a portrait of a capable, confident, and fit man, with no criminal record worth mentioning.
"The investigation is ongoing, whatever it takes, as long as it takes. We are not going to give up looking for Paddy and his dog Kellie," says Allen.