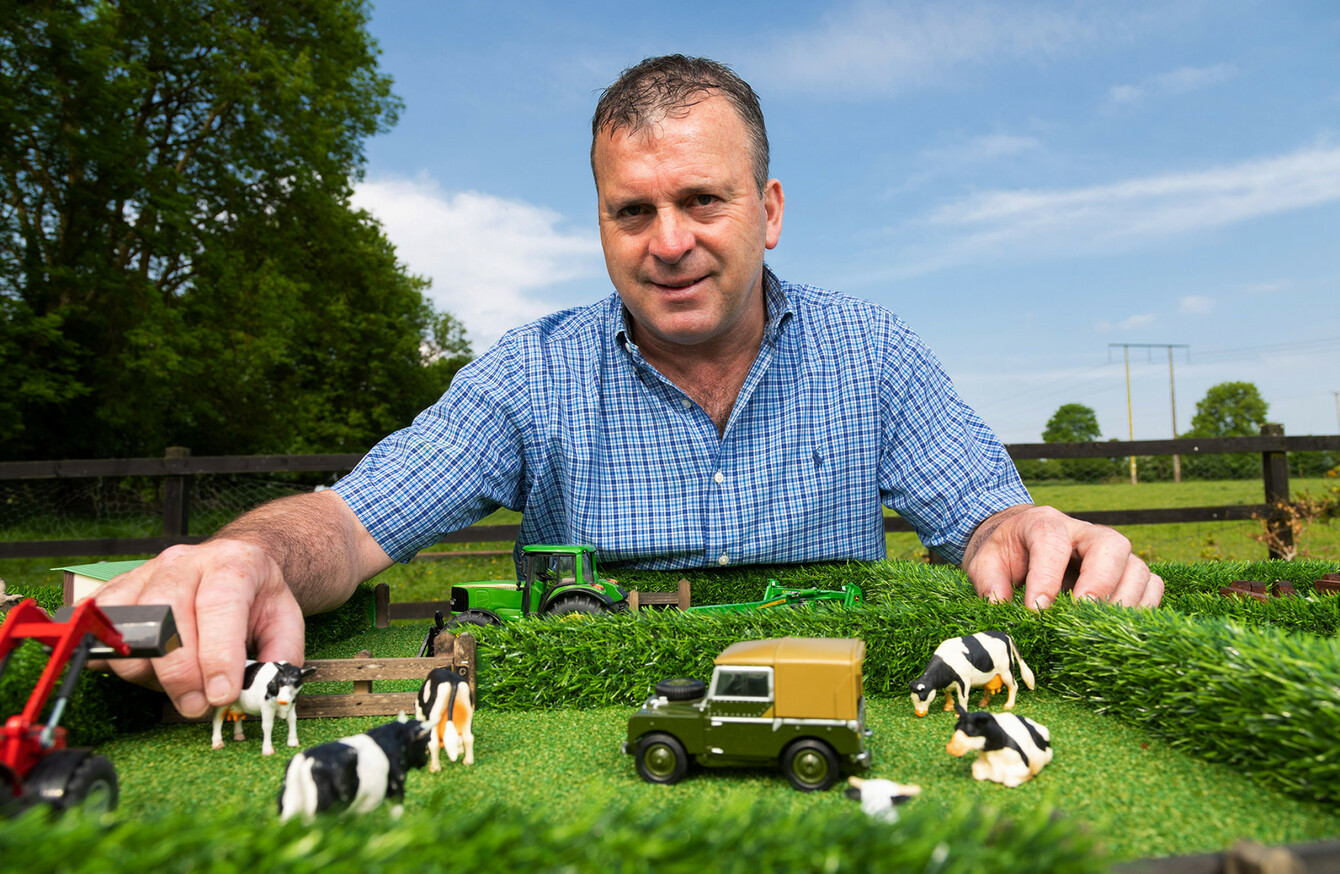 Image: The Field
Image: The Field
PADRAIC CUDDY HAS never been far from green fields, going from a background in farming to starting his own synthetic grass business 10 years ago.
From small shoots, the Roscommon man built up his company, Class Grass, which now supplies schools, crèches, gyms and homes across the country.
However, the business ended up going in a very different direction about four years ago when Cuddy received a request from his son.
"My son Tommy was three years of age and he was really into tractors, farms, that sort of thing. My wife asked if I'd make him some sort of little field out of the artificial grass," Cuddy tells Fora.
"So I came back one evening with a very basic mock-up of a field. Tommy spent an awful lot of time playing with it, then his friends saw it and more requests starting coming in."
Cuddy says he was asked by family and friends to make more of these toy fields for their children, and soon he began to think that this could become more than just a side project.
"We felt the children were telling us something. I went onto Google and tried to buy an artificial grass toy field, and no matter what site I went on, I couldn't find anything like this.
"I realised there's a huge market – there's 60,000 or 70,000 more three-year-olds in Ireland who might like a field. So we followed our hearts and said, 'Let's try to make something out of this.'"
After Christmas 2014, Cuddy says he started taking the project "a lot more seriously". He designed a miniature toy field based on his original prototype, using artificial grass with hedges and wooden gates, and space for children to add their own farm toys.
"It's as simple a story as that," he says, referring to the origins of The Field.
Toy Show
Cuddy launched The Field at the National Ploughing Championships in September 2015, and after receiving positive feedback, he decided to apply for it to appear on the Late Late Toy Show.
"The day RTÉ called and said they wanted to feature us on the Toy Show for the first time, I rang my wife and I cried down the phone," Cuddy says.
That was an incredible experience. We've had some great moments with the business but that was such an early vote of confidence for us.
Cuddy says that as it was live television, he was given "no guarantees" that The Field would be featured, but the business got a "lucky break" when Ryan Tubridy played with the toy in front of 1.5 million viewers.
"It was very exciting. It was amazing to see a toy that young in the market featuring quite heavily on the show – The Field had only been launched eight or 10 weeks before," he says.
"We'd put in all that effort creating it over the previous nine months and now all of a sudden we were on the television. It gave us the confidence to go on and develop more products."
The following year, Cuddy launched a larger-sized field and soon enough he was headed for the Toy Show once again with his latest product.
"We actually got a phone call from RTÉ this time before we even had a chance to send the toy up – they heard that we had a new product and wanted to see it.
"Then we offered to do a giveaway on the night of the Toy Show where we'd give one to everyone in the audience, which was huge."
This was followed by another appearance in 2017, which all helped boost sales, according to Cuddy, and convinced him to keep developing more variants of The Field.
Now, he has a total of six products – including the original field, the half-acre field, a large farm, a compound, a grass roll and paddocks – which range in price from €20 to €80.
Funding
Although sales of The Field have continued to grow, Cuddy says that managing finances has always been a challenge.
The project was initially funded through his existing synthetic grass business, which still takes up the majority of his time.
"Fortunately Class Grass was doing very well, which supported us trying to build the Field," he says.
Class Grass is still our core business – The Field started off as a small part of what we're doing, but we've developed it more in recent years.
Overall, Cuddy says that The Field now represents about a quarter of his business.
He adds that turnover for the whole operation was just under half a million euro last year, while his goal is to be turning over a seven-figure sum in the next couple of years.
According to its most recent public accounts, the company posted profits of nearly €20,000 in 2016.
Cuddy is anticipating an increase in sales of The Field as he is currently ramping up his international expansion plans and just launched his first two products in the US in the last few weeks.
But the push across the Atlantic has also increased the financial pressure on the company, especially in the run up to the "crucial" Christmas period.
"Up until this year we would have financed everything ourselves. But now that we're going into the American market we've got a business loan because we'd never be able to fund it otherwise," Cuddy adds.
"With this business you have to fund everything up front and it's only when the stock starts to sell that the money begins to trickle back in.
"There's a lot of money involved making an initial investment in order to get the products made, get them shipped, dealing with the marketing side of things. It all costs a lot of money."
#Open journalism No news is bad news Support The Journal

Your contributions will help us continue to deliver the stories that are important to you

Support us now
Looking ahead
Since launching The Field three years ago, Cuddy says he's sold in the region of 20,000 toys, but with his expansion plans, he's hoping to hit more than 10,000 this year alone.
The business is still run from Roscommon with a team of seven staff, but The Field is now sold in stores all across Ireland and the UK, as well as online through its own website and Amazon.
Most of the manufacturing is still done here, however Cuddy says that he's beginning to outsource more of the work to China to facilitate sales in the US.
In that market, The Field will only be sold online and due to the vast size of the country, the company is focusing its promotion on Texas first because "it has farming and Irish connections so it ticks all the boxes".
"There's no guarantees but we will do everything we can to make it work. If we could get a couple of lucky breaks along the way that might help. Noel, one of the guys who makes The Field, says we have to get onto Ellen DeGeneres – he never shuts up about it."
With plenty of competition in the toy sector, Cuddy says he thinks The Field has been successful because the simple idea has resonated with children.
"I think the simplicity is the biggest thing. A child can open it and be creative and imaginative straight away – no batteries required," he says.
"So many people ask us why someone didn't do it before because it's so simple. But we didn't even think of it really – we just made it for our young fella and watching him and his friends gave us an idea."
While the original Field remains his biggest seller, Cuddy says he hasn't run out of ideas for the toy brand yet and sees scope for further growth.
It's nice to think that an Irish company can build a brand worldwide with a simplistic toy. That's our hope and we wouldn't have gone into the States unless we felt that we could do it.
"We've put our chips on the table now and said, 'Let's have a go at this.' We're confident and we're going to give it every shot."
This article is part of our weekly series examining the nuts and bolts of businesses. If you would like to see your company featured please email news@fora.ie.
Sign up to our newsletter to receive a regular digest of Fora's top articles delivered to your inbox.
Written by Sarah Harford and posted on Fora.ie