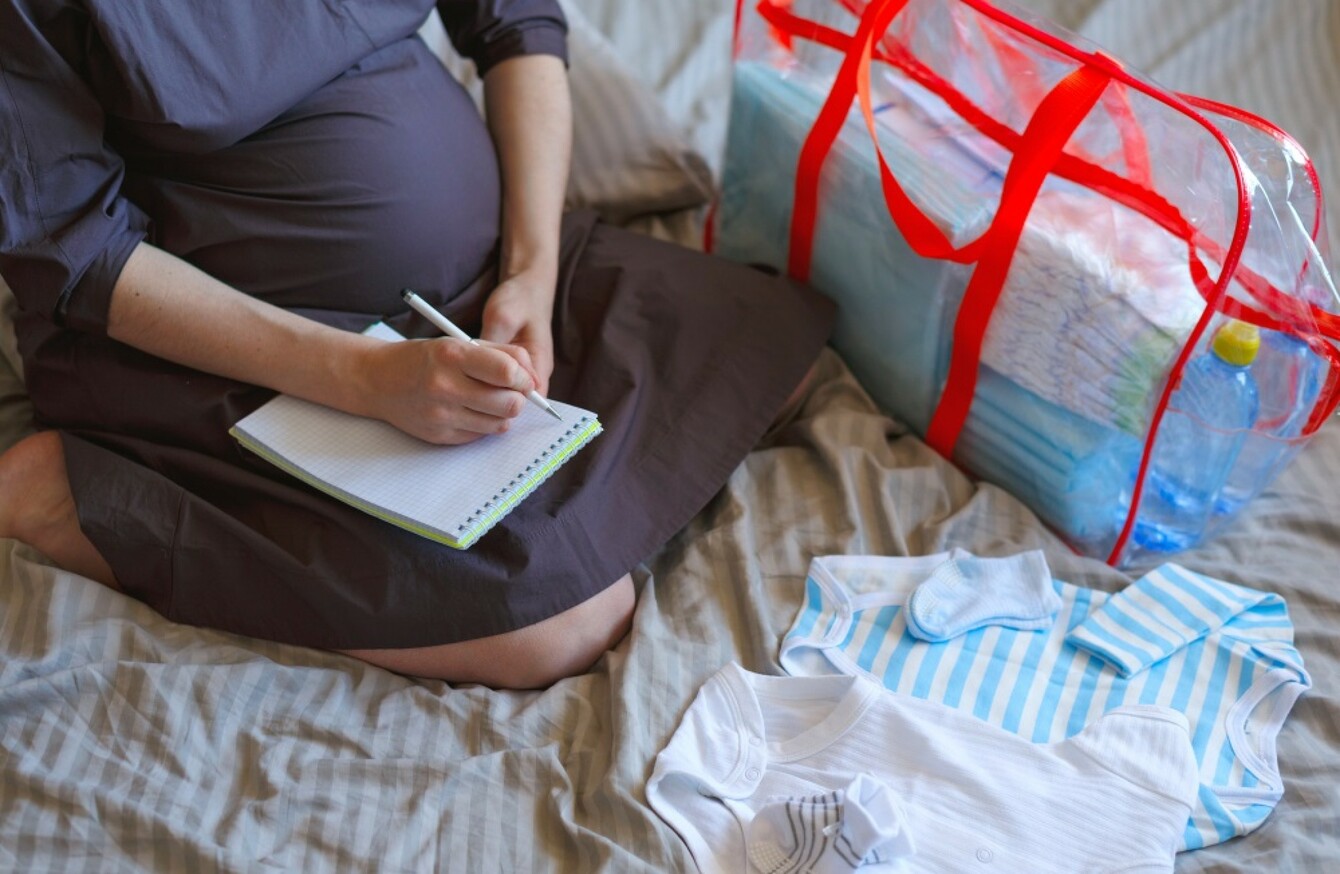 Image: Shutterstock
Image: Shutterstock
WHEN IT COMES to being pregnant, or parenting a newborn, everyone's just figuring things out as they go. That's why it can be so helpful to hear how other people are getting through the mess of it all, from the first nappy change to the countless sleepless nights.
Our Newborn and Baby Parents Panel is made up of parents and parents-to-be, all raising little ones aged up to 24 months.
Most maternity hospitals and pregnancy resources offer a hospital bag checklist. But aside from the basics, what are the items that'll make your hospital experience just a little bit simpler? This week we asked the panel:
What was the most useful thing in your maternity hospital bag?
Here are a selection of the best responses…
A ziploc bag (seriously): I got a great tip from a friend of mine. Take a ziploc bag and put a babygro and nappy into it for whoever is dressing your baby after delivery. Show it to your birthing partner too! That way, when baby arrives, there's no stressing over trying to find nappy, babygro and hat while you're trying to gather yourself in the immediate aftermath. The little ziploc bag can just be handed over.
- Niamh Scanlan
Big knickers, at *least* three sizes up: While every hospital bag checklist tells you to bring big dark knickers that you can throw away, I can't emphasise the importance of them enough. I had packed some one-size-up underwear, but after an unplanned C-section, they were just too tight around my belly. Once I got some bigger knickers (three sizes up, thanks to my husband's shopping expedition) I was fine. My wound was covered, there was no rubbing or pinching and it made me a little bit more comfy. You won't win any style awards or feel particularly sexy but trust me, go large.
- Kathryn Walsh
Not just big knickers, but breathable ones: One essential is a few sets of disposable gauze underwear. Not the showercap kind you can buy in most pharmacies – think the most unattractive shorts you've ever seen [like these]. They are large, breathable, soft and rewashable. My birth ended in an emergency C-section and I wore these bad boys for weeks afterwards!
– Mairead McHugh
Really nice shower gel to make you feel like a human again: Besides the basic stuff, I had a pack of miniature Molten Brown shower gels and lotions (a gift) that made my showers afterwards so much more pleasant. Treat yourself, you've just brought a baby into the world.
- Valerie Murray
My pregnancy pillow came with me: I used a Dreamgenii pillow for more comfortable sleep while pregnant, but it doubles as a breastfeeding support after birth – and it helped to alleviate the incredible discomfort of the hospital bed.
- Sarah McGinley
Get yourself a light dressing gown – in a dark colour: I'd have been lost without a light dressing gown. If you're giving feeding a go, it's invaluable for covering your modesty – which will feel important when breastfeeding is new to you, and you're trying it in a maternity ward with people constantly coming and going!
Even if you're not feeding, it's still a godsend as hospital wards are roasting and you sweat buckets after the birth (which no one told me). Oh, and get one dark in colour…
- Aisling Finn
And multiple pairs of PJs (for you, not just for baby):
I had packed my bag carefully with approximately 100 washed, ironed and perfectly folded baby grows and vests for baby. The baby could have had an hourly outfit change. Meanwhile, I had bundled in one or two sets of old PJs for myself. I had not envisaged that in fact I would be the one requiring hourly outfit changes due to the seeping of bodily fluids from every orifice after giving birth!
– Orlaith Hogan
Your hospital PJs need to be light in material and dark in colour… very dark! My mum sorted my pjs for me, lots of lovely whites and light pinks. She has had four children herself so I don't know what she was thinking. Maybe time really does make you forget what childbirth was like…
– Aisling Fitzgerald
A notebook for recording feeding times (and questions): I didn't use half of what I packed the first time around, so I travelled light on my second! One essential was a notebook and pen. Not only can you make a note of when you last fed but you can also jot down any questions that you might have for the midwives/doctors – a lifesaver with my first baby. You can feel like you don't even remember your own name sometimes so it's good to write things down.
- Amy Molyneaux
My €10 mini fan helped me sleep: My baby boy was born in June 2018 in the height of last year's heatwave. I had a mini fan with me – it cost me a tenner and it saved my life [find a similar one here]. In the public wards there are 10 women per room, and mine had two windows at one end. I'd just turn on my fan and put my face right into the cool air. And the white noise from the whirring helped me sleep better.
- Brianan Nolan
My phone and headphones were a godsend: My second night in the maternity hospital, I was all alone in an eight-bed room, so being able to listen to music got me through the night. It was a great distraction from the pain, and given the empty room I even let myself sing along. Having a phone charged up meant I could text my partner at 4 in the morning when I was feeling scared and sore and alone.
– Martha Mernagh