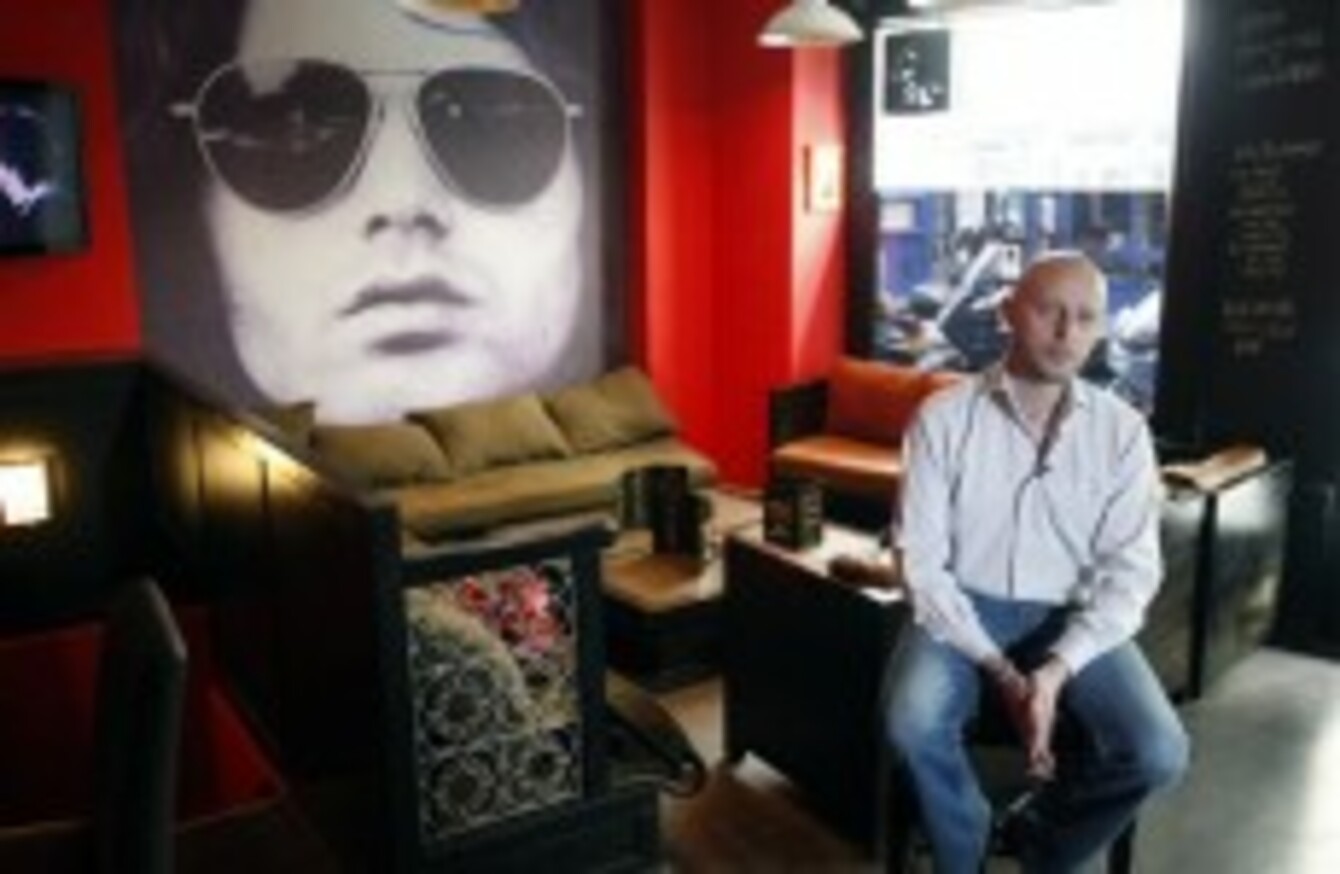 Bar owner Christophe Maillet, 37, speaks during an interview with The Associated Press in his bar, The Lezard King.
Image: AP Photo/Remy de la Mauviniere
Bar owner Christophe Maillet, 37, speaks during an interview with The Associated Press in his bar, The Lezard King.
Image: AP Photo/Remy de la Mauviniere
THE WALLS OF the Paris bar are plastered with images of Jim Morrison and The Doors, and a bust of the lead singer presides over the beer tap — all part of the owner's lifelong passion for the band. But a California attorney for the group doesn't love it madly.
Christophe Maillet said he received a letter from a Beverly Hills, California-based attorney warning that "The Doors do not want to be seen as having approved of your establishment and also the consumption of alcohol."
The 21 April letter — signed by Anthony Keats, The Doors' intellectual property lawyer – Maillet is urged to remove images of the group from his bar within three months.
Not an easy task.
The walls are plastered with oversized close-ups of Morrison and hung with gilded-framed photos and posters of the band. A white bust of the flowing-locked singer presides over the beer tap.
Morrison, known for a partying lifestyle, died in 1971 at age 27 of heart failure in his bathtub in Paris — at a site just minutes away from where Maillet's bar stands today. Morrison's grave at Pere Lachaise cemetery remains a pilgrimage site for his fans.
Doors lawyer Keats did not respond to email and phone messages by reporters on Friday about the letter.
The decorations are from Maillet's own collection — the fruit of 25 years of dedicated fan-dom, he said.
"I found my passion for Jim Morrison at the age of 12," said the soft-spoken Frenchman, a bartender by trade. "Then I found a profession that could go along with it.
"Since I started in this business, my goal was to start a bar dedicated to Jim Morrison."
After nearly a decade spent working at other people's establishments, Maillet's dream came true nine months ago, when he struck out on his own, opening the "Lezard King" — a play on Morrison's nickname, the lizard king. Because he worried about possible copyright issues, Maillet used the French word for lizard, he said.
On the menu are cocktails of Maillet's own creation that he baptized after Doors' songs. The "Light My Fire" is a blend of rum, Cointreau and citrus juices, while the "Roadhouse Blues" mixes tequila, Cointreau and blue curacao.
Maillet won't say how much he invested to rent and decorate the 70-square-metre locale in Paris' hip Bastille neighborhood but said it amounted to his life savings.
Maillet doesn't know what could happen if the legal action goes ahead — the attorney's letter doesn't spell it out — but said "I guess worst case scenario is that they could close the bar."
Maillet, who does not have a lawyer of his own, wrote back to The Doors' attorney, but said he hasn't yet received a response.
He said in order to appease The Doors, he'd be willing to add other '60s and '70s rock bands to the bar's decoration. But the lawyer's letter also demands that the name of the bar be changed — something Maillet flatly refuses.
He said he knows of a about a dozen other Doors-themed bars, scattered across the globe, from Amsterdam to India. It is unclear whether others have faced similar legal woes.
"I didn't do this to destroy (The Doors') image or to dirty it," Maillet said. "I did it to make them happy."
- AP