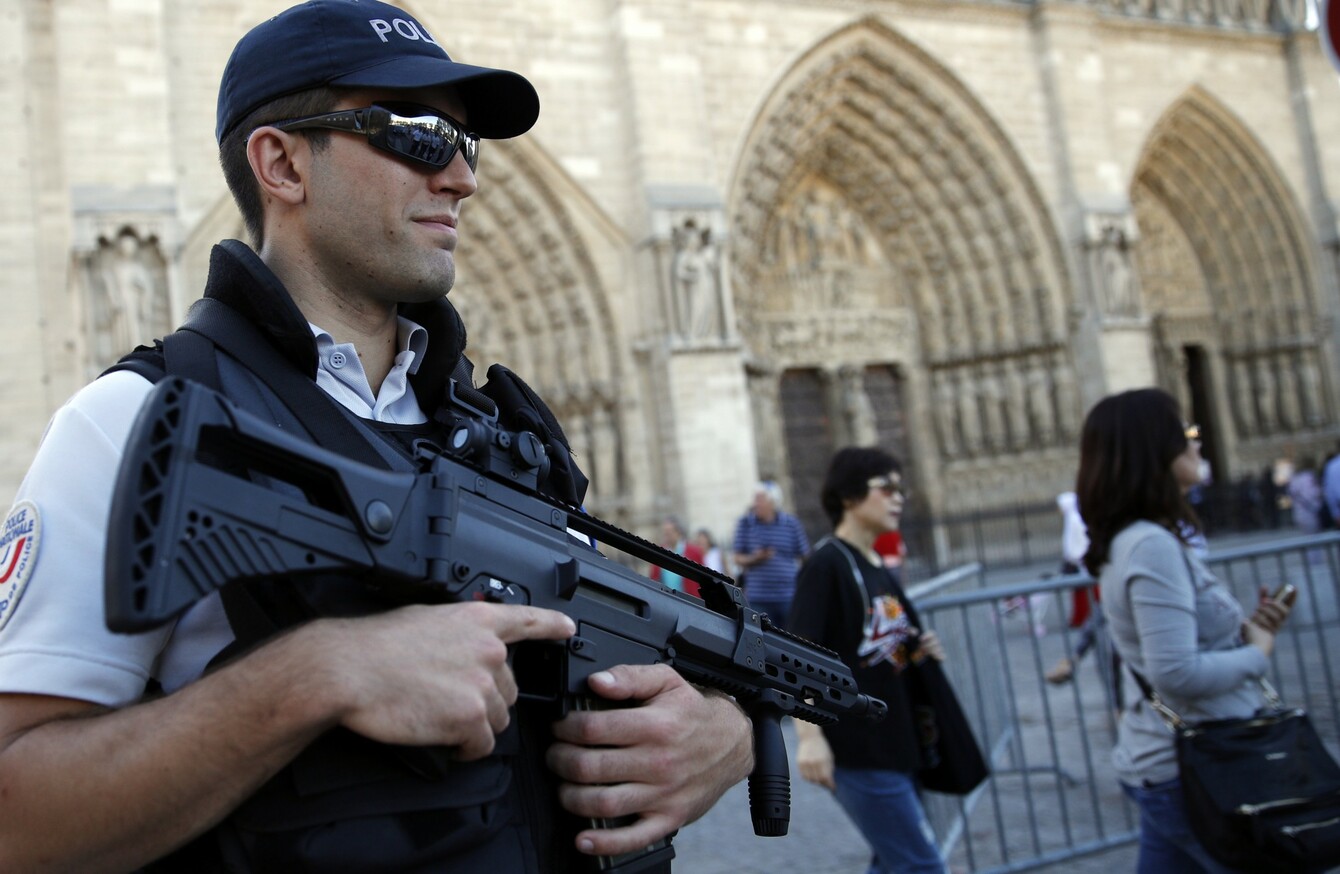 Image: Christophe Ena/PA
Image: Christophe Ena/PA
THREE WOMEN BEHIND a thwarted attack near Notre Dame Cathedral were radicalised by Islamic State commanders in Syria, and one had been engaged to an extremist who killed a priest in July, the Paris prosecutor revealed today.
Francois Molins spoke a day after three women were dramatically arrested over the failed attack that centred on a car discovered Sunday morning in central Paris. The car had been abandoned and was loaded with gas canisters. No detonators were found in the car.
"In the last few days and hours a terrorist cell was dismantled, composed of young women totally receptive to the deadly Daesh [Islamic State] ideology," Molins said.
The women who spearheaded the failed plot included a 19-year-old whose father owned the abandoned Peugeot car. Her written pledge of allegiance to the Islamic State group was found by police, a security official said.
The teen, Ines Madani, stabbed a police officer with a knife and was shot in the leg yesterday evening in a raid south of Paris, police said. She is being treated in a hospital.
Five women and two men have been arrested in the case.
Sarah H's two fiancés
One of the women detained in a police raid, referred to as Sarah H and who was wearing a veil, was betrothed separately to two French extremists who carried out deadly attacks this year, the Paris prosecutor said.
Sarah H was engaged to Larossi Abballa, who killed two police officials in Magnanville in June and filmed the aftermath on Facebook Live before dying in a police raid.
She was also betrothed to Adel Kermiche, who slit the throat of an elderly French priest during morning Mass in July before being killed by police, Molins added. He didn't say when she was engaged to either man.
France's interior minister described the pursuit as "a race against time" to find Madani and the two women with her before they could strike.
A man arrested yesterday also had ties to Abballa, one of the officials said.
"There's a group that has been annihilated, but there are others," French President Francois Hollande said today. "Information we were able to get from our intelligence services allowed us to act before it was too late."
'Rare and predictable'
A security official, who cannot be identified, said Madani had pulled a knife during the raid outside a small apartment building near the Boussy-Saint-Antoine train station.
In video filmed by a neighbour, a veiled woman, her face uncovered, is seen being carried away by police as she cries out "Allahu Akbar" or "God is the Greatest" in Arabic.
A plot conceived and carried out by a group of women would mark a new step in the Islamic State group's attempts to sow fear in Europe.
"It's at the same time rare and predictable," Matthieu Suc, author of "Wives of Jihadis," told France Info radio.
Women in the group do not take part in attacks, he said, but are there "to ensure the longevity of the caliphate" by having babies and providing moral support. But, he added, "there are often young girls, who are just as radicalised as the young men, and they also want the status of martyr, and they want to act."
The car loaded with gas cylinders belonged to Madani's father, who flagged her to police on Sunday 14 hours after the vehicle was discovered. Since then, authorities have worked frantically to untangle the relationships within the group and thwart what they increasingly feared was another plot.
More than one-third of the nearly 700 French citizens who have reached the war zones of Iraq and Syria are women, according to government figures. And officials have said for months that those being recruited by Islamic State in France are increasingly adolescent girls and young women.