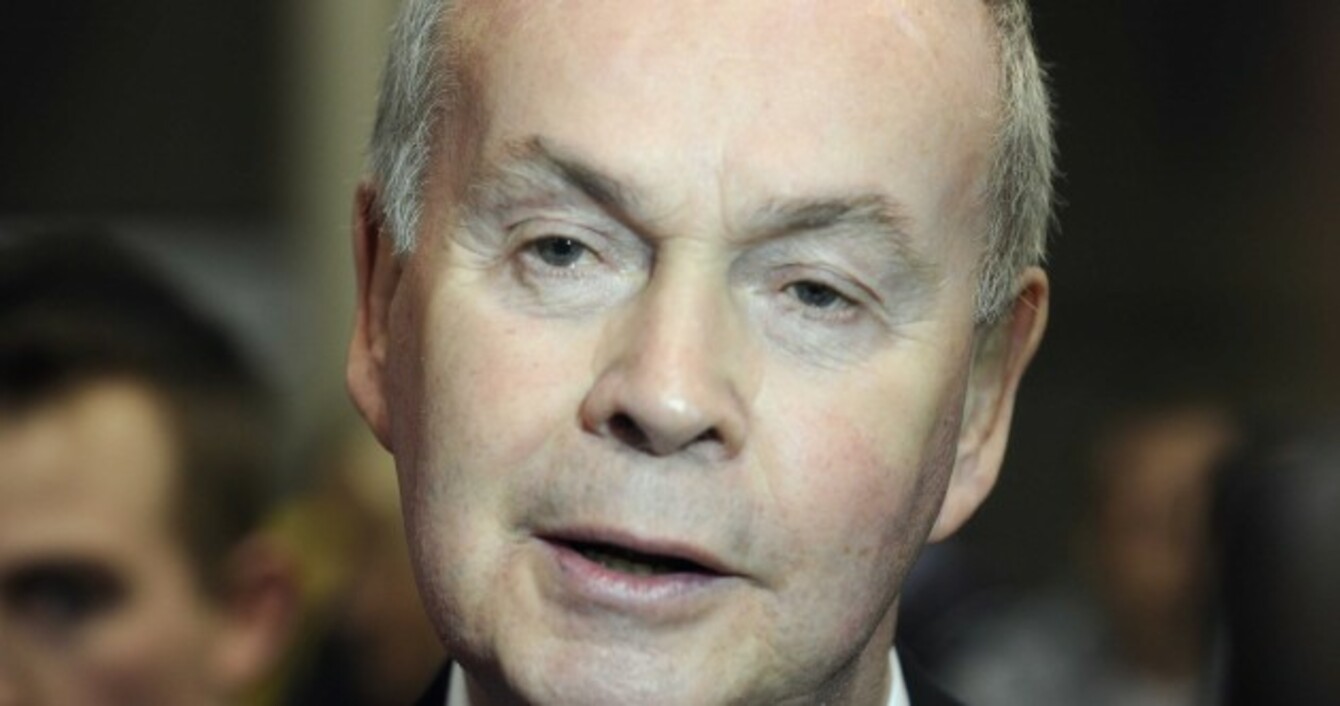 Image: Laura Hutton/Photocall Ireland
Image: Laura Hutton/Photocall Ireland
THERE WERE SOME very moving contributions to a discussion on same-sex marriage at the Fianna Fáil Ard Fheis.
Former minister Pat Carey spoke about his own experience of coming to terms with his sexuality.
"I'm not somebody who makes rash decisions," he told delegates: "It took me all of 65-and-a-bit years to summon up the courage and the confidence to talk about my own sexuality."
In February, Carey spoke to RTÉ about being gay because he said he feared that "soft support" for same-sex marriage may be eroded before next month's vote on the issue.
"I think the forthcoming referendum is a marvellous opportunity for the Fianna Fáil party to proclaim its true republican credentials.
I am sick, sore and tired of hearing republicanism being about bombs and bullets. It is about liberty and freedom of speech, equality. For goodness sake, let's all treat each other the same.
Carey said gay people wanted complete, not partial, equality.
He recalled being present when then Minister for Justice Máire Geoghegan-Quinn introduced legislation to decriminalise homosexuality in 1993.
There was a virtual rebellion in the room at the time and I may well have been one of them.
Carey then noted that the sky hasn't fallen in since then, stating: "If anything we've become a kinder, more tolerant society."
He said that when he had the equality brief in cabinet many people contacted him to say the introduction of civil partnership was "damning ourselves and damning the Irish nation".
Carey said some of the same people are now telling the gay community: "Sure, civil partnership is great, shouldn't you be satisfied with it?" He noted that these people would be unlikely to swap their own marriage certificates for civil partnership ones.
Carey said he is aware that "quite a number" of delegates are uncomfortable with same-sex marriage.
He added that he is a practising Roman Catholic but can separate his religious beliefs from people's civic right to marriage.
Senator Averil Power also spoke in favour of same-sex marriage, saying the No side were wrong to link the issue to surrogacy.
Carey encouraged people to canvass for a Yes vote:
"This measure is really important. It's not for me.
I don't think I'll be getting married at the age of 68-and-a-bit. I'd love to, but I'm not sure that at this stage of my life anybody would put up with me.
The majority of the speakers at the discussion were Yes voters. However, some delegates did speak out against same-sex marriage.
#Open journalism No news is bad news Support The Journal

Your contributions will help us continue to deliver the stories that are important to you

Support us now
'No' vote
One man said he was "somewhat embarrassed" to express his view, while another said he would be voting No as the sanctity of marriage needs to be protected.
Another No voter said Fianna Fáil and others are going after the "pink vote" by supporting same-sex marriage, warning that "seriously-minded Christians" will leave the party as a result.
He claimed the party's stance was being dictated by global corporations, getting a few jeers when he said: "I do not take directions from Twitter or Ibec."
Margaret Gill (80) spoke very movingly about her daughter Barbara who was killed in an road accident eight years ago.
She left behind her lesbian partner and an eight-week-old son.
Margaret said her daughter would have loved to have got married. She same-sex marriage didn't happen in Barbara's lifetime, but that she is "determined it will happen in mine".