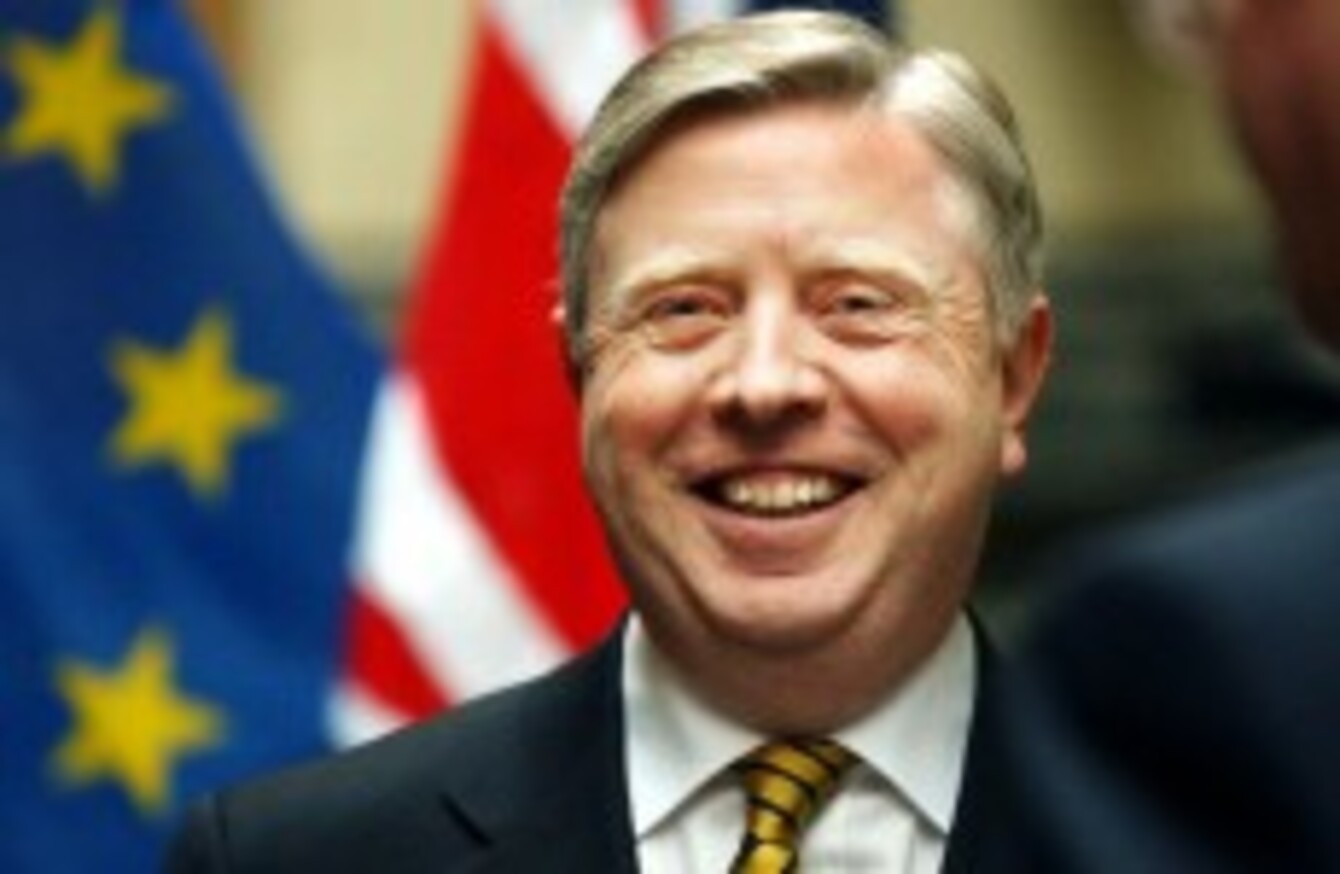 Pat Cox (file photo)
Image: David Cheskin/PA Archive/Press Association Images
Pat Cox (file photo)
Image: David Cheskin/PA Archive/Press Association Images
A NEW REPORT, produced to coincide with Ireland's current presidency of the EU and the country's 40th year of membership, has been released today.
Containing interviews with Pat Cox, Lucinda Creighton, Micheál Martin and Peter Sutherland, the report – Forty Years A-Growing – An Overview of Irish-EU Relations – by Notre Europe – Jacques Delors Institute, was produced with the aim of grasping the "specificity and subtleties of the Irish debate on Europe, both historically and in its most recent developments."
In his interview, the former president of the European Parliament, Pat Cox, looks back to a time when Ireland was seen as the "success story" of Europe, detailing what led to that view and how it subsequently changed.
The Maastricht Treaty

On the Maastricht Treaty in 1992, Cox said that as the director of the referendum campaign, he felt that it was important that Ireland looked beyond the financial gains that "though significant, are transient", remembering instead that "one has to live with the formal content of the treaty".
Despite this 'pragmatism', Cox said that he felt that the Taoiseach of the time, Albert Reynolds, focused on the financial aspect.
"We obsessed on the eight billion euros," Cox said. "We voted for the eight billion."
The Christian angle
Speaking of subsequent referenda, Cox said that one of the constant 'battlegrounds' that came to exist in Ireland was religion-related.
The Christian angle in the sovereignty school relies on a presumption that everything international risks, through treaties, corrupting the moral fabric of society.
Manifesting itself in the belief that voting yes "to any given treaty" would "introduce abortion in Ireland" and, in certain cases, euthanasia, Cox admitted that these beliefs, although "bizarre to the foreign ear", became an obstacle each and every time there was a debate on Europe.
Irish neutrality
Cox believed that each European referendum was also weighed down by a fear that it would 'oblige' Irish people to be open to conscription.
Likening the neutrality argument to the film Groundhog Day, he said he found it hard to believe how this "same argument" continued to mobilise people time after time.
On European referendums and their frequency

"There is a growing popular unease that smaller states, like Ireland, count for less," Cox said.
This was compounded by scaremongering in many cases, he believes. Where complex treaties are concerned, the "room to do mischief is unlimited."
When a government holds a referendum, it owns the question, but the public own the answers to their own questions, which may or may not be the question put by the referendum itself.
When asked as to whether Ireland holds too many referendums, Cox believes that "risk aversion" has now triumphed over "constitutional necessity" in this regard.
Recalling the McKenna judgement and the impact it had on the spending of public monies in support of a yes/no position by the government of the day, Cox believes that the result has been 'bland' public information campaigns by the Referendum Commission, with individual partys preferring to keep the bulk of their financial resources for election time instead.
The impact of Britain, and their positions, has also impacted on Ireland, according to Cox, due in no small part to the "deeply Eurosceptic, high-penetration print media outlets from Britain" which have used Ireland "for their proxy war of words".
Irish debt and Europe
Regarding the recent Fiscal Compact Treaty which came into force this year, Cox hopes that it "is a comma and not a full stop", with a hope that it will be act as a "psychological insurance policy for creditor states".
While noting that the Irish government is currently focused on debt restructuring, Cox believes that "there is also a respectable case to be made for debt write-off" due to Irish taxpayers being forced to take a big hit in order to avoid baking problems elsewhere in the EU.
Rebellion and bankruptcy
On the recent non-payment of the household charge by many, Cox believes that this "civil resistance" was partly explained by the manner in which government introduced it.
Believing that this resistance remains the exception rather than the rule, Cox said:
We are not Greece: Irish society is quite tax-compliant.
On the issue of Ireland's bankruptcy laws, Cox believes that while businesses are not run "for the national interest", those who run businesses in Ireland do benefit the country.
"The bankruptcy laws in Ireland are a crock," says Cox, adding that the 12-year rule (for bankrupts) doesn't make sense if you want a dynamic economy.
Ireland's corporate tax rates
Believing that Ireland's corporation tax can only be changed with Ireland's consent, Cox says that "the risk of capital flight from Ireland would be very high" were it to change.
Much of what we have here is the kind of mobile, high value human capital, international investment that might well then go to Singapore or to other such locations.