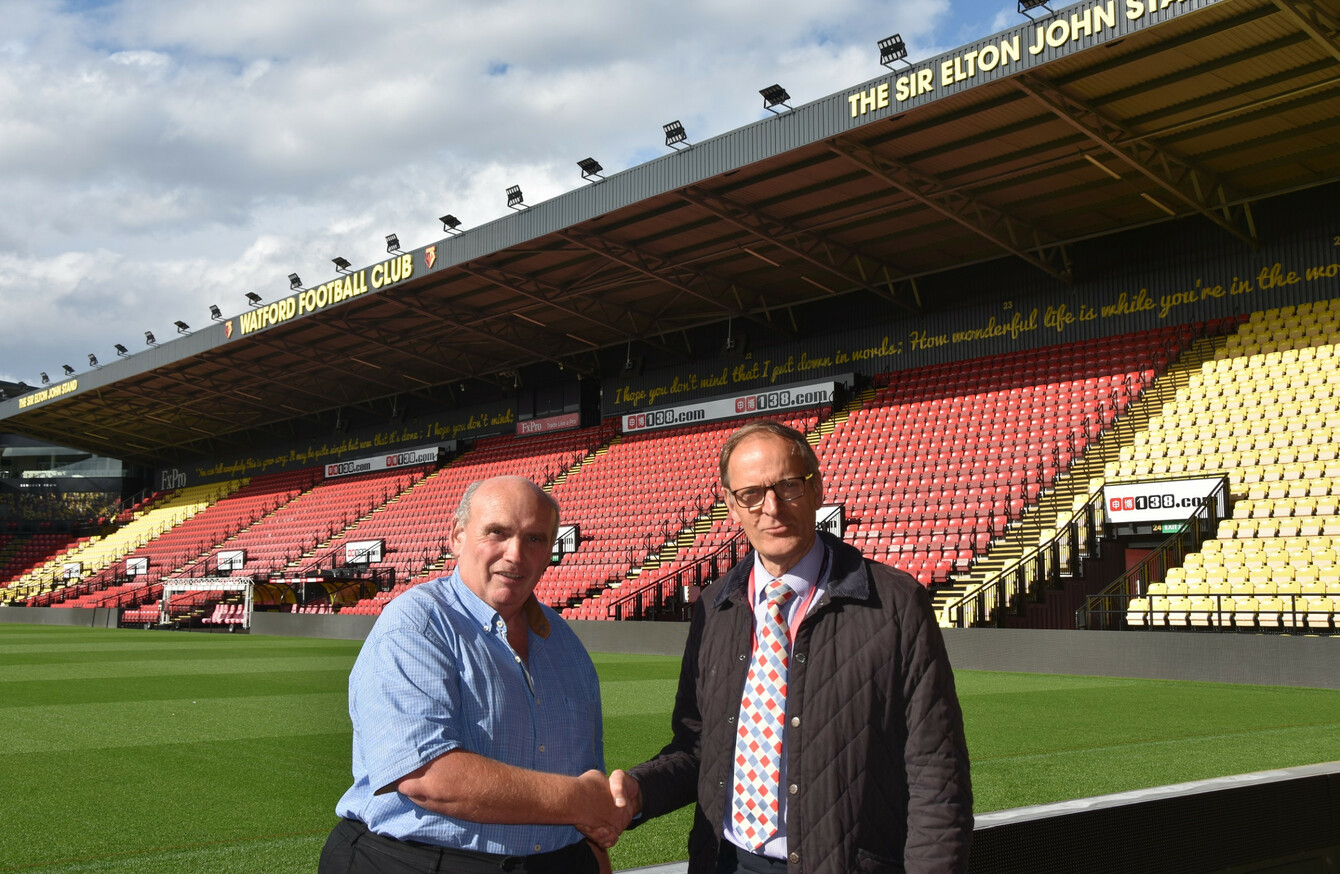 Image: Ryans Cleaning
Image: Ryans Cleaning
FROM THE POPE'S visit to Electric Picnic – it's been a busy few weeks for Pat Ryan and his company.
The Tipperary man founded Ryans Cleaning nearly three decades ago and now has contracts for some of the biggest venues and events in Ireland and the UK.
But Ryan says that the business had very humble beginnings, and he had no plans to build a major firm that would clean up after religious leaders and rock stars.
"I was a jack-of-all-trades. I had planned to be a storekeeper initially, but that didn't work out so I ended up sweeping chimneys before moving into cleaning," he tells Fora.
"I started off cleaning Thurles CBS secondary school. My mother had cleaned the old school in the town and her mother before her – so I was the third generation at that stage."
Ryan says that business gradually grew from there, gaining more contracts at schools and offices in the Thurles area. In 1992, he won the contract to clean the Féile festival at Semple Stadium, which is when Ryans Cleaning was established in earnest.
"The first year we did it nobody really knew what to do, we were just doing some cleaning and janitorial services on the toilets. But then by the final year of the festival in 1997 we were cleaning everything – the stadium, the campsites.
"It all kicked off from there. I guess it was a case of being in the right place at the right time."
The experience Ryan gained with outdoor events led him to more opportunities across the country. In 1999, he won the contract for the Robbie Williams gig at Slane Castle, followed by Witness Festival at Fairyhouse, and things continued to grow from there.
Growing the business
Ryans Cleaning now has contracts for venues and events all across Ireland, as well as in the UK. This includes long-term agreements with theatres, stadiums, racecourses and Dublin Zoo, and a wide range of annual and once-off outdoor events.
The company currently has around 50 full time-staff – with about 10 based in Thurles, 10 in the UK and the rest in Dublin.
As business varies with seasonal events and the type of work that is required – "from litter picking and waste disposal to hoovering floors and scrubbing toilets" – Ryan says that the core team is supplemented by part-timers and agency staff where necessary.
For example, the weekend of the Pope's visit, he says that the company had roughly 1,000 people working between the events at Phoenix Park, Croke Park and Knock, plus his regular gigs in Ireland and the UK.
"The work can vary. If it's a big event – like the Pope – we have to set up beforehand making sure everything is ready when the gates open, then we try to clean it best we can during the day," Ryan adds.
"If it's a weekend festival we have to clean overnight. Because if you have a concert on a Friday well then the people coming in on Saturday are expecting to see the place as clean as it was the day before."
Ryan decided to make the big step to expand into the UK in 2005, hoping that the additional opportunities there would outweigh the risks.
"I was told I would bankrupt myself going into the UK, but I was ambitious to be honest," Ryan says.
"(Irish music promoter) MCD asked us to go over to see how they were cleaning festivals in England and learn from them. We went to V Festival in 2004 and I knew in my heart we could do a better job.
"The next year there was an issue with their cleaning contract so we took it on and have been there ever since."
Ryan says that the UK represents about half of his business now, with contracts including the Wireless and Download festivals and a recent deal with Watford football club.
Muck and more
Ryan says that competition isn't really something he's had to worry about in this industry, with few other firms in Ireland operating at the same scale.
He notes that there have been more recent entrants to the market, but the advantage is the experience his team has built up, especially when it comes to outdoor events.
"In the UK there would be some competitors on the same scale as us, so it's a bit cut-throat at times over there," Ryan adds.
"But I think we're much better on supervision because you can't just let 50 to 100 staff loose in a field and expect them to clean it in a rapid way. So we try to have one supervisor for every 20 staff, which means we can be a lot more meticulous."
Even though he has more experience than many other firms, he admits that there's still challenges in this business that can't be avoided.
"The one big challenge – which we haven't had to deal with too much this year – is weather. We've had some horrendous gigs where the lads would be up past their ankles and deeper in muck.
"Take the National Ploughing Championships – it's a rare year that's not held in dirt and muck. So instead of mopping toilets, you're usually shovelling muck out the door.
"You're still expected to give the same service no matter what the weather is like so it slows things downs considerably. And if you haven't done a wet gig before, it can be very daunting for staff."
There have also been a lot of changes in the industry since Ryan started back at Féile, especially when it comes to hiring staff.
#Open journalism No news is bad news Support The Journal

Your contributions will help us continue to deliver the stories that are important to you

Support us now
"Security is such a big issue in this day and age. The recent terrorist attacks in the UK have heightened the threat on events," he says.
"We've had to employ a security firm to help us, because we need to vet the people we take on to make sure they can work in the country and they don't have an unsavoury past."
For the Pope's visit last month, he says the level of admin work was "unbelievable" because there was such a large amount of accreditation to be completed at short notice.
"And just because someone says they're coming doesn't necessarily mean they're going to turn up on the day, so you always have to find replacements," he adds.
Laying a foundation
Ryan says that turnover between the company's UK and Ireland operations reached €6 million last year and is expected to hit €7 million this year.
He adds that there's still scope for growth – he's always looking for new opportunities in Ireland – but is now focused on expanding into more racecourses and music venues in the UK, as well as further afield.
"We've looked at Austria, the Netherlands, Germany. I'd say in the next two to three years we'll be operating in continental Europe," the 61-year-old says.
"As I enter the twilight years what I'm trying to do is lay the foundation for the younger generation to expand on in the future."
Although the business has changed since cleaning toilets in Tipperary, Ryan says that he's learned a lot in the last few decades and is bullish for the future.
"We were the first in the country to do this type of business on this scale, so the book hadn't been written at that time. Of course we made mistakes, but the most important thing was learning from them.
"The business has changed beyond recognition since then, but that's probably a good thing because back in the days of the Féile it was mayhem."
This article is part of our weekly series examining the nuts and bolts of businesses. If you would like to see your company featured please email news@fora.ie.
Sign up to our newsletter to receive a regular digest of Fora's top articles delivered to your inbox.
Written by Sarah Harford and posted on Fora.ie