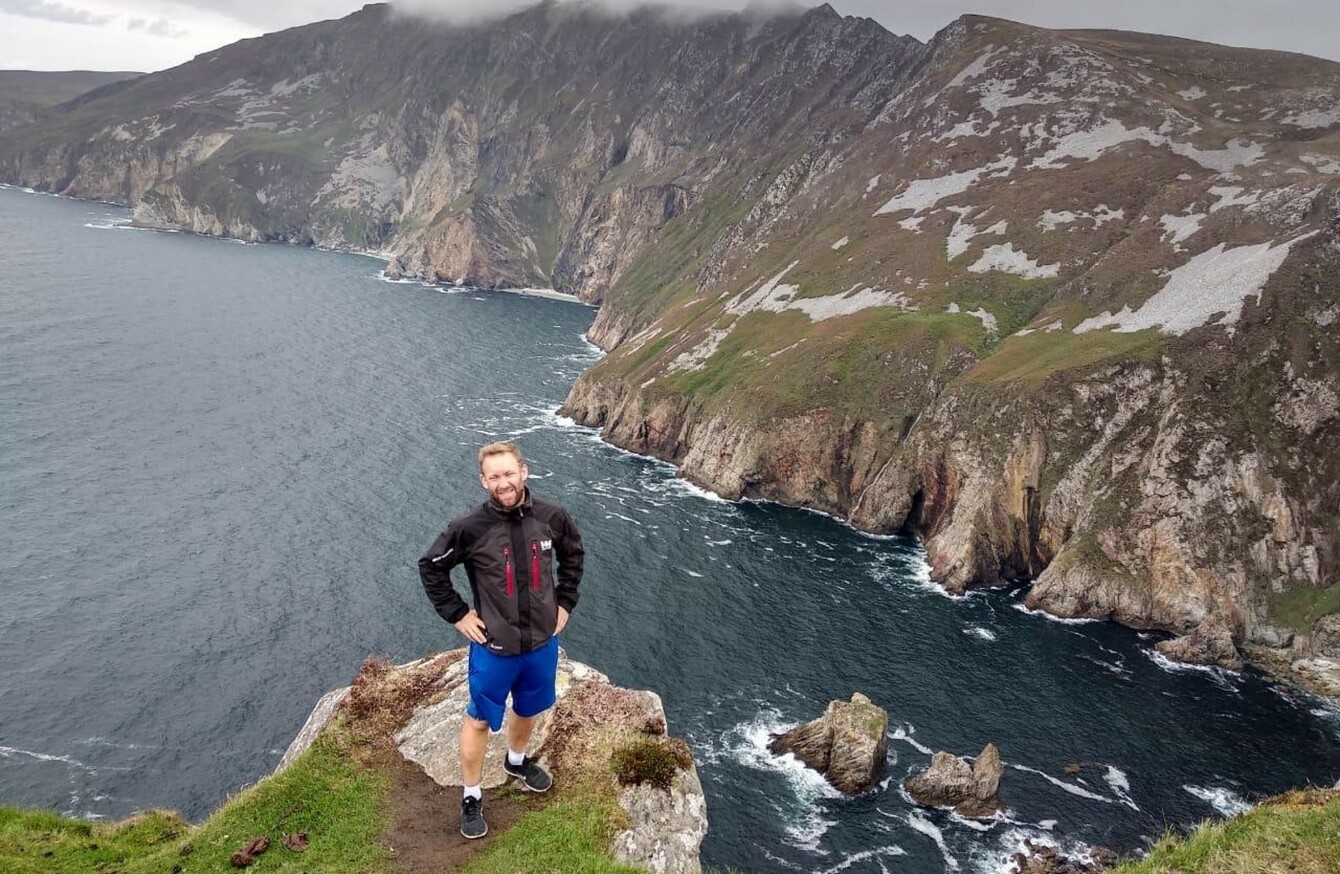 Taking a break at Slieve League.
Image: Paul O'Dwyer
Taking a break at Slieve League.
Image: Paul O'Dwyer
Each week, we ask someone who really knows Ireland's twists and turns to share their favourite places. Today, Paul O'Dwyer, teacher, travel-lover and founder of Scratchable Map Ireland, brings us around.
My background: I'm from a small village called Dundrum in County Tipperary, 15 minutes from Cashel. We get an amazing view of The Rock (of Cashel!) every time we drive to town, something which I took for granted for years.
In my 20s, I really enjoyed travelling around the world, visiting the US and Australia. In the last few years, I have started to appreciate Ireland and everything it has to offer a lot more, particularly places like Kerry and Donegal. 
I had a scratchable map of the world at home and I thought it would be cool to have one to keep track of all of the places I have visited in Ireland – but when I looked into it, I found that none existed. In the summer of 2017, I ran the idea by my mother, Vera, who loves a good project. She was keen so we set about creating Scratchable Map Ireland.
My love of travelling around the country inspired the map, but to be honest, the map is now inspiring more travels around Ireland.
My most memorable Irish destination: Slieve League, Co Donegal
It really blew me away. A friend of mine from Donegal claimed they had cliffs up in Donegal that topped the Cliffs Of Moher, and that he'd bring me to see them. It didn't disappoint. It's a much different experience than the Cliffs Of Moher. The cliffs at Slieve League are way way bigger and it was lovely and quiet the day I visited. It also has a cliff walk that I need to go back and finish this summer.
My favourite town or village: Inis Mór off the coast of Galway
Inis Mór is an amazing place for a day trip or weekend. I spent a few days there last summer during the heatwave. While having dinner in The Bar in Kilronan, the local football team came in for a pint still wearing their full kit – it was pretty cool to hear them talking about the game as Gaeilge.
Joe Watty's Bar has great food and drink, as well as live music. The Craggy Island Tourist Office is just across the road too! Tourist attractions like Dun Aonghasa and The Worm Hole are all worth a visit.
The best place I've ever eaten an ice-cream: A '99 from Grogan's Café and Ice Cream Parlour in Cashel, Co Tipperary
I'm going to keep this one local. There's nothing like an ice cream from Tommy Grogan's before taking a stroll around the town, and heading up to The Rock.
The best breakfast I've ever eaten: Hollywood Café, Co Wicklow
The full Irish or poached eggs on sourdough toast with avocado are a welcome treat after a cycle around the Wicklow Way. When I visited, I'd forgotten my wallet. I was wondering how I'd manage the cycle all the way back to the car at Glendalough without food. They were kind enough to feed me and told me to drop in the payment any time. Phew!
My hidden gem that not many people know about: The cliffs at Ardmore, Co Waterford
The cliff walk here is nowhere near as well-known as it should be, which is obviously great when it is lovely and quiet for your walk. It's a 4km looped walk with lots of interesting sites and beautiful views – and I've even been lucky enough to spot basking sharks in the water there.