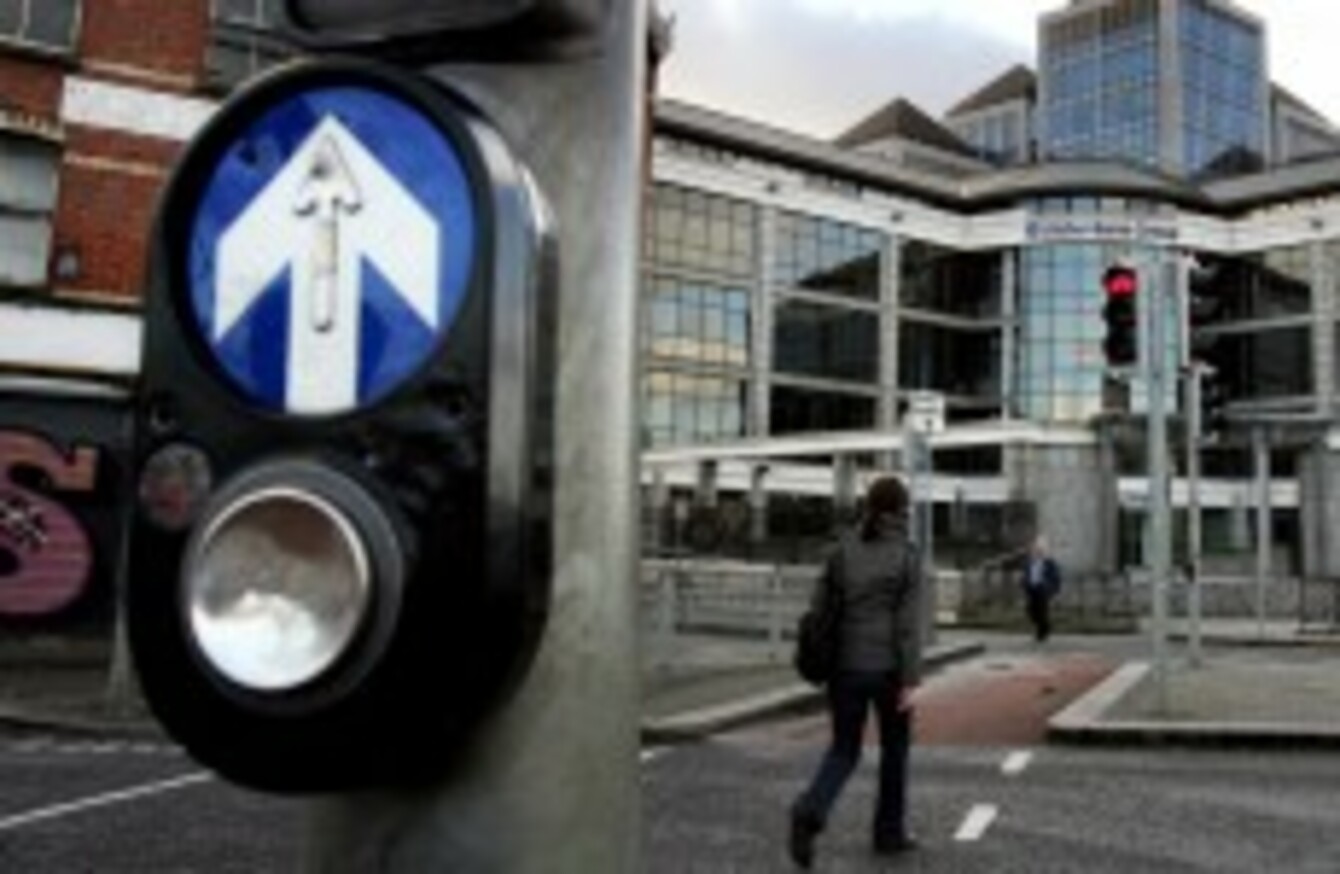 A pedestrian crossing at Ulster Bank.
Image: James Horan/Photocall Ireland
A pedestrian crossing at Ulster Bank.
Image: James Horan/Photocall Ireland
IN THIS SERIES, TheJournal.ie takes a look at an urban myth, old wives' tale, or something that your mammy told you years ago to see if there's any truth in it.
Are you someone who isn't that pushed about getting across the road quickly, and will settle for one quick tap of the pedestrian crossing button?
Or are your gripped by an inpatient panic, and obsessively press the button repeatedly in what, deep down, you know is a futile exercise?
Regardless of whether or not you not feel the need to make sure that button is pressed,  it is a small piece of human behaviour that we have all observed at some point. Why do we do it?
More presses means more people?
Firstly, it would make sense that pressing the button more than once would make the lights change quicker. More presses could mean more people waiting to cross. However, in a statement, Dublin City Council swiftly confirmed you would be wasting your time:
Pushing the button more than once does not make any difference to the lights at pedestrian crossings.
This probably will not make a difference to the behaviour of some people, who will still do it. TheJournal.ie spoke to Dr Denis O'Hora from NUI Galway's School of Psychology to find out why this happens.
He gave a four-point explanation as to why people engage in this obsessive behaviour, despite the fact that they know it probably doesn't make any difference at all.
Superstition
"No matter when you press the button, the next press is always closer to the reward of the lights changing, so it feels like that next press is more likely to 'work'".
Obsession
"'Maybe my last button press didn't work' If you have any doubt about whether you pressed the button effectively, then you are facing the potential loss of not crossing the road and the annoyance or embarrassment of standing around. To prevent this negative situation, we can just press again, which is not very costly to us at all".
Exploration
"We learn rules about the world, but our behaviour is designed to find rules rather than obey them. In scientific terms, there will be more variability in our behaviour than if our behaviour was optimised to follow the rule in all cases.
"This is an important feature of our behaviour for survival, because sometimes we learn rules that are incorrect or rules that go out of date. So, at the lights, we will tend to test the world by pressing the button more, to explore the space of 'what might be'".
Boredom
"In a deprived environment, one in which there are few things to do, we will tend to repeat behaviours that have been rewarded, even when there is no requirement or reward for doing so. There is usually not much to do when you're standing at the lights, so you may well just press the button because it's there – 'I might as well press this while I'm here'."
And on Dr O'Hora's last point, 'Boredom', authorities in Berlin have found a way to make waiting to cross the road a little bit more interesting.

Is there a myth you'd like debunked? Email nicky@thejournal.ie
Hat-tip to TheDailyEdge.ie's Emer McLysaght who suggested this week's topic.