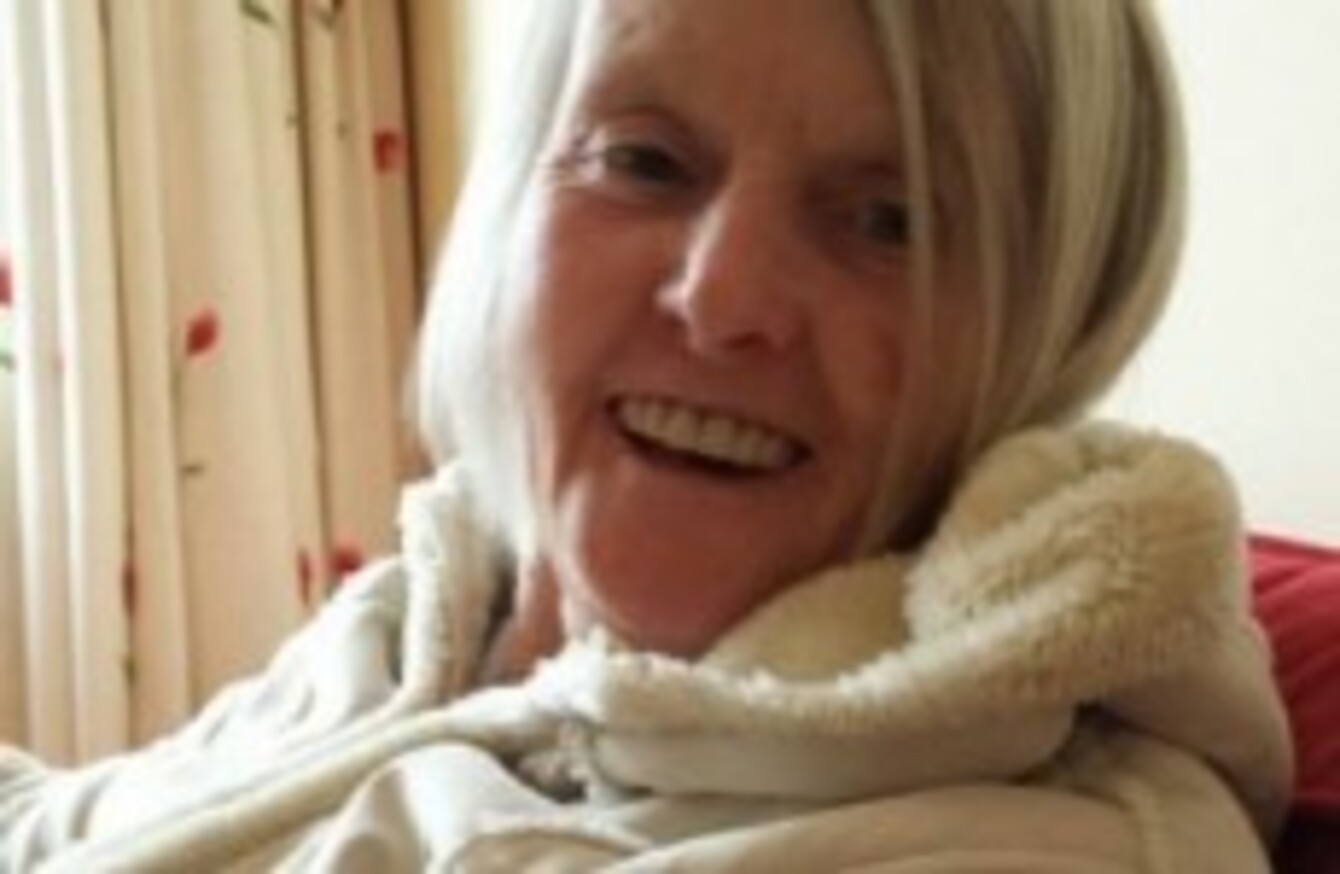 Image: Peggy Mangan
Image: Peggy Mangan
PEGGY MANGAN'S FAMILY have posted a heartfelt statement thanking those who helped in the effort to find her.
The 65-year-old, who suffered from Alzheimer's, went missing from her home in Terenure on the soutthside of Dublin on Tuesday morning. There were several reported sightings of her after that in the Glasnevin/Finglas area, and a large-scale search had been underway in that part of north Dublin when her body was found on Saturday afternoon.
The discovery was made on a stretch of waste ground close to the Ikea in Ballymun by two volunteers who were taking part in the search.
In a statement posted yesterday, the family say they have been "blown away by the reaction and support" of those who helped in the search, and that it's clear Peggy "touched a lot of hearts" after she went missing:
We are blown away by the reaction and support. We are now TOTALLY overwhelmed by your responses and posts of support. While it is very raw for our family at the moment, it is also very clear that the last few days have touched a lot of hearts.

We cannot ever thank you enough for the support and sacrifice you made during the search for Peggy and Casper. We have taken the time tonight to read through every single comment that has been posted and that is so important to us. Your efforts in helping us finds Peggy is beyond belief. Thank you so much.
Hundreds of people had gathered at the DID Electrical store in Clearwater to help in the search for Peggy on Saturday morning. They were thanked for their efforts via text message and told they could stand down in the wake of the discovery of her body.
A follow-up statement was posted by the family on the DID Facebook page on Saturday night:
While the end result was not what we hoped for or ever imagined, you're sacrifices over the last few days and nights have astounded us. Like us, you never gave up hope and maintained the search for 95 continuous hours. For those who knew Peggy, she was the most beautiful and caring woman you could ever meet, for those that now know her, she has touched all your souls.

We were absolutely determined to bring Peggy home and can now take great solace in having achieved that. Her beloved Casper was alive when Peggy was found, he stayed with Peggy until the very end and sadly, Casper passed away within three hours of Peggy's body being located. Both Peggy and her beloved Casper can now rest in peace together.
Flowers were laid close to the scene where Peggy's body was found by locals and those who had been involved in the search effort.
One note left at the site contained the message "You captured the hearts of so many — may you rest in peace".
[Photocall Ireland]