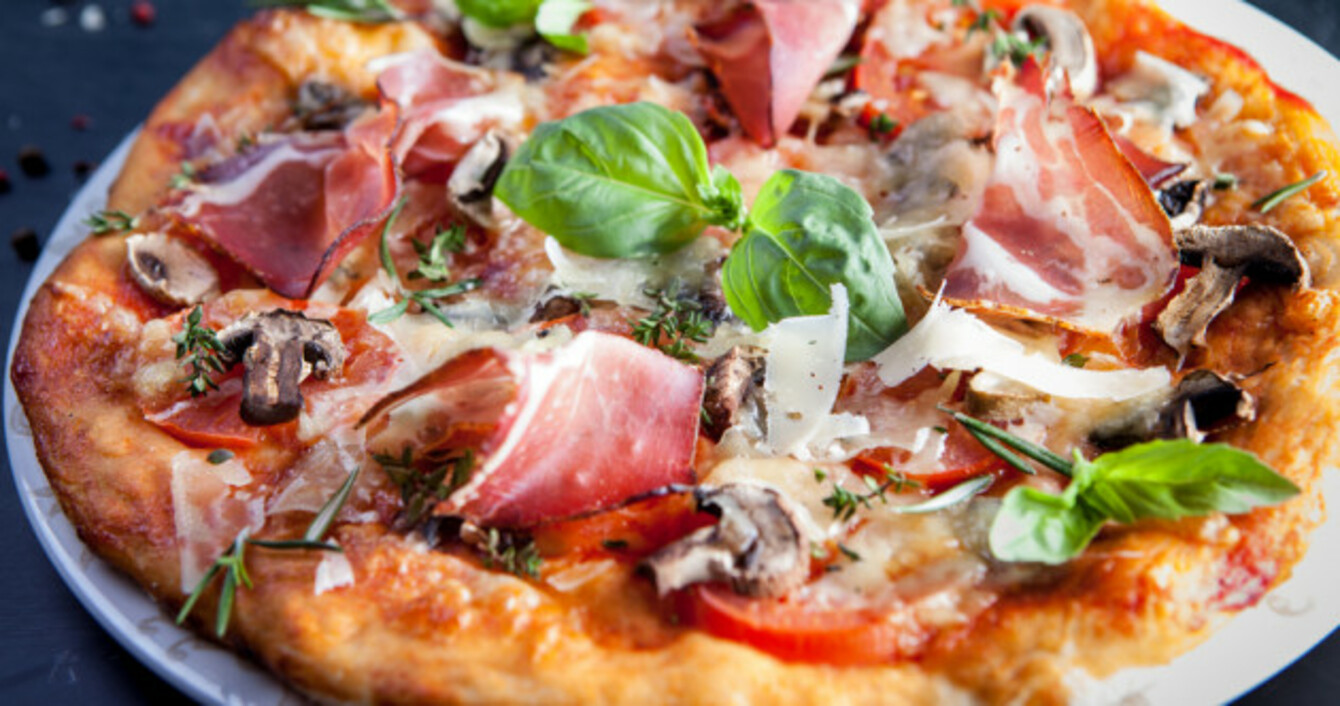 Image: Shutterstock/Alena Kazlouskaya
Image: Shutterstock/Alena Kazlouskaya
WHEN EXECUTED WELL, pizza is surely one of the most sublime yet simple pleasures in the food world. Crisp and soft dough topped with a combination of tangy, stringy and herby ingredients eaten by hand surrounded by family and friends – well, it doesn't get much better than that.
You can easily head to your favourite pizzeria or order in, but have you ever considered making pizza at home?
Being able to make pizza at home is one of those rudimentary skill sets that every cook should at least try to master. Ultimately, making pizza from scratch is not difficult but it does require a modest investment of time and there are a few little quirks that could trip you up on your quest to making pizza at home – the temperature of the kitchen you're working in, the quality of the flour you're using or the heat of your oven all play a part in what kind of pizza you end up making.
We sought the top tips of some of Ireland's finest pizza purveyors to help you plan your next pizza party and ways to avoid the potential pitfalls of pizza making. Though some of their tips varied, everyone we spoke to broke down their advice into five slices; dough, sauce, toppings, oven and attitude. 
1. The Dough
"The dough is the foundation of everything," says Ronan Greaney of Dough Bros in Galway. "We stick to traditional Neapolitan style of flour, water, salt and yeast. Time is a big factor when making the dough."
Greaney suggests making your dough and kneading it for 20 minutes, then letting it sit for between 3 and 6 hours at home in a warm spot covered by a damp tea towel over to keep it moist. Once it doubles in size, you need to knock the dough back, roll it and cut it into dough balls about 150g each. Let those dough balls prove for another 1 or 2 hours at least, and then roll the pizza out by hand or using a rolling pin.
White recommends letting the dough balls prove over night before rolling them out. If you're having a pizza party on the weekend, why not make the dough a couple of days before?
Reg White of PI, Dublin's newest pizzeria, also recommends a slow prove. "Reduce the work but increase the time," he says. "Do your dough overnight. There's far less labour involved but it takes a longer time, and it's an infinitely nicer dough. Take any recipe and reduce the yeast down and let it rest longer. That way, your end product doesn't have tonnes of yeast, leaving you feeling stodgy. For me, the dough is what's really going to make your pizza stand out – it's the most important part of the pizza."
Some pizzaiolos, including the team at Sliced in Cork led by Josh Hanlon, recommend that you always using fresh yeast. If you can't source fresh yeast, get the best dried yeast at your disposal. It makes sense that starting with the best ingredients will ultimately lead to the best dough, so keep that in mind when sourcing the water, yeast, salt, and, perhaps most importantly, the flour.
"Get the best flour you can get," recommends Emma Gray of Gaillot et Gray, a French-style pizzeria in Dublin 8. A Type 00 flour is recommended for best results but there are also great recipes for gluten-free bases using gluten-free flours or vegetable bases such as cauliflower.
"You can also buy pre-made bases," says Gray. "Pizza is all about cooking together – it's for sharing, for enjoyment. Our whole ethos is that pizza is for sharing with other people, so if buying pre-made bases helps you to relax and enjoy the company of your friends and family, then go for it."
2. The Sauce 
For those who love a tomato sauce, Paul McNerney of Paulie's Pizza in Dublin 4 has a few words of advice. "At Paulie's, we only only San Marzano tinned tomatoes. To make our tomato sauce, we crush them by hand and season with salt and pepper – that's it! If you can't get San Marzano, buy the best tinned whole tomatoes you can find. Empty two 400g cans into a bowl, sprinkle about 10g of salt and a good few twists of pepper into the bowl, and crush with your hands. You can also buy bottled passata in your local supermarket or food store."
Greaney at Dough Bros is also a fan of San Marzano tomatoes. "It's about getting the balance right," he says. "It shouldn't be too acidic or too sugary sweet. A good quality passata can be closer to where you want your sauce to be."
Don't feel obliged to top your base with a tomato sauce. Try a pizza bianco style, which omits the tomato sauce in favour of letting the toppings speak for themselves, particularly if tomatoes don't match the flavour profile of those toppings. For example, if you want to make a potato, rosemary and bacon pizza, you might want to be generous with some brie cheese as a sauce substitute. Or if you want to feature wild mushrooms, using a light ricotta as a sauce balances perfectly with the flavour of the mushrooms without overpowering them.
3. The Toppings
It's a given that sourcing the best ingredients that you can get will have an enormous impact on the final product. "Don't skimp on the cheese," says Greaney of Dough Bros, "and don't use grated cheddar. The cheese is really important It's such a key component."
McNerney of Paulie's Pizza recommends going with the best Italian ingredients you can get your hands on – tomatoes, Parmesan, mozzarella and olive oil.
He has a top tip when it comes to using mozzarella. "If you're using buffalo mozzarella," he says, "dice it up a good few hours before you're going to use it, or even the night before if possible. Pop it into a colander over a bowl so that the excess water drains off the cheese. That means you avoid a wet and soggy pizza."
There's often a temptation to pile all of your favourite things on to your homemade pizza but our experts all learn towards minimalism in this regard. "Less is always more when it comes to toppings," says Hanlon from Sliced Pizza in Cork. "Keep it simple to get the full flavour."
4. The Oven (Hot! Hot! Hot!)
It's all about the heat. Restaurants have been built around wood-fired pizza ovens that have been flown in from Naples. While it's not impossible to have a wood-fired oven in your back garden, it's fair to say that most people making pizza at home are doing so in a domestic oven. It's vital that you can get that oven as hot as you can get it. Your average oven can reach about 250 degrees celsius.
"Pre-heat your oven to 250 degrees for thirty minutes," says Hanlon of Sliced in Cork City. "It needs to at a very high temp to ensure perfect pizza. 280-300 degrees is the ideal temperature!"
You can use a thin metal baking tray drizzled in oil and sprinkled with flour to avoid the dough sticking to the tray. Some people recommend pre-heating the tray and then transferring your pizza with toppings on to the hot tray, while others recommend assembling your pizza with its toppings on the tray to avoid a bit of a messy transfer situation. Experiment at home and see which one you prefer.
To help reach that higher temperature, a pizza stone is worth investing in. "To get a really springy dough," says White from PI Pizza, "a thermal mass is needed. Most domestic ovens can't get quite hot enough so the pizza stone helps. You want to use top and bottom heat, as opposed to fan heat which can dry out the dough."
Depending on how hot you were able to get your oven, your pizza shouldn't take any more than 10 minutes to cook. The ideal time would be 5 minutes, and that's where a pizza stone might help. If you are able to achieve a really hot oven, that can reduce your cooking time leading to a springy dough and moist toppings.
5. The Attitude (Be A Pizza Imperfectionist)
The beauty of homemade pizza is that there are a number of ways of doing it "right". Experiment with a few trusted recipes. Find a method that you like, and one that works within your kitchen and equipment. The first time you make pizza, it might be worlds away from the quality of your favourite pizzeria. But that's OK.
"Don't be afraid to fail," says McNerney. "You might make a balls of it the first time you make a dough but you'll learn from your mistakes. Experience and practice really helps. It can be about the touch and feel, and getting to know the temperature of your kitchen and how dough reacts to that. People expect their homemade dough to come out of the oven looking like an ad for an Italian restaurant. If you use good ingredients and give it time and love, the pizza will taste good – even if it looks terrible."
Watch YouTube videos on how to roll out pizza dough by hand. Read plenty of recipes to figure out what approach you might like to take. Experiment with different types and brands of yeast. Do you want to assemble your toppings on a pizza stone or do you want to use a pizza peel to transfer your assembled pizza onto a hot baking tray or stone? Will you go for a tomato sauce or a bianco? The beauty of pizza making is that it's not an exact science. There are a number of factors which come into play so it's about taking advice from experts and using that advice to find your ideal pizza recipe for your home.
Remember, you're cooking for yourself, your family or your friends. Part of the joy of pizza is that it's a very communal thing to make. "Don't take it too seriously," says Gray of Gaillot et Gray. "Enjoy it. Have fun with it. Experiment. Get everyone involved from grandparents to kids to next door neighbours."
Recipe: Mushroom & Rosemary Bianco Pizza
After quite a bit of experimentation, and only one major failure, I've come to depend on the below recipe for my own pizza-making adventures. Mine is a short prove, designed for people who want to make the dough on the same day as the pizza party.
This recipe, particularly the amount of yeast used, can be adapted for a much longer prove – and all the experts say that a longer prove yields a better dough so that's definitely worth keeping in mind. Do an online search to find the best method for a longer prove dough recipe, and then pick up this recipe where the toppings come in to play.
Ingredients
500g strong white flour
1 tsp salt
9g quick yeast (about three teaspoons)
300ml warm water
100g semolina
Handful of wild mushrooms
1/2 lemon
2 cloves of garlic, grated
2 sprigs of rosemary
Salt
Pepper
Olive oil and flour for dusting
200g ricotta cheese
Method
In large bowl, mix the flour, salt and yeast. Add the warm water in three batches. Mix with your hands until the dough forms.
Transfer onto a floured surface and knead for 15 to 20 minutes until the dough is firm. Put in greased bowl, cover with clingfilm and allow to a rest in a warm place for at least 30 minutes – ideally an hour and a half. You want the dough to double in size.
Just before you plan to roll out your pizza dough, chop your mushrooms. Add a squeeze of lemon juice, the leaves from the sprigs of rosemary, grated garlic, a good glug of olive oil, a pinch of salt and pepper to the mushrooms and mix. Leave to marinate.
Pre-heat your oven to its highest temperature.
Grease a baking tray or pizza stone with a bit of olive oil and dust it with flour. You can also use sunflower oil which will create less smoke than olive oil.
Put the tray or pizza stone into the oven (follow the instructions on the pizza stone – most of them need to be heated gradually in the oven) and allow it to get very, very hot!
Take the dough out of the greased bowl (it should have about doubled and will be lovely and soft and fluffed up). Divide into three pieces and use your hands to roll into dough balls. If you're only making one pizza, wrap the two extra dough balls in clingfilm and keep in the fridge for up to two days, or in the freezer for up to a month.
Roll out with a rolling pin or by using your hands to stretch the pizza dough on a floured surface into a circle and dust with semolina. Spread the base with ricotta. Add the mushrooms and sprinkle with grated parmesan.
Carefully transfer the pizza and toppings onto the (very hot!) greased baking tray or pizza stone. Don't keep the oven open for too long, you want the temperature to remain really really hot in there.
Cook in the hot oven for between 5 and 10 minutes, until the base is crisp and golden but the toppings are not dried out. Serve with an extra sprinkling of Parmesan and a drizzle of olive oil.