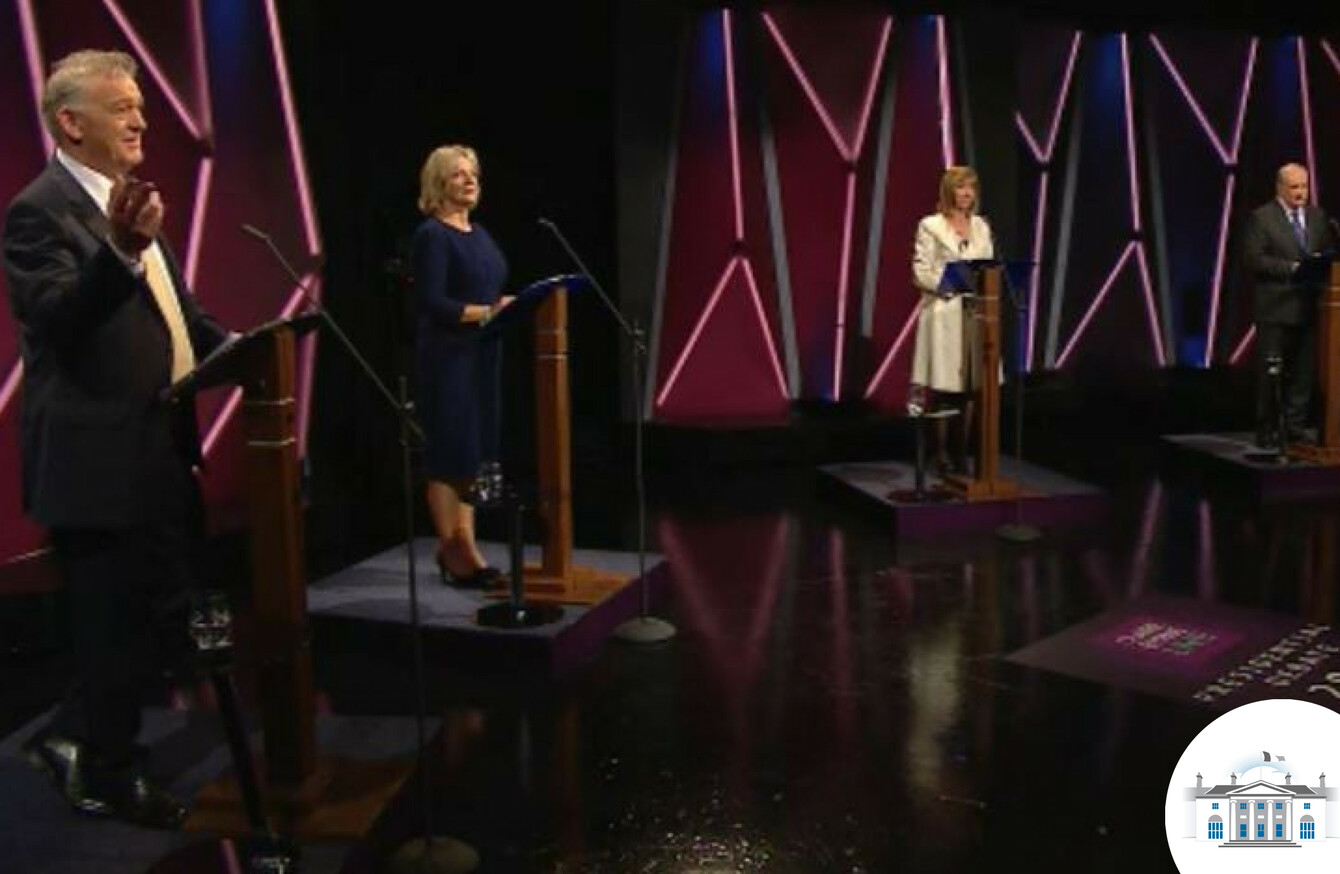 Image: Screenshot/RTÉ
Image: Screenshot/RTÉ
THE FIRST LIVE televised presidential debate was unexpectedly interrupted, and had to cut to an ad break.
Presidential candidates Gavin Duffy, Joan Freeman, Peter Casey and Sinn Féin's Liadh Ní Riada were answering questions on the Claire Byrne show about the Constitution, funding, and presidential priorities.
Casey was in the middle of answering a question when an audience member began shouting at Casey, and Claire Byrne had to abruptly cut to an ad break.
When they returned from the ad break, Byrne resumed the debate without making any reference to the interruption.
A woman who made an in-character pitch for an Áras nomination (as Bunty Twuntingdon McFluff) to Dublin City Council last month interrupted the debate. 
She had tweeted from her account before the beginning of the programme stating that she was in the audience, and questioning the qualifications of the candidates.
It's been reported that she said "I've had enough" before falling down the stairs.
Bunty (aka Norma Burke) made a satirical pitch at Dublin City Council last month.
During that speech, she suggested setting up hunting lodges in the Phoenix Park and burning dead people for fossil fuels, which provoked a particularly strong reaction.
Independent councillor Mannix Flynn interrupted Burke to call the speech "an insult to the office of President", while Labour's Dermot Lacey said her address was "deeply offensive".
In a statement to TheJournal.ie, RTÉ said:
Audience selection was founded on open applications from members of the public. The audience was selected by an external company to be representative both geographically, politically and demographically of the electorate.
We regret a member of the audience decided to interrupt the candidates. They were removed from the studio and the live broadcast continued.
If you want a round up of what else happened during the debate, we have it documented in our Liveblog here.