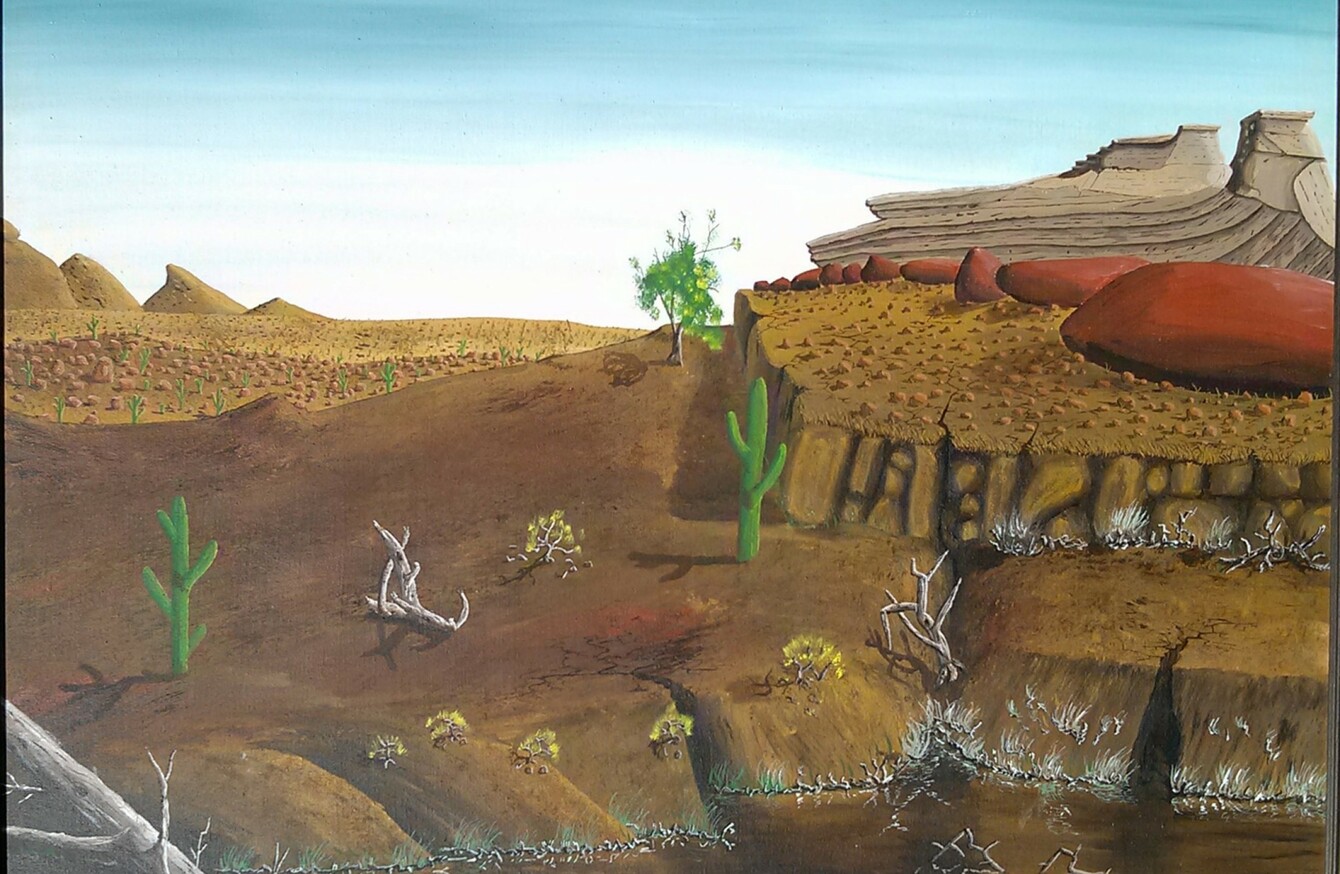 The painting that was once valued at more than $10 million.
Image: Barlow Gallery Ltd/AP
The painting that was once valued at more than $10 million.
Image: Barlow Gallery Ltd/AP
A US JUDGE has ruled in favour of a world-famous artist when he insisted he didn't paint a work – in a case with serious repercussions for the art world.
The ruling, given this Tuesday, is likely to ensure the piece will now be worth a fraction of the previous estimated value of $10 million, or over €8.8 million.
Scottish-born artist Peter Doig, who denied the golden desert painting was his, was sued by Canadian prison officer Robert Fletcher, who paid just $100 in the 1970s and had hoped for a windfall of millions of dollars in retirement.
Fletcher, aged 62, testified that he bought the painting of a desert landscape while Doig was serving prison time in Canada's Thunder Bay Correctional Center.
But the judge said it was Doige – who was several years older and painted at the time – who was briefly in prison.
The evidence, Presiding Judge Gary Feinerman said, showed this was a case of imperfect memories, coincidences and mistaken identity.
He said it was a different Peter Doige, who spelled his name with an 'e', who created the artwork. Feinerman rejected the idea that Doig, the renowned artist, and Doige were the same person.
Judge Feinerman spent nearly two hours explaining his decision and going through evidence, from high school yearbooks to prison records, all of which demonstrated, he said, that Doig "absolutely did not paint the work in question".
The trial stemmed from Fletcher's 2013 lawsuit in Chicago, where one auctioneer was located, in which he sought millions in damages after the painting's projected sale price tanked following Doig's disavowal of it. The judge ruled Fletcher wasn't entitled to any money.
Authenticity disputes typically arise long after an artist dies, not when the artist is alive and flatly denies a work is his. This case created a stir in the art world, where the principle is widely accepted that artists' word on whether a work is theirs or not is final.
In a written statement after the verdict entirely in his favor, Doig, aged 57, said "justice prevailed, but it was way too long in coming."
That a living artist has to defend the authorship of his own work should never have come to pass.
After the decision, when a reporter asked Fletcher if he was still convinced the man he bought the painting from in prison and the internationally acclaimed artist were one and the same despite the judge's conclusion, he responded: "I am."
Doig, who attended the trial last week but listened to the verdict by telephone, sharply criticized Fletcher's lawsuit.
That the plaintiffs in this case have shamelessly tried to deny another artist his legacy for money is despicable.
Fletcher's attorney, William Zieske, said the suit was brought in good faith and an appeal is possible.
#Open journalism No news is bad news Support The Journal

Your contributions will help us continue to deliver the stories that are important to you

Support us now
The million dollar 'e'
A key witness for Doig was a Canadian woman, Marilyn Doige Bovard, who told the court the painting was by her now-deceased brother, Peter Doige. She confirmed her brother had been in prison where Fletcher worked in the mid to late '70s.
Doig, who now lives in Trinidad, said he's never been in prison. While he lived in Canada at the time, he said he was attending school in Toronto, 500 miles from the prison. Feinerman said yearbooks proved Doig was, in fact, in Toronto when Fletcher said he was in prison.
Some artists worried the case could set a bad precedent and lead to similar lawsuits, said Amy Adler, who teaches art and the law at New York University School of Law.
"This case inspires terror in some artists who fear they could end up in court for denying that a work they did not do isn't theirs," Adler said.
Doig's works are prized for their ethereal scenes often with subjects appearing as ghostly figures.