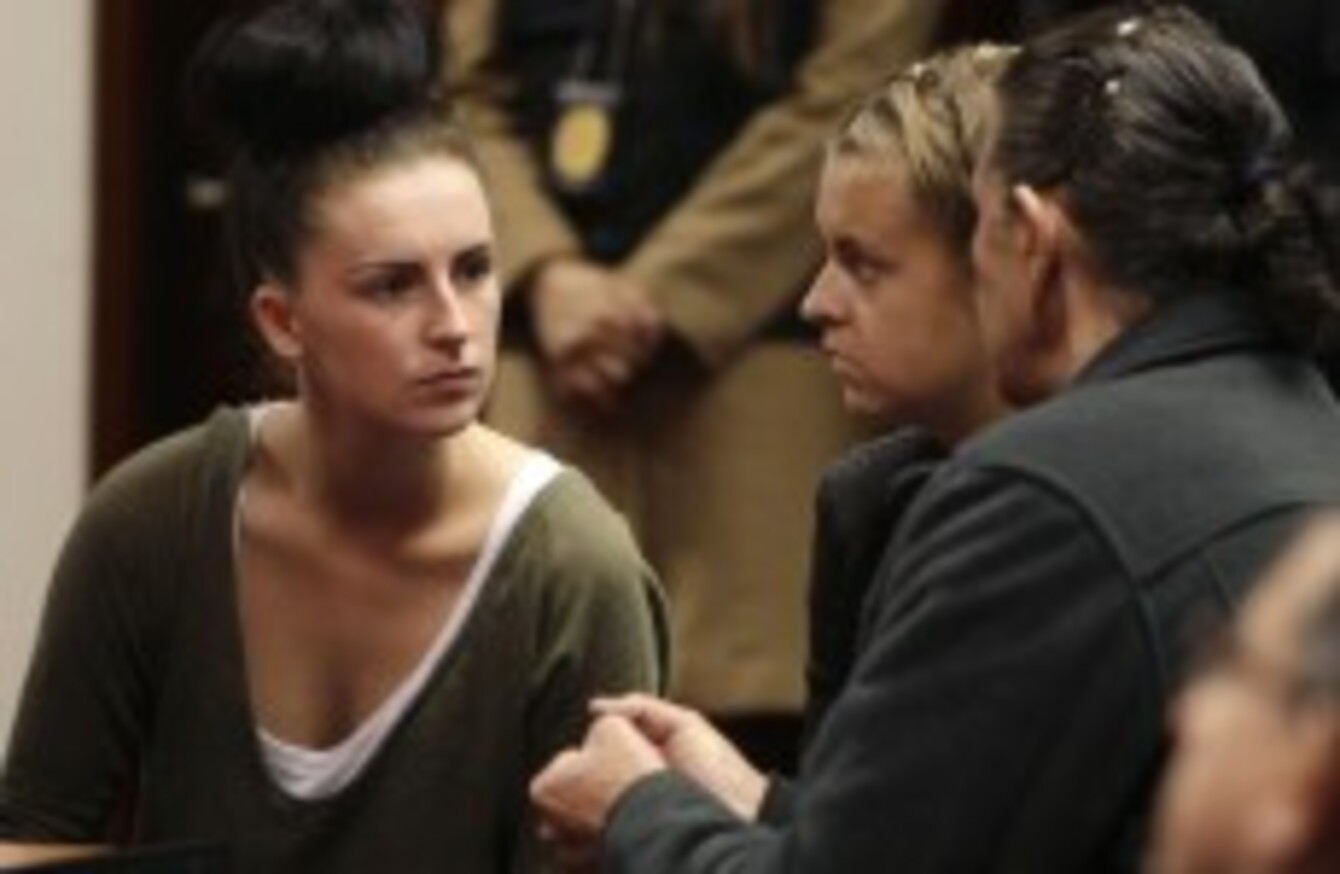 Image: (AP Photo/Martin Mejia)
Image: (AP Photo/Martin Mejia)
THE IRISH WOMAN being held in Peru on drug trafficking allegations will have just a few weeks to decide whether she wants to enter an innocent or guilty plea.
Michaella McCollum Connolly and her British companion Melissa Reid were found with around 11kg of cocaine hidden in food packages as they tried to check into a flight bound for Madrid.
If she pleads innocent, the 20-year-old must wait at least two years for a trial and if found guilty following the trial she could face up to 20 years in prison.
However, if the Monaghan-born woman and her Glasgow friend plead guilty they could be back home in as little as two years.
Peter Madden explained that there is a piece of legislation going through Peruvian Congress at the moment which applies to foreigners given around seven years in prison or less. They get two-thirds remission off their sentences, which means the pair would serve around two years of a six year sentence. The catch: They would have to admit guilt.
Madden told RTÉ's Marian Finucane Show that she must "think very carefully" about her decision.
He said the women, who are both being held in a notoriously dangerous women's prison south of Lima, will decide in the coming weeks.
Outline of events
McCollum Connolly's lawyer also outlined how she ended up in their current situation.
He said she went to Ibiza for the summer and got work quickly as a waitress and in promotions.
"She makes friends easily… and she met a number of people and formed a circle of friends," he said.
The group decided to go to Barcelona together for a couple of days and "a fella on the fringe of the group" who she didn't know that well went to collect her for the Barcelona trip but "brought her to an apartment and a gun was produced".
He produced a copy of her passport and copies of photos of her family from Facebook.
"The man told her that friends of his wanted her to do something," the lawyer outlined.
She was then brought to a travel agency and a flight was booked to Palma, Majorca. "She then flew to Palma Majorca under that threat… where she was met by Melissa Reid, who she had never met before who was there with another man".
"They were then taken to another apartment where they were held for four days," Madden said. "Guns were produced… There were four men and a woman in the apartment… There wasn't a lot of conversation."
Madden said both women were taken out once or twice to a restaurant and food was also taken into them.
Four days after Palma, both girls were instructed to go to Peru. "Melissa traveled first and Michaella went the following day… They met in Lima."
The women were followed by the men and each given a mobile phone with a pre-set number so they could follow the instructions.
#Open journalism No news is bad news Support The Journal

Your contributions will help us continue to deliver the stories that are important to you

Support us now
Madden said the women had their flights and tours booked for them by the gang and that they didn't know about the cocaine.
They were told at the very last minute that "things" had to go in their suitcase and they were instructed to put the packages into their bags.
"They both objected to this," Madden said but the guy giving the directions said, "you have no choice" and added that they had "no chance of getting caught".
"They were told in no uncertain terms that they had to do it," Madden said.
Police stopped the women at Jorge Chavez airport and found 11 kilos 590 grams of cocaine alkaloid with them.
Good form
Madden also said Michaella was in "good form" and that she speaks to her family regularly, ringing her mother every day from the Fatima de Virgen prison.
Her family had initially thought she was missing for almost two weeks in Ibiza and they launched a large-scale social media campaign looking for her.