David Petraeus is off to head the CIA.
Image: Musadeq Sadeq/AP/Press Association Images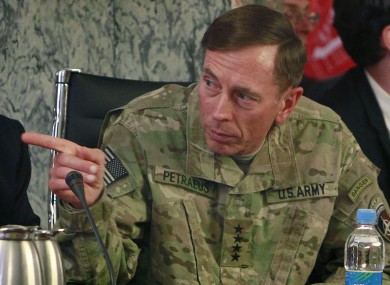 David Petraeus is off to head the CIA.
Image: Musadeq Sadeq/AP/Press Association Images
GENERAL JOHN ALLEN took over command of American and coalition forces in Afghanistan on Monday from General David Petraeus, assuming responsibility as Afghanistan's international allies draw up exit plans from the nearly 10-year conflict.
Allen said that the drawdown of US forces that started earlier this month and the transition of some areas to Afghan control this week does not mean that international forces are easing up in their campaign to defeat the Taliban insurgency.
"It is my intention to maintain the momentum of the campaign," Allen said at the handover ceremony in the Afghan capital. He said however, that he does not expect the fight to be easy: "There will be tough days ahead. I have no illusions about the challenges ahead."
US officials have trumpeted success in reclaiming Taliban strongholds in southern Afghanistan and training Afghan security forces as signs that they are finally making progress toward peace in Afghanistan. But violent attacks have continued, including a number of high-profile assaults and assassinations in recent weeks.
On Monday morning, a bomb killed three international service members in the east, NATO said in a statement. It did not provide nationalities or further details. Most of the troops in the east are American.
At least 37 international forces have been killed so far this month in Afghanistan.
Allen, who was promoted to a four-star general shortly before the handover ceremony, takes over from Petraeus, who commanded international forces in Afghanistan for one year and is retiring from the military to become the director of the Central Intelligence Agency.
The ceremony came just hours after security forces in the capital killed the final attacker in the assassination of a close adviser to President Hamid Karzai.
The Taliban claimed responsibility for that attack, in which two gunmen shot Karzai adviser Jan Mohammed Khan and a parliamentarian he was meeting with in his house.
The deaths were announced late Sunday night and one attacker was quickly killed, but fighting continued inside the house until early Monday morning as police tried to take out the remaining assailant who had barricaded himself in the house, police said. One police officer was killed, the Interior Ministry said.
The shooting and small explosions finally ended about 3 am and reporters on the scene saw a body — presumably that of the final attacker — dragged out of the house on a plastic sheet. Afghan officials had originally said the attackers were wearing suicide vests but said Monday that this was incorrect and they were armed only with guns.
- AP