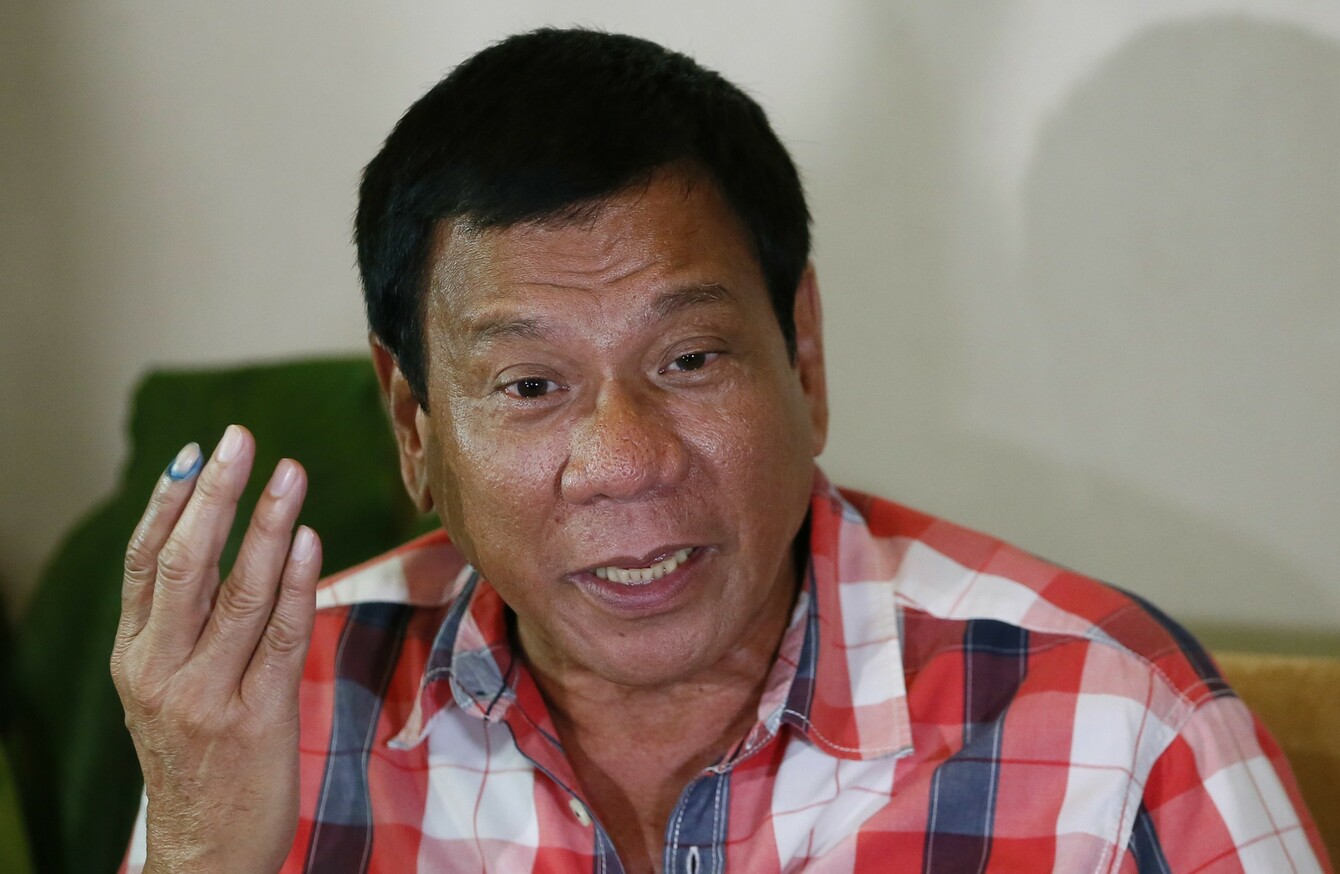 Rodrigo Duterte
Image: Bullit Marquez
Rodrigo Duterte
Image: Bullit Marquez
MEDIA GROUPS EXPRESSED outrage at Philippine president-elect Rodrigo Duterte's endorsement of killing corrupt journalists, warning his comments could incite more murders in a nation already one of the world's most dangerous for reporters.
Duterte, who won last month's elections in a landslide after pledging to kill tens of thousands of criminals, told reporters on Tuesday that there was justification for killing journalists who took bribes or engaged in other corrupt activities.
"Just because you're a journalist you are not exempted from assassination, if you're a son of a bitch," Duterte said when asked how he would address the problem of media killings in the Philippines after a reporter was shot dead in Manila last week.
The National Union of Journalists of the Philippines described the comments as "appalling". It conceded there were corruption problems in the industry but said these did not justify murdering reporters.
"Most of those killed, to be frank, have done something. You won't be killed if you don't do anything wrong," said Duterte, who will be sworn into office on 30 June.
Wolf whistle
Duterte was then accused of sexual harassment and disrespecting women after wolf whistling a female journalist on a nationally televised press conference.
Duterte, 71, interrupted a question from television reporter Mariz Umali on Tuesday night about his Cabinet appointees with a light-hearted comment about her trying to get his attention, then wolf whistling and breaking into a short serenade.
Umali continued trying to ask her question as Duterte smiled and some other reporters laughed.
In an interview with her GMA network on Thursday, Umali described his remarks as "improper".
While Umali said she would not ask for an apology and sought not to inflame the controversy, her journalist husband took to Facebook to criticise Duterte.
"Catcalling my wife is wrong in so many levels," husband Raffy Tima wrote.
"Some jokes are funny and should be laughed at but disrespecting women is definitely not one of them."
Incendiary
Duterte, an incendiary politician who won last month's elections by a landslide on a pledge to end crime by killing tens of thousands of criminals, has previously been criticised for comments about women.
On the campaign trail he made a joke about wanting to rape a "beautiful" Australian missionary who had been sexually assaulted and murdered in a 1989 prison riot in his hometown of Davao.
When his daughter reacted to those comments by revealing she had been raped, Duterte described her in jest as a "drama queen".