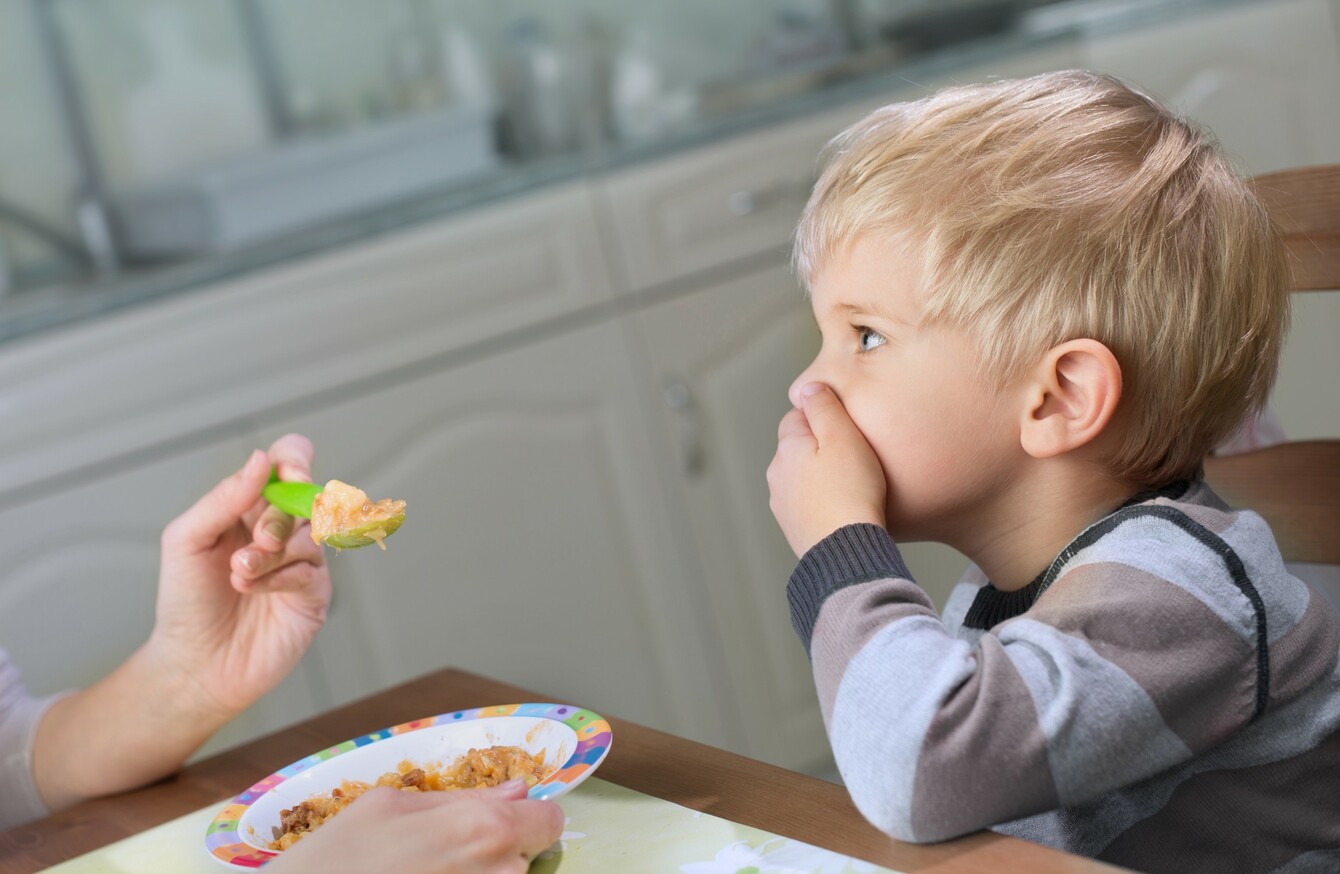 Image: Shutterstock
Image: Shutterstock
EACH WEEK, WE hear from a reader who can't figure out what to do about a tricky parenting situation. To get a balanced take on the dilemma, we ask Irish parenting experts to weigh in.
 From choosing whether to push toilet training to allowing a baby to 'cry it out', being a parent involves decision after decision – and a whole lot of questioning yourself.
This week, one parent is unsure whether she's doing the right thing by preparing separate meals for her son who's a picky eater.
Have a parenting dilemma you're struggling with? Let us know anonymously here and we'll share it with our panel of experts. 
This week's dilemma
My four-year-old son is such a picky eater. He has been like this since he was a baby, and it's resulted in me making him separate meals to the rest of the family. He doesn't necessarily eat badly, but he will only eat very plain meals, whereas the rest of the family have great variety in their diet. I've found that making separate meals for him is the best option, as otherwise he won't eat.
His three-year-old sister has been a great eater up to now, but now she's noticing he gets a different meal to her and keeps asking to eat the same things he does. Am I being unreasonable by continuing to make him separate meals?
What the experts have to say…
No, you are not being unreasonable. A child not eating or refusing meals is a very, very stressful situation. I totally understand the pressure you feel to have your child eat a nutritional dinner. If cooking him a separate meal works for you and your family, then I don't see the problem. If the extra workload is a problem and you feel this practice will essentially negatively influence his siblings' positive eating habits, then you could consider a change of approach in the future. Taking the pressure off having to eat and getting your children involved in food preparation and cooking are all dietitian-approved tips to help your fussy eater.
- Deirdre Holland Hannon, Behaviour Specialist at @deehollhan.
You're not being unreasonable. It's not unusual for toddlers and young children to be picky and eat something a bit different. Texture, taste, appearance quantity and frequency all feature in their food choices. Bear in mind your child's palette is evolving and whilst most children are okay with salty and sweet foods, the tastes of bitter, hot and sour have to be acquired.
Ideally, family menu choices are a blend of what everyone likes. It can be useful to start with building blocks made up of food your children like and will eat. Also, involving your children in the process can help. I would not advocate introducing bribery to get your son to eat something he doesn't want to. Neither would I advocate associating dessert with being the most-desired part of the meal. Research shows this can lead to issues later on in life. Instead I would focus on the pleasure of eating together, sharing conversation and enjoying family meal times.
- Krysia Lynch, Maternity Care Expert at Krysia.ie. 
I don't think you are being unreasonable. You have more than one child, so with that will come various eating habits! While it's great that he eats well, I would encourage that you start introducing new foods with foods that he likes and in small portions. We can't make our children eat what they really dislike, but the more opportunity and variety we provide to them the more likely they will try. It's only natural that younger siblings will question the difference. Accepting that your child has dislikes is fine, but remember it takes 15-20 times of offering before a child will accept a new food. 
 - Aoife Lee, Parent Coach at @parentsupport.

So what's the final tally? Is this reader being unreasonable?
Yes – 0
No – 3
Have a parenting question you want answered? Let us know anonymously in our survey here or email us on family@thejournal.ie and we'll put it to the experts.