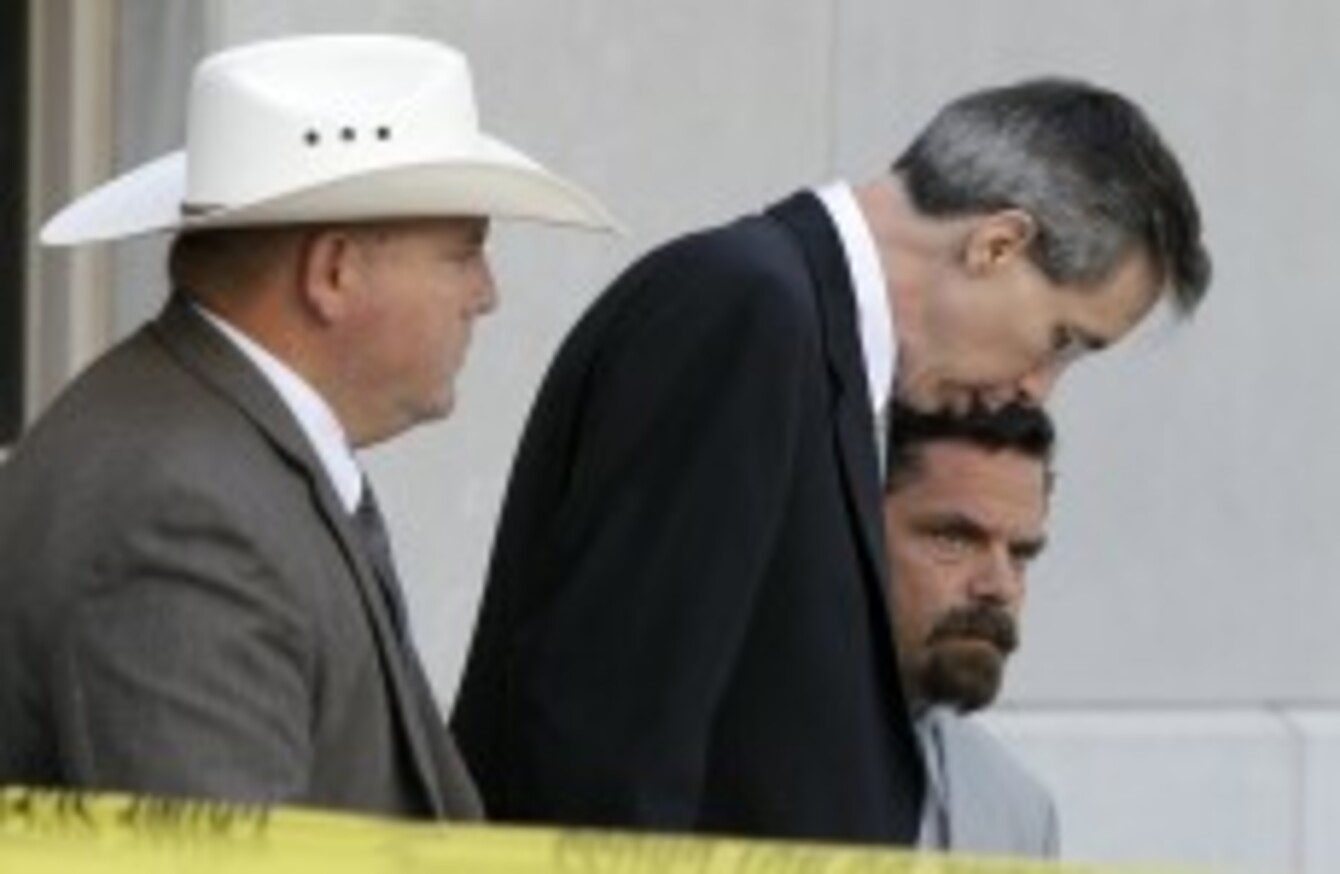 Polygamist church leader Warren Jeffs is escorted from jail after being found guilty of two charges of child sexual abuse.
Image: Tony Gutierrez/AP
Polygamist church leader Warren Jeffs is escorted from jail after being found guilty of two charges of child sexual abuse.
Image: Tony Gutierrez/AP
POLYGAMIST CHURCH LEADER Warren Jeffs has been convicted of sexually assaulting two child brides in Texas.
The whirlwind trial saw Jeffs insist on representing himself – only to remain silent through much of the proceedings and present only a single witness: a church elder who gave an extended Sunday school lesson on its beliefs.
The tall and lanky head of the Fundamentalist Church of Jesus Christ of Latter Day Saints (FLDS) stood stone-faced as the verdicts – of guilty on two counts of sexual assault of underage girls – were read.
He had stood mute during his closing argument, staring at the floor for all but a few seconds of the half hour he was allotted.
At one point, he turned and looked toward prosecutors and the jury, most of whom avoided direct eye contact with him. "I am at peace," he mumbled, then said no more. The only noise in the courtroom was the creaking of wooden benches brimming with spectators.
Jeffs, 55, had claimed his religious rights were being trampled and that God would seek revenge if the trial continued. He now faces up to life in prison. The sentencing phase of the trial began after the verdict was announced, and Texas' attorney general said it could take three days to decide on a sentence.
Prosecutors used DNA evidence to show Jeffs fathered a child with a 15-year-old girl, and played an audio recording of what they said was him sexually assaulting a 12-year-old. They also played tapes in which Jeffs was heard instructing young women on how to please him sexually — and thus, he told them, please God.
The FLDS, which has at least 10,000 members, is a radical offshoot of mainstream Mormonism and believes polygamy brings exaltation in heaven. They see Jeffs as God's spokesman on Earth.
Pregnant underage girls
Police raided the group's remote West Texas ranch in April 2008, finding women dressed in frontier-style dresses and hairdos from the 19th century as well as seeing underage girls who were clearly pregnant.
The call to an abuse hotline that spurred the raid turned out to be a hoax, and more than 400 children who had been placed in protective custody were eventually returned to their families.
But authorities brought sexual assault and bigamy charges against a dozen men from the sect, with Jeffs by far the highest-profile defendant. All seven of those who have been prosecuted before him were convicted, receiving prison sentences of between six and 75 years.
As the sentencing phase began, prosecutors told jurors they will present evidence that Jeffs had 78 wives, in addition to his legal spouse, and that 24 of them were under the age of 17. Lead prosecutor Eric Nichols also said he would show that Jeffs either witnessed or performed more than 500 polygamist marriages, as well as 67 other church marriages involving underage girls.
Jeffs stood up and made several incoherent objections to what Nichols said — something he did frequently throughout the trial.
"I object to anything pertaining to a religious manner," he said. "A constitutional guarantee involving things sacred must be invoked."
Prosecutors relied heavily on information seized from the 'Yearning For Zion' compound in the town of Eldorado, 45 miles south of San Angelo. Much of the material was discovered in a vault at the end of a secret passageway in the temple and another vault in an annex building.
"You might have asked yourselves," Nichols told jurors during closing arguments, "a lot of people may ask, why would someone record sex? … This individual considers himself to be the prophet. Everything he did, hour after hour, he was required to keep a record of that."
On one of the tapes played at the trial, Jeffs made a reference to "drawing close" or "being close," which authorities testified is how church members refer to sex. Two female voices were recorded saying "OK."
"A good wife is trained for her husband and follows the spirit of peace," Jeffs was heard saying.
Another audio recording included Jeffs and his younger victim and was made in August 2006 at the Texas compound. Played in court, it was difficult to decipher, but Jeffs' and a female voice are heard.
He says, "I perform this service in the name of Jesus Christ, Amen," then mentions the alleged victim by name. When she says something, he responds, "Don't talk while praying." Several minutes of heavy breathing followed.