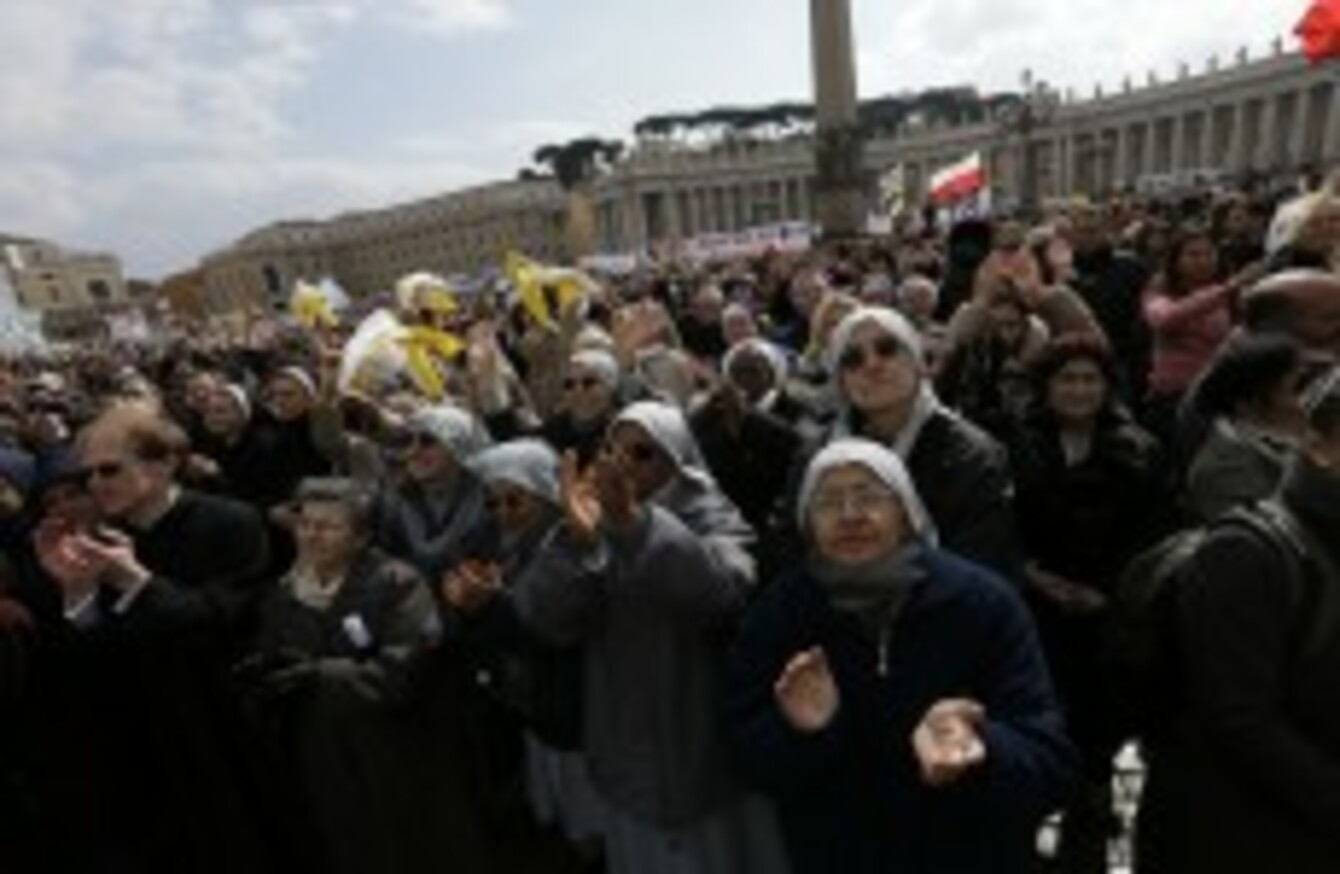 More than 100,000 people are believed to have attended today's service in Rome.
Image: Alessandra Tarantino/AP/Press Association Images
More than 100,000 people are believed to have attended today's service in Rome.
Image: Alessandra Tarantino/AP/Press Association Images
POPE BENEDICT XVI delivered an emotional last Sunday prayer in St Peter's Square, saying God had told him to devote himself to quiet contemplation but assuring he would not "abandon" the Church.
The final days of his pontificate are being overshadowed by mounting scandal over two cardinals – one accused of covering up paedophile abusers and the other accused of "inappropriate acts" – set to to take part in the conclave to elect the next pontiff.
But tens of thousands of supporters turned out for Benedict's final Sunday prayers ahead of his formal resignation on Thursday, often interrupting him with their clapping, cheering and chanting.
(Faithful hold up a sign with writing in Italian reading "Dear Pope we will miss you", during Pope Benedict XVI's last Angelus prayer, in St Peter's Square – Pic: Alessandra Tarantino/AP/Press Association Images)
"The Lord is calling me to climb the mountain, to dedicate myself even more to prayer and meditation. But this does not mean abandoning the Church," the pope said from the window of his residence in the Vatican, his voice breaking with emotion.
If God is asking me to do this it is precisely so I can continue to serve with the same dedication and love as before but in a way that is more appropriate for my age and for my strength.
The 85-year-old leader of the world's 1.2 billion Catholics announced earlier this month he will be stepping down because he lacks the strength to carry on.
His shock resignation ends an eight-year reign dominated by the priest child sex abuse scandal and efforts to counter rising secularism in the west.
He thanked the crowd with a final unscripted call, telling them: "We will always be close!"
Huge turnout
The Vatican and Rome police estimated the numbers at more than 100,000 people – many times more than usually attend the traditional Sunday prayer.
"Holy Father, We Love You", read one banner, while others said: "Thank You, Your Holiness" and "Dear Father, We'll Miss You".

(A large sign with writing in German reading "Danke!!!" (thank you) – Pic: Alessandra Tarantino/AP/Press Association Images)
"I have come to support the pope and to ask for his blessing," said Joao-Paulo, a 26-year-old trainee priest from Brazil.
Birgit Marschall, 37, a teacher from Germany, said: "He is an intellectual who speaks in simple language, who writes what we have in our hearts."
Claire Therese Heyne, a 34-year-old theology student from the United States, said the pope "must have had a very strong reason" to leave.
"It is an act of courage and humility," she said.
Benedict will be only the second pope to resign of his own free will in the Church's 2,000-year history, and the first since the Middle Ages.
But Gianpaolo, 33, said Benedict had been "less courageous" than his predecessors, and stressed the need for major reforms.
"The Church has to have a major reflection after this resignation. Something has changed inside the Church and this decision reflects this," said Gianpaolo, who came with his two sons.
Forty-five-year-old Linda from Wales said: "He was not so open as the last popes before him. A new pope should be more open to people, to new ideas."
There was tight security in and around the Vatican, with more than 100 police officers and snipers on surrounding buildings, as well as two field clinics and hundreds of volunteers to help pilgrims.
The event was being seen as preparation for the pope's final general audience in St Peter's on Wednesday where around 200,000 people are expected.
Some Italian media have speculated that Benedict's health may be worse than has been revealed, and others have said an explosive report into the "Vatileaks" scandal may be to blame.
Some reports say a committee of cardinals into the leaks of confidential papal papers last year had uncovered allegations of intrigue, corruption and blackmail in the Vatican.
The Vatican's Secretariat of State – the government of the Catholic Church – took the unusual step yesterday of issuing a statement condemning "completely false news stories".
Conclave
A series of meetings of cardinals starting Friday will determine the date of the start of the conclave of cardinals to elect a new pope.
No favourite has emerged but many observers say the cardinals may plump for a younger candidate who is a more pastoral figure than the academic Benedict.
The upcoming conclave is under a cloud over allegations that one of the 117 "cardinal electors" – US clergyman Roger Mahony had covered up for paedophile priests for years in Los Angeles.
In addition, British cardinal Keith O'Brien has been reported to the Vatican over claims of inappropriate behaviour.
The Vatican said the pope was considering the case.
The Vatican has said Benedict will retire to the papal summer residence of Castel Gandolfo near Rome for the next two or three months while a former monastery inside the Vatican is renovated.
Vatican sources said he is likely to retain his title of "His Holiness" and will also be known under the previously unheard-of title of "Bishop Emeritus of Rome".
The pope, who started a Twitter account in December and has stressed the need for the Church to be present on social media, has also taken to microblogging to say his final goodbyes.