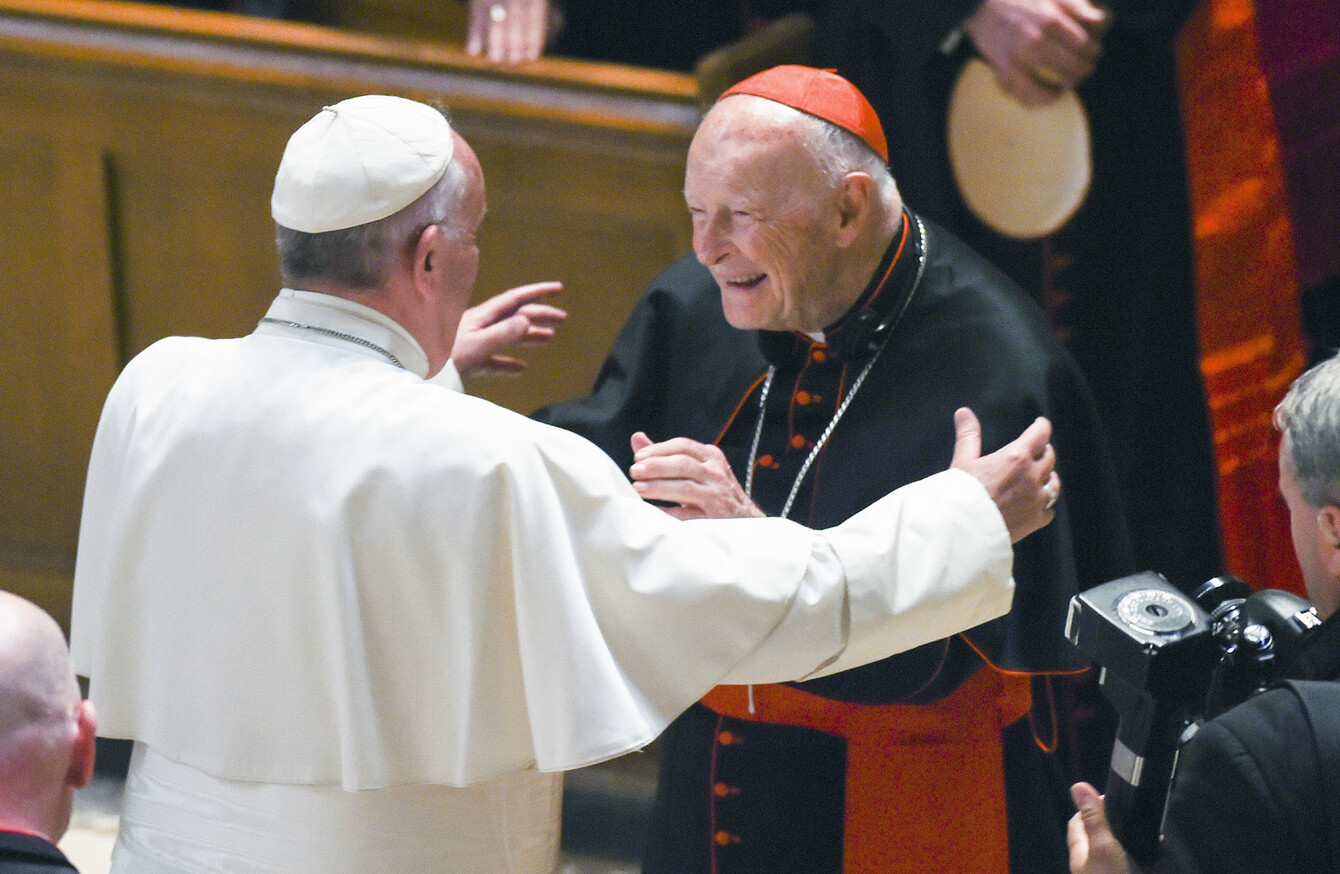 Pope Francis reaches out to hug Cardinal Archbishop emeritus Theodore McCarrick in 2015.
Image: Jonathan Newton
Pope Francis reaches out to hug Cardinal Archbishop emeritus Theodore McCarrick in 2015.
Image: Jonathan Newton
POPE FRANCIS HAS accepted US prelate Theodore McCarrick's offer to resign from the College of Cardinals following allegations of sexual abuse, including one involving an 11-year-old boy, and ordered him to conduct a "life of prayer and penance" in a home to be designated by the pontiff until a church trial is held, the Vatican said.
Francis acted swiftly after receiving McCarrick's letter of resignation yesterday evening, after recent weeks have brought a spate of allegations that the 88-year-old prelate in the course of his distinguished clerical career had sexually abused both boys and adult seminarians. The revelations posed a test of the pontiff's recently declared resolve to battle what he called a "culture of cover-up" of similar abuse in the Catholic's church's hierarchy.
McCarrick had been already removed from public ministry since 20 June, pending a full investigation into allegations he fondled a teenager over 40 years ago in New York City. A man, who was 11 at the time of the first alleged instance of abuse, says a sexually abusive relationship continued for two more decades. McCarrick has denied the initial allegation.
The prelate rose steadily up the US Church's ranks, from auxiliary bishop in New York City, to bishop in Metuchen, New Jersey, to archbishop of Newark, New Jersey, and then to Archbishop of Washington, DC, the nation's capital, the city where the papal ambassador to the United States is based.
While most of the scandals involving pedophile clergy have involved rank-and-file priests, some cases involved bishops, and there are a few involving cardinals, including a current case in Australia of one of Pope Francis' closest advisers, Cardinal George Pell, who now faces a criminal trial in his homeland.
In the case of Scottish Cardinal Keith O'Brien, accused by former seminarians in 2013 of sexual misconduct, Francis only accepted his resignation after the Vatican's top abuse prosecutor conducted a full investigation, two years after the first revelations came out.
But the Holy See's announcement about McCarrick said that Francis was taking action, by isolating McCarrick and ordering penance even before "accusations made against him are examined in a regular canonical trial." In addition, Francis, "ordered his suspension from the exercise of any public ministry," indicating he was approving the measure already in effect since last month.