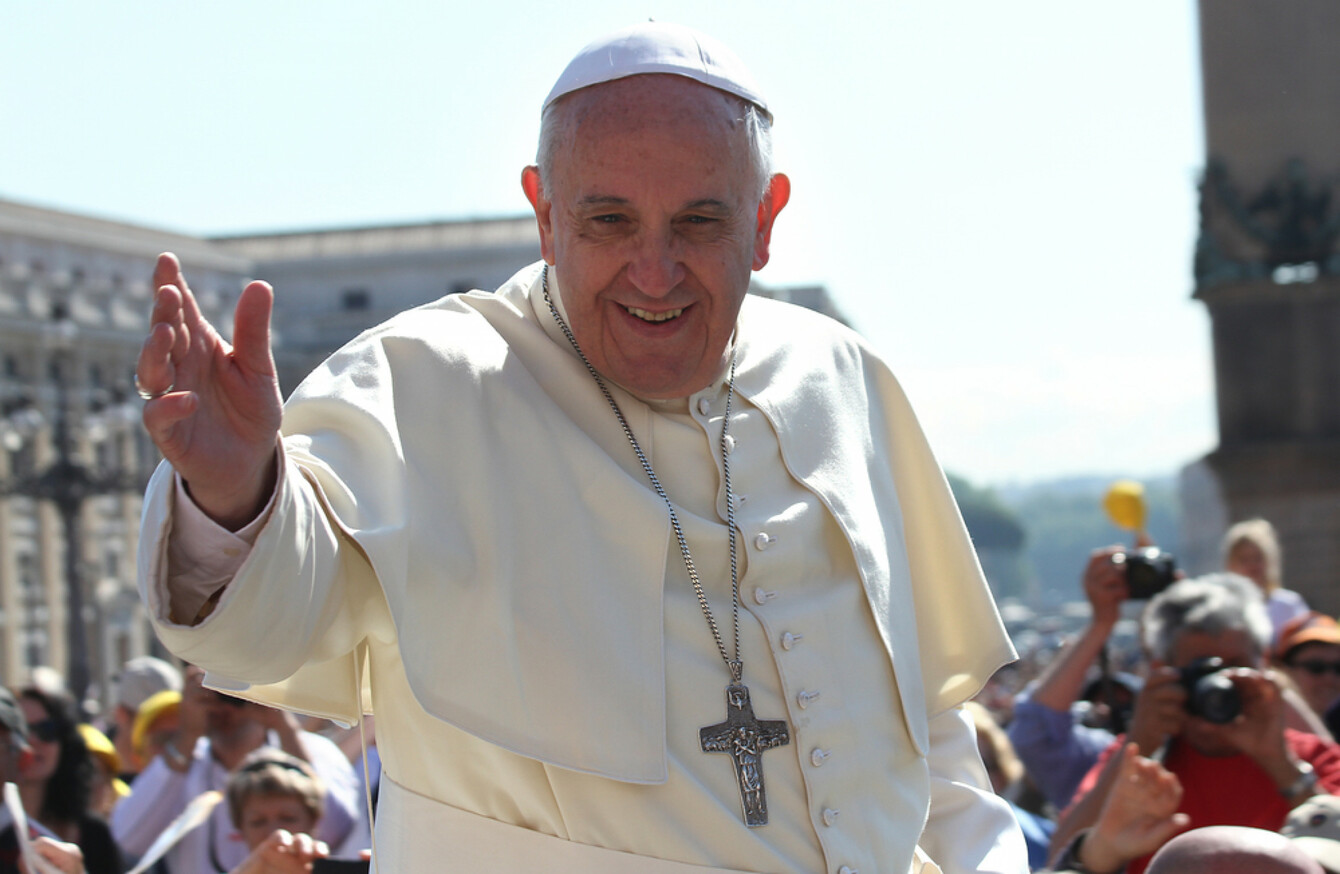 Pope Francis arrives in Ireland on 25 August.
Image: Shutterstock
Pope Francis arrives in Ireland on 25 August.
Image: Shutterstock
AN LGBT-ADVOCATING Catholic group that was unable to get an exhibition stand at the World Meeting of Families has decided against protesting the Pope's visit.
We Are Church Ireland wanted to be part of the pastoral congress in Dublin's RDS held as part of the WMOF but an application for a stand was not accepted by organisers.
The group applied for a spot back in February and even paid a deposit but when they did not receive a reply they withdrew their deposit last month.
The group said it felt discriminated against as part of the process but spokesperson Brendan Butler said it would not be protesting the Pope's visit.
"It was a sort of dilemma for us, but we said we'd accept the visit. Here was an opportunity of being inside the RDS and getting all our ideas across, so we didn't pursue anything outside of that. Some of our members are going to the Mass, more are not, most just feel very indifferent to it at this point," he said.
As well as its work in advocating for the inclusion of LGBT families in the church, We Are Church Ireland also campaigns for the greater participation of women in the church, including in the priesthood.
Butler says he feels the WMOF was an opportunity to share these values to other Catholics.
It would have been a cross-section of Catholics from around the world, so it would have been an excellent experience to be with them and get our ideas across to them. We want an inclusive church, we want LGBT people fully recognised as legitimate families and to be fully represented at the particular event, so we would have been highlighting that as well.
"We feel that we should stay within the organisation and reform it from within, because we have a right to do that. It's like any organisation, you can either walk away from it or if you feel it's valuable most people stay in," he added.
'Approved organisations'
We Are Church Ireland says its exclusion from the pastoral congress was made even more stark when it was anonymously passed correspondence sent from the WMOF to other organisations, offering the stands in the RDS free of charge.
Asked about the status of We Are Church Ireland's application, the WMOF suggested to TheJournal.ie that the group did not meet the criteria for inclusion
"We Are Church are one of a number of organisations who are on a holding list in respect of exhibition space at the WMOF 2018 Pastoral Congress. Many of these groups are on hold because they do not meet our stated criteria which was provided to them at the time of their application," a spokesperson for the WMOF said.
Among the listed criteria provided were that applicants were from "church approved organisations" that were involved in a list of specific work.
Examples of this work included; promoting vocations in the priesthood, promoting Catholic social teaching and supporting family and marriage.
Asked about this criteria, Butler said that while We Are Church Ireland are not a "church approved" group, they engage in much of the work listed by the WMOF.
"We should fit into that, we haven't applied for formal approval, obviously there are some groups around like Legion of Mary, St Vincent's de Paul, they're officially approved. But we feel we're part of the church, we are a group, and why can't we be accepted? Especially now with Pope Francis and a new emphasis in the church."