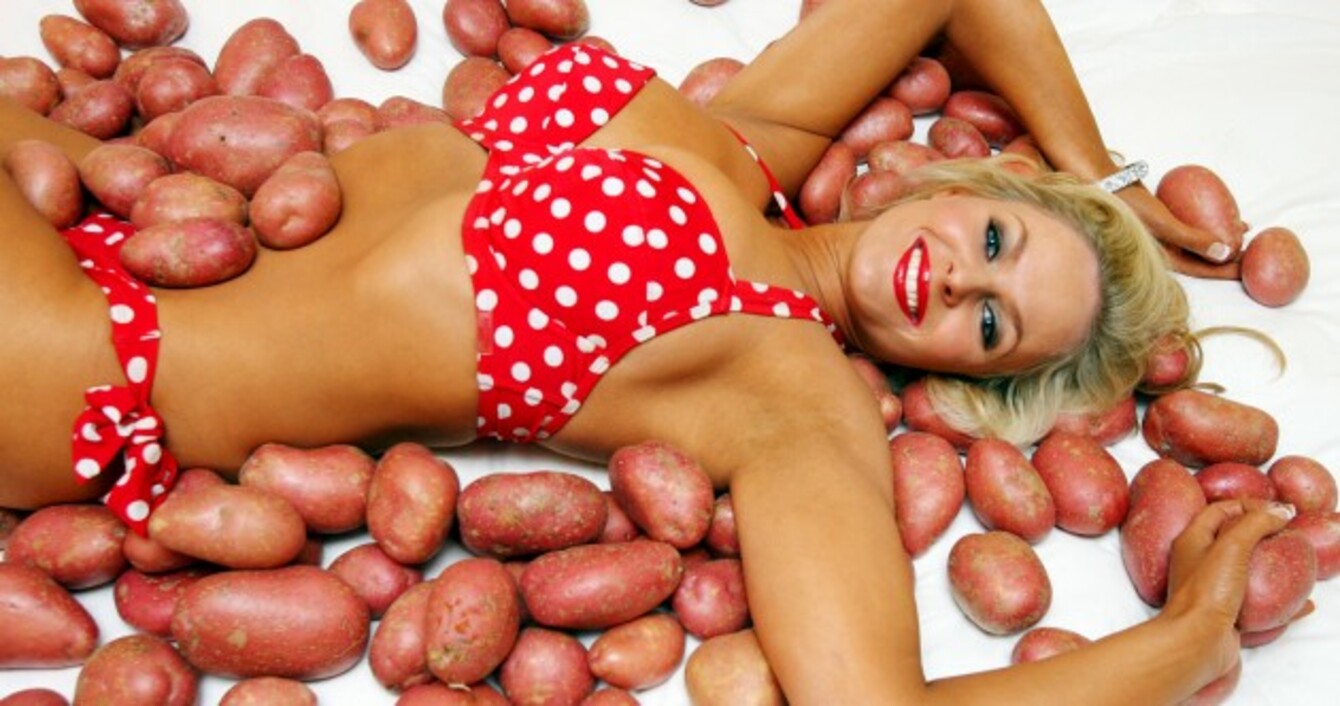 Author and former Miss Ireland Amanda Brunker... and some spuds
Image: James Horan/Photocall Ireland
Author and former Miss Ireland Amanda Brunker... and some spuds
Image: James Horan/Photocall Ireland
AFTER A CENTURIES-LONG love affair, the sun has started to set on Ireland's relationship with the potato.
Once the bedrock of the local diet, consumption of the crop has been in steady decline over the past decade as appetites turn away from carbs or choose more "fashionable" options.
Younger consumers, in particular, have shunned the humble spud with the perceived inconvenience of preparing potatoes weighing them down against imported products like frozen chips.
In 2008 potato sales amounted to about 196,000 tonnes, but by 2018 Bord Bia has forecast they will have dropped 40% to about 139,000 unless tastes change.
As most of the fresh potatoes grown in Ireland are also consumed in the Republic, that fall in demand also has big implications for local farmers who together produce over €80 million worth of the crop each year.
The total amount supplied per head of population in this country is now about half that found in Belarus, which is home to the world's most-eager potato consumers.
Bord Bia horticulture manager Mike Neary told TheJournal.ie potatoes were still Irish consumers' main carbohydrate source, but sales had been consistently falling over the past 20 years.
"The number-one reason is that we have competition from other carbohydrate sources, your pastas, rices and cous cous; number two is the perception around convenience," he said.
Potatoes have been seen as an old-fashioned food and the younger age groups, in particular, haven't been buying into them."
While Irish people still consume a lot of potatoes by European standards, they now eat less of the tubers, on average, than people in the UK – where the downward slide has been more gradual.
'You can't beat the Irish potato'
Second-generation potato farmer Paul Finnegan, who with his brother Joe produces up to 10,000 tonnes of the crop each year near Ashbourne in Co Meath, said each season he had seen the fresh potato market "shrink a little bit".
They have fed the nation for hundreds and hundreds of years … you just can't beat the Irish potato, but these days people can't seem to find the time to prepare them," he said.
Finnegan is part-way through the joint Bord Bia, Enterprise Ireland and Teagasc Food Works programme to develop a new product out of his "ugly" supermarket rejects.
The brothers aim to process them into par-cooked and chilled chips, wedges and mash in a bid to lure people away from the frozen imports.
"There is a gap in the market at the moment and I think, going forward, its going to get even bigger," he said.
Positive signs
Neary said the most positive sign from consumer research was that 96% of households still bought potatoes – they were simply using them in fewer meals than in the past.
"That is a very good starting point to come from; what we want to do is to increase the frequency, we have got to get people to see them differently," he said.
Both Bord Bia and the Irish Potato Federation have been working to turn around peoples' perception of the starchy crop in the same way eggs – and even mushrooms – have gone through successful "rebranding" campaigns.
We have no reason to believe that properly promoting the potato in the right way to the right audience won't get the same results," Neary said.