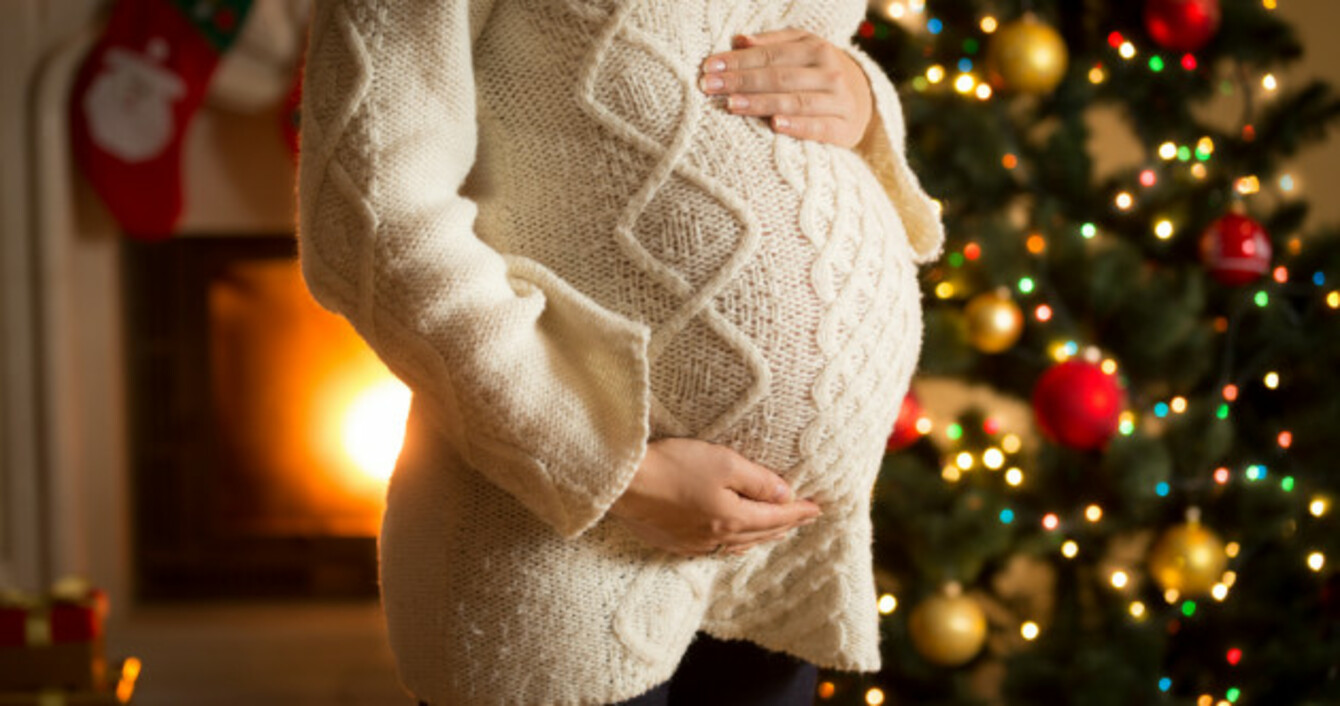 Image: Shutterstock/kryzhov
Image: Shutterstock/kryzhov
CHRISTMAS IS MANIC enough already, but if you're expecting, there's a whole new world of stress, emotions and Christmas outfit shopping to navigate.
I'm currently pregnant with my second child, and while it's certainly a magical time of year to be awaiting a new arrival, it brings a few challenges too.
Here are a few things the pregnancy books won't tell you about the festive period…
1. You'll hear the sentence 'This time next year there'll be another little person to buy for!' approximately 70 billion times over the next couple of weeks.
2. Every. Single. Christmas advert will make you howl. Happy families, sad families, lonely grandparents, grandparents surrounded by kids… everything sentimental will make you weep.
3. Those pregnancy hormones that turn you into a snotty mess any time you turn on the TV? They'll also leave you with an extremely short fuse. Christmas shoppers, online shopping sites, drunken revellers: beware the furious pregnant lady.
4. You'll develop a whole new perspective on the birth of Jesus. That once-adorable wooden Nativity scene now seems germ-filled, scratchy and woefully lacking in birthing pools/drugs/sanitation.
5. You'll have a newfound respect for Mary and hope that Joseph at least kept the bloody sheep out of the way.
6. Dread work parties? You now have the perfect excuse for slipping away early from the office Christmas 'do.
7. You also have the perfect excuse for slipping away from bump-obsessed relatives, washing up, potato peeling, Charades…
8. You can binge on absolutely anything you want without fear of reprisals. If the baby "wants mince pies" or you find yourself "just really craving Quality Street," nobody can hold it against you.
9. You can completely abandon trying to nail figure-hugging 'Christmas partywear' and instead surrender yourself completely to the sweet embrace of maternity leggings.
10. Or, conversely, you might find yourself experiencing total body confidence for the first time ever. Bring on the bodycon and rock it like a six-months-pregnant Kardashian.
11. You'll suddenly become everyone's designated driver – but if you get sick of it, you can always tell your would-be passengers you've been struck down by nausea, heartburn, round ligament pain or general lethargy.
12. Planning to follow through with your annual trip to the local Ominplex for a Christmas movie? Beware: you will need to pee during at least one crucial plot twist, you'll never get comfy in your seat, the smell of jellies and popcorn will almost definitely make you queasy and the irritating children talking through the film will make you wonder why on earth you're bringing another small person into the world.
13. Even if you've spent your entire life scoffing at naff Christmas jumpers you will suddenly be seized by the urge to indulge in a Santa Baby/ Mummy's Little Pudding/Gift-Wrapped Bump geansaí. The cheese!
14. Oh, speaking of cheese, all of those off-limits blue veined delights, oozing Bries and Camemberts will mock you mercilessly. From buffets to smorgasbords, Christmas is truly the most wonderful potentially listeria-filled time of the year.
15. Heartburn will play its part in ruining Christmas food, too. Old friends like chocolate and cream-laced mince pies will suddenly turn into traitors. Bah humbug.
16. No matter how much an alcohol-free bottle of red wine looks like the real thing and smells like the real thing, it does not taste like the real thing. No alco-faux really does the trick, so just accept it and opt for yet another sparkling water.
#Open journalism No news is bad news Support The Journal

Your contributions will help us continue to deliver the stories that are important to you

Support us now
17. Pregnancy hormones – combined with the pressure of gift-buying, family time and disastrous games of Pictionary – raise the likelihood of Christmas tears by at least 60 per cent.
18. That perfume you've liked and longed for all year? Some lovely person will finally buy it for you, and the smell of it will now make you gag.
19. You'll be freshly struck by the sheer pathos of Christmas songs and carols. "There won't be snow in Africa this Christmas. There really won't be," you'll sob.
20. If you're nearing your due date, the promise of snow will now terrify you. Thoughts of a white Christmas will cease to be delightful as you ponder the impact on your tried-and-tested hospital route.
21. You'll wonder if it's socially acceptable to check if your consultant/midwife/doula has snow tyres. If not, would they maybe just like to spend Christmas round yours?
22. The thought of a Christmas baby will – briefly – lead you to consider giving your new arrival a seasonal name. Santa? Wenceslas? Rudolf? Tinsel?
23. If you haven't yet told people you're pregnant, prepare for a few tricky exchanges as you try to brush off offers of a morning mimosa/chunk of blue cheese/second helping of turkey and gravy on an already nauseous stomach…
24. On the other hand, Christmas can be the most lovely time to share your news. With my first we told my family on Christmas morning and my father still fondly remembers bawling his eyes out. Celebrating news of your new arrival at this time of year brings with it a little extra magic, for sure.
Want to win a festive afternoon tea for four at the beautiful Ferrycarrig Hotel? Enter here – and don't forget to follow us on Facebook and Twitter!