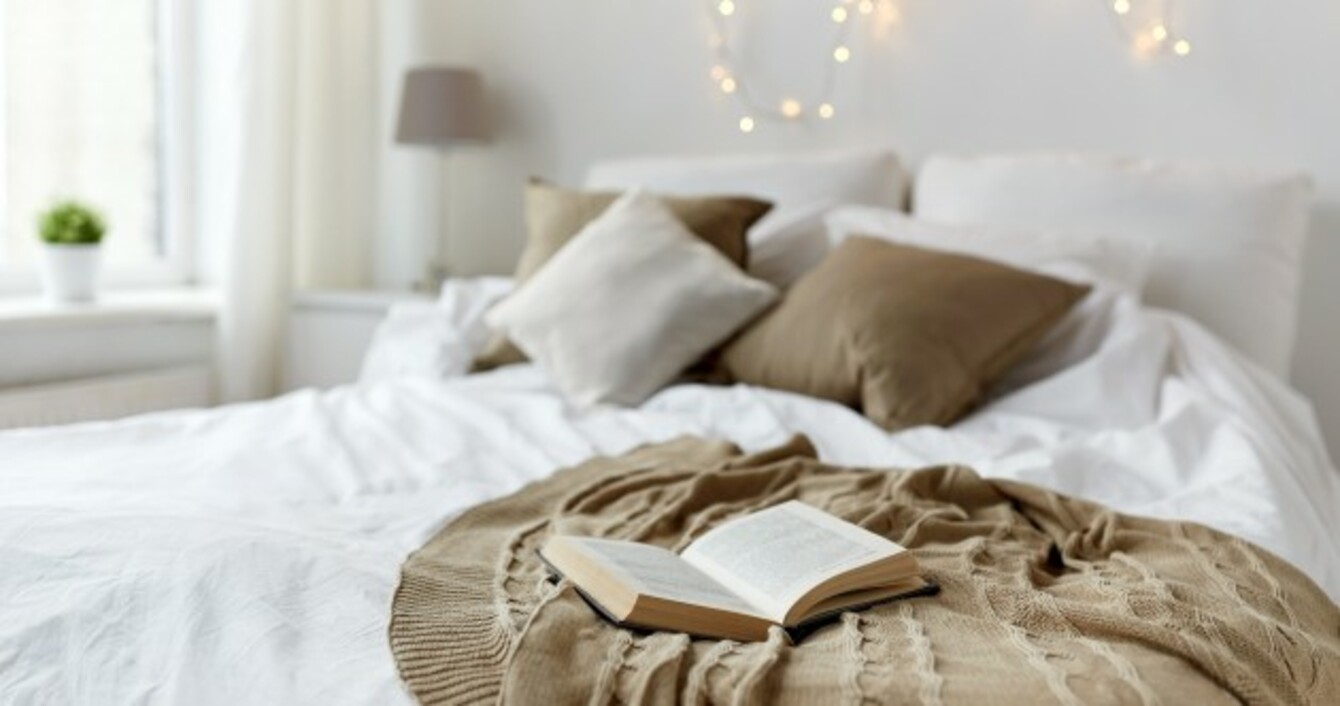 Image: Shutterstock/Syda Productions
Image: Shutterstock/Syda Productions
WHILE THIS PAST weekend felt like a burst of autumn sunshine, winter is still well and truly on its way and will be here in no time. 
I grew up in New England, where the cold months were truly cold. Imagine ice on the windows every morning, frequent snow days, and ice skating on the frozen lake nearby. It was picturesque, but I'm still slightly traumatised by waking up to icy temperatures in a 200-year-old farmhouse for five long months each winter.
I'm grateful to now live in Ireland, where the winter is slightly more temperate. But even though there's (usually) no ice on the windows, the impending chill still has me reaching for heavier duvets and extra blankets.
If you're dreading the drop in temperatures, getting your bedroom (and the bedrooms of everyone else in the house) as cosy as possible is a smart place to start. After all, your bed is where you start and end your day, so you want it to be a place you always feel comfortable and toasty. Here are some tips to help ease the bedroom chill…
First, bedlinen…
1. Add another layer: If you typically sleep with just a fitted sheet and a duvet throughout the warmer months, adding a top sheet and a blanket can bring the extra warmth you'll need as the temperature drops. I've always been a fan of a flannel sheet set for winter, and this one from La Redoute comes in a gorgeous emerald green colour.
2. Swap out the duvet: Seeing October on the calendar is my signal to take out the thicker duvet and put the light one away until next summer. This 13.5 tog duvet from Marks & Spencer would be a good transition item for the autumn/winter months. It's quite affordable because it's synthetic, which is better for those with allergies. If you're ready to splurge, this duck down duvet would be a little heavier, warmer and more luxurious.
Then, think about your bedroom's layout
3. Reposition a cosy rug: If you have an extra floor covering hanging around, now's the time to give it pride of place right where your feet set down when you wake up in the morning. If your bedroom is already carpeted, a small sheepskin rug (like this from Meadows & Byrne) or a faux version (this JYSK option is hard to beat) will make an even softer spot for your feet to land in the morning.
4. Reconsider the radiators: Most bedrooms don't have much room to rearrange furniture, but if you do happen to have a bit of extra square footage, make sure you've positioned your bed for optimal radiator cosiness. Timing comes into play here too. Set your radiators to come on for an hour before you wake up, and have them switch off shortly after. The whole house will feel cosy and it'll make getting out of bed markedly easier.
#Open journalism No news is bad news Support The Journal

Your contributions will help us continue to deliver the stories that are important to you

Support us now
Upgrade your decor
5. Add a few textured items: There is no better time to opt for knit and woven items than the colder months. That chunky knit texture alone will add warmth to your bedroom, whether it's a cushion or a throw. This textured-knit throw from H&M would be perfect for layering on top of your duvet. Take a look around your living room too, and see what could be repurposed for a few months.
6. Embrace darker tones: I'm not always the first to welcome the change of seasons, so I let myself warm up to the ideas slowly by switching out throw cushions and accessories in darker shades. Velvet is always a good autumn idea, and this quilted cushion from Next comes in both deep blue and dark green. One of each should make your bed more comfy on winter nights.
7. Add knits and woollens: While knit throws are more affordable, wool throws are as warm as you can get and will last forever. One of my favourite splurge items in my bedroom is an Irish wool blanket; it's perfectly scratchy and autumnal. This tweed version from the Irish Design Shop would make a lovely gift for yourself of a loved one.
8. Bring in twinkle lights: While we have a little way to go before Christmas, twinkle lights are a great way to add a cosy vibe when the days get shorter and the nights start before dinnertime. String twinkle lights around your bedroom windows and enjoy the ambience as you tuck yourself in at night or even as you're getting ready in the morning.