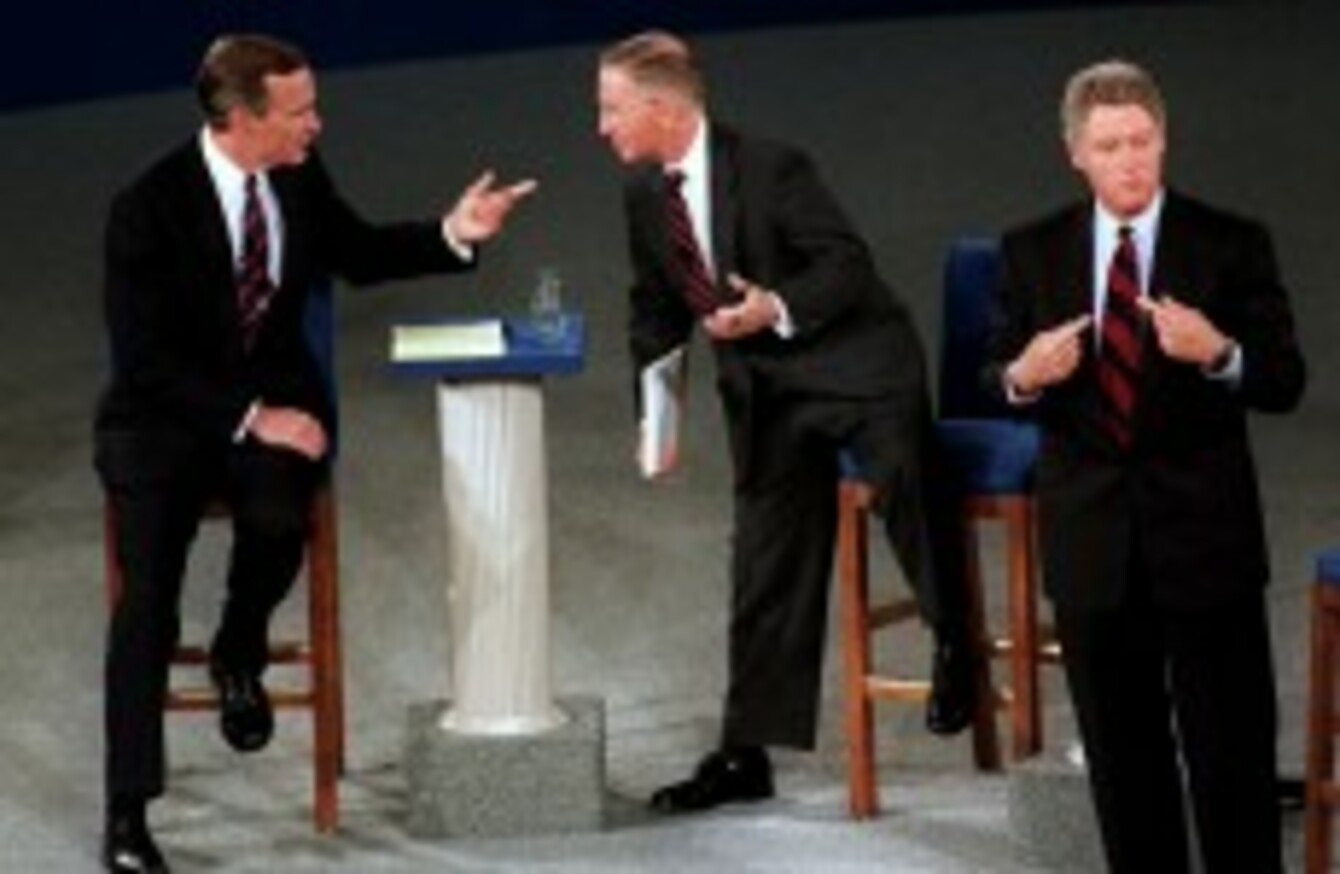 File photo of President Bush, candidate Ross Perot and Bill Clinton at 1992 debate
Image: Associated Press
File photo of President Bush, candidate Ross Perot and Bill Clinton at 1992 debate
Image: Associated Press
FINALLY, THE AUTUMN season offers the matchup sure to attract the biggest audience of the US presidential campaign: President Barack Obama going one-on-one with Republican Mitt Romney in three prime-time debates.
Typically the top political draw in the final sprint to Election Day, the debates assume outsized importance this year with the race a dead heat.
The candidates will have their sound bites and rhetoric down cold so any slip or inadvertent move — remember President George HW Bush's exasperated glance at his watch or Democrat Al Gore's repeated sighing? — could roil the campaign for days and linger in voters' mind until November 6.
No wonder Romney spent days this past week at the Vermont estate of former Massachusetts Lt. Gov. Kerry Healey for debate practice sessions; Ohio Senator Rob Portman, played the role of Obama.
The president has had one practice session with Massachusetts Senator John Kerry, the Democrats' stand-in for Romney, and is certain to have several more before the first debate October 3 in Denver
The second debate, a town hall-style session, is October 16 in Hempstead, NY The final debate, on foreign policy, is October 22 in Boca Raton, Fla. GOP running mate Paul Ryan and Vice President Joe Biden have one debate, October 11 in Danville, Ky.
Incumbents usually are at a disadvantage, defending a record against a challenger critiquing four years of work. Obama will be trying to avoid the fate of Presidents Ronald Reagan and George W. Bush, who turned in flat debate performances in their first encounters with rivals. In the end, though, it didn't hurt either one as they both won re-election.
"Debating is a muscle that doesn't get used very often," said Alan Schroeder, a journalism professor at Northeastern University and the author of "Presidential Debates: Forty Years of High-Risk TV." "Mitt Romney is better toned because he came off 20-plus primary debates. President Obama has not been on a debate stage in four years."
Debates aren't like the highly choreographed campaign event or stump speech marked by over-the-top rhetoric. Schroeder said debates require a different dynamic — candidates need to be respectful, differing in opinion but avoiding any impression that it's personal.
"In 2008, the first debate between Barack Obama and John McCain, one of the takeaways was McCain did not make eye contact with Obama," Schroeder said. "That came off as rude, disrespectful."

(Uploaded by tpmtv)
Part of the practice sessions is figuring out when to be aggressive and how to demonstrate leadership. It's also honing the lines from months of campaign speeches as the candidates get their final opportunities to speak directly to tens of millions of voters.
In the first debate, on domestic policy, Romney and Obama will be armed with competing numbers and visions.
"We will not surrender our dreams to the failures of this president," Romney told an audience in Bedford, NH, last December. Expect the Republican to point to 23 million Americans out of work or underemployed, a national debt now at $16 trillion and three years of an unemployment rate above 8 per cent.
In a speech in April, Romney sketched out the Republican vision of smaller government, less regulation and a greater role for business.
"Free enterprise has done more to lift people out of poverty, to help build a strong middle class, to help educate our kids, to make our lives better, than all of the government programs put together," Romney told a meeting of the Newspaper Association of America.
Expect Obama to counter that more than 4.6 million jobs have been created since he took office after recession-driven job losses approaching 800,000 a month under Bush. In his bid to boost the middle class, the president will argue that he's reduced the typical family's federal tax burden by $3,600. He also will talk about shared responsibility and a role for government.
"As citizens, we understand that America is not about what can be done for us. It's about what can be done by us, together, through the hard and frustrating but necessary work of self-government," Obama said in his convention speech.
Both will be pressed for specifics on their job creation claims. Romney promises 12 million new jobs; Obama the creation of 1 million manufacturing jobs. Neither has said how he would make those jobs happen.
The candidates are diametrically apart on health care, Medicare, gay marriage, immigration and abortion rights — all potential debate issues.
The second debate on October 16 will cover domestic and foreign policy with questions from a group of undecided voters selected by the Gallup Organization. This format that could elicit the unusual and the memorable.
It was at a 1992 town hall debate involving President George HW Bush, Democrat Bill Clinton and independent Ross Perot in which the Republican was caught looking at this watch. His reaction came as an audience member was talking about how much the deep recession had personally affected him. Bush, who lost that election, later said that he was thinking: "Only 10 more minutes of this crap."

(Uploaded by smotus)
The final debate October 22 focuses on foreign policy, an area in which Obama has received high marks from Americans in opinion polls. The president will offer a spirited defense of his aggressive record in pursuing al-Qaida, the killing of Osama bin Laden and the collapse of Moammar Gadhafi's government in Libya.
As for his rival, Obama said in his convention speech that Romney and Ryan are neophytes. "In a world of new threats and new challenges, you can choose leadership that has been tested and proven," the president insisted in arguing for his candidacy.
Obama said Romney and Ryan "are new to foreign policy, but from all that we've seen and heard, they want to take us back to an era of blustering and blundering that cost America so dearly."
Romney has argued that Obama has "thrown Israel under a bus" and has failed to show resolve in challenging Iran and its suspected nuclear weapons program. He likely will talk about his close friendship with Israeli Prime Minister Benjamin Netanyahu, as he did in a speech to American Israel Public Affairs Committee conference in March.
"In a Romney administration, there will be no gap between our nations or between our leaders," Romney told the gathering.
Expect Romney to complain about Obama cuts in projected military spending even though congressional Republicans, including his running mate Ryan, voted for them last year.
- Additional reporting by Michelle Hennessy