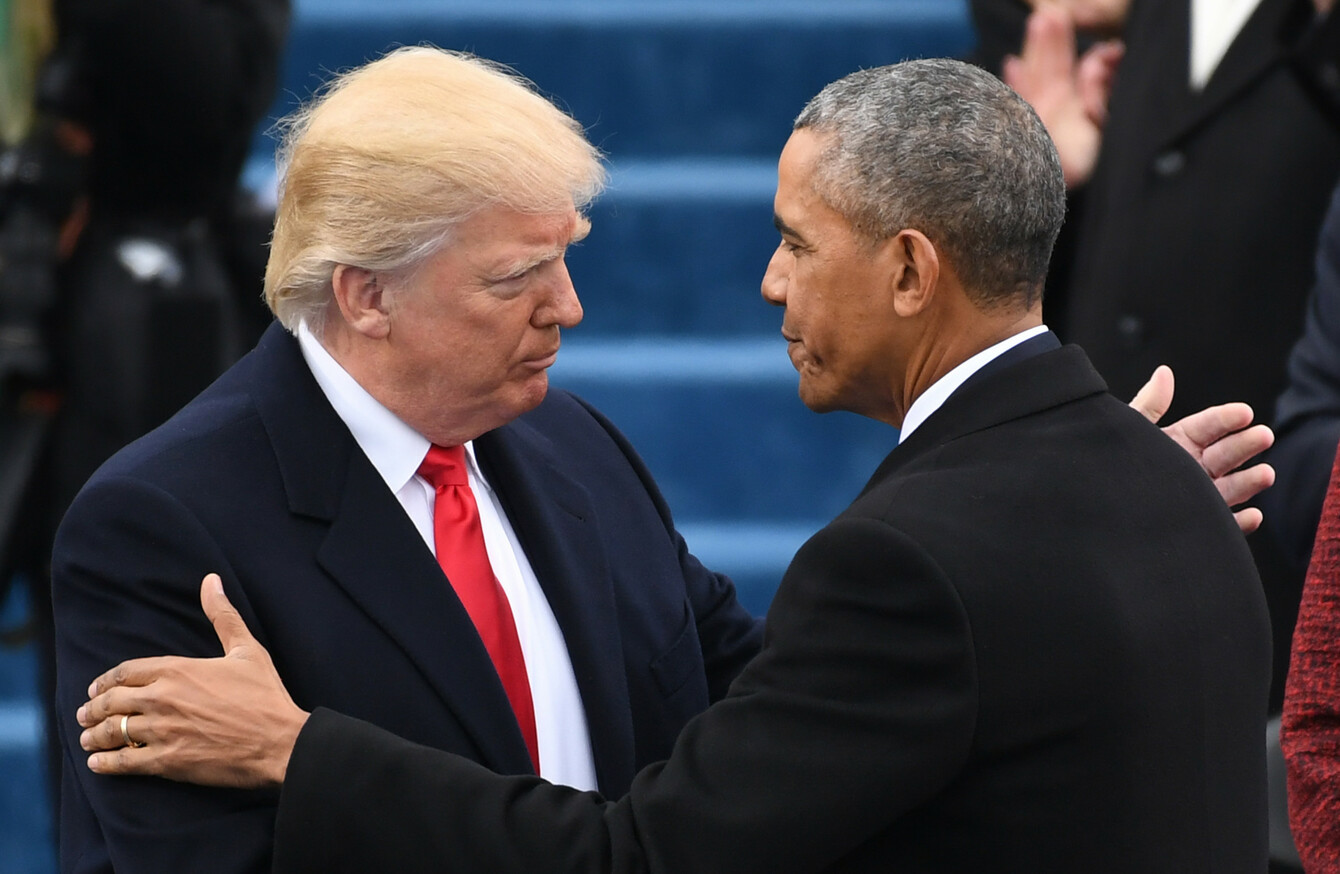 Donald Trump and Barack Obama during the current president's inauguration.
Image: PA Images
Donald Trump and Barack Obama during the current president's inauguration.
Image: PA Images
THE US MIDTERM elections threw up a set of results that were mixed enough for both sides to claim a measure of victory.
But while President Donald Trump and his fellow Republicans can correctly argue there were things to be pleased about, only Democrats can be unambiguous in claiming a win.
Democrats literally won back the House after eight years while Republicans increased their number in a Senate they already controlled.
Given that we're in rugby season on this side of the Atlantic, a more accurate description would be that Trump's party secured a bonus point in defeat.
And to continue in sporting clichés, it was a significant defeat but not one that is fatal for their chances of retaining the biggest political trophy in two years time.
That's because there were enough glimpses in Tuesday's voting to suggest a path for Trump to retain the presidency.
But Democrats also proved themselves to be a rejuvenated party and will now look forward with a fresh message and enthusiasm towards the task of defeating him in 2020.
So what did the midterms teach us about what to expect from the next US presidential election?
In relation to Trump, it must be pointed out that it is impossible to predict what could happen with him between now and 3 November 2020.
Even this week, headlines about the midterms were overtaken with 24 hours by the firing of Attorney General Jeff Sessions and the White House's treatment of journalists.
But this lightening fast cycle of news stories that would sink most presidencies has been the way of things for the past two years, and voters had a chance to give their verdict this week.
Trump had asked Americans to vote as a referendum on his presidency and the verdict they delivered was an overall rejection but not a vociferous one.
In fact, Trump may even feel emboldened about his chances of re-election.
There are a number of reasons for this.
While the Democrats won the House by winning seats in suburban areas that have often been more red than blue, in the tight statewide races the Republicans came out on top.
This is the case in a number of vital presidential swing states. In the much-prized state of Florida, Trump-backed candidates Ron DeSantis and Rick Scott won out in two typically tight races.
The numbers followed a pattern that replicated itself in Ted Cruz's defeat of Beto O'Rourke in Texas, with Democrats winning a huge tranche of votes in urban areas but not enough to overcome the numerous pockets of rural votes coming in for Trump.
In the governor's race in Ohio, a swing state long considered the best indicator of how a presidential vote will go, the Republican candidate also won out.
In fact even at local level, the Republicans won eight of the 12 House seats up for grabs in the state, including two seats they held were considered vulnerable.
The winner in Ohio has won in every presidential election since 1964 and Trump will hope it continues to vote Republican as an indicator of a wider trend.
But Ohio was also the location of one of the biggest positives for Democrats' looking from the midterms towards 2020. 
The party's Senate candidate Sherrod Brown won re-election for the second time and in neighbouring states there were also reasons to feel they may be turning the tide on Trump.
Trump's path to the presidency was won largely through unexpected wins in the rustbelt states of Wisconsin, Pennsylvania and Michigan.
Flip the three of them and Hillary Clinton would have had an electoral college victory to go with her popular vote win.
In Tuesday's midterms, the Democrats won three governor races in all three of those states as well as three Senate races.
If the party can repeat those statewide win in two years time, it would create a firewall that Trump would find difficult to overcome.
In terms of personalities, the Democrats also had a good night.
The aforementioned Brown again showed his electoral prowess while other potential 2020 candidates like Elizabeth Warren and Bernie Sanders also sailed through their races, the latter with the widest margin of any Senator elected anywhere.
And then of course there is the Beto factor. The fourth-generation Irish-American may not have beaten Ted Cruz in Texas, but his campaign has electrified Democrats in a way that has seen an immediate clamour for him to be the nominee in 2020.
And there are plenty of reasons to believe he may be the best option.
The congressman raised over $100 million in campaign funding and earned a name recognition that other Democrats could only dream of. Two considerations that are invaluable in a presidential race.
If he is considering a run, it's likely we'll know sooner rather than later.
The first Democratic primary debate is penned in for the first half of next year and things move very quickly after that.