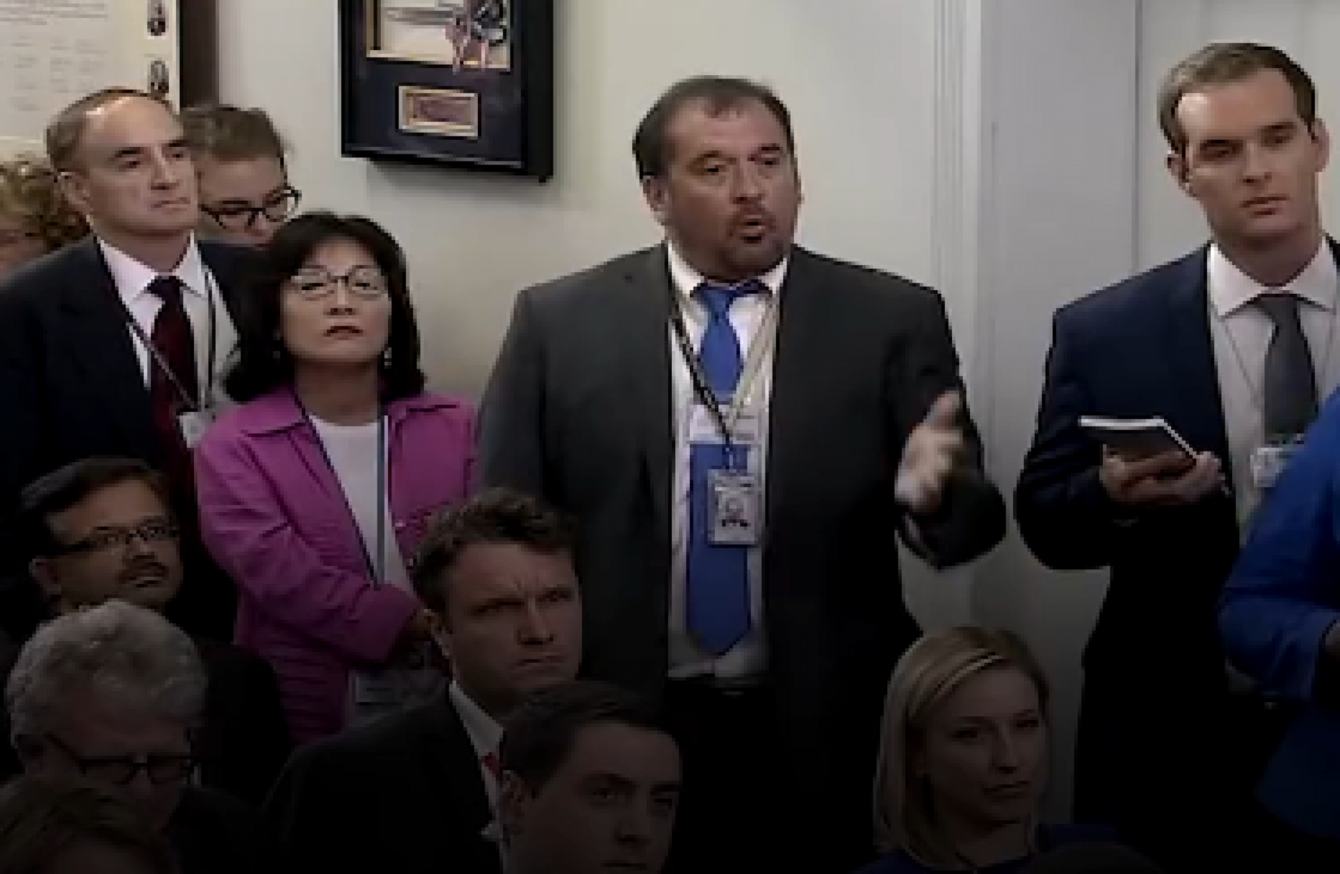 Brian Karem at yesterday's White House press briefing.
Image: Screengrab
Brian Karem at yesterday's White House press briefing.
Image: Screengrab
THE REPORTER WHO accused White House spokeswoman Sarah Huckabee Sanders of inflaming the public against the media at a press briefing says he did it because he's tired of being bullied by the administration.
Brian Karem, an editor at the Washington-area Sentinel newspapers, became an instant symbol in the tense relationship between the president and journalists when he interrupted Sanders yesterday. Given the nation's wide political divide, it took little searching to find depictions of him as either a hero or crying baby on social media.
"There's a time and a place for everything and the time has come to stand up and be counted," Karem told The Associated Press today.
"I'm tired of taking it. I want friendly relationships, but those who want respect, show respect.
We have shown that man and shown the administration respect for six months, and all we're getting in return is a lack of respect, derision and bullying.
Karem (56) is not a representative of the large national media organisations repeatedly described as "fake news" by the president.
Besides his editing, he writes for Playboy, where his first-person account of the confrontation was posted late last night. He was jailed as a Texas television reporter in 1990 for refusing to identify sources in a crime story.
The administration's own anger with the media is close to the surface, with the president tweeting yesterday about a CNN story on Russian connections that was retracted last week, and today about The New York Times' coverage of the stalled health bill.
"Inflaming"
Sanders opened yesterday's briefing by calling on a reporter from the conservative Breitbart News, who asked about the CNN story, and she expressed frustration with media coverage.
"If we make the slightest mistake, the slightest word is off, it is just an absolute tirade from a lot of people in this room," Sanders said.
But news outlets get to go on, day after day, and cite unnamed sources, use stories without sources.
That's where Karem broke in.
"Come on!" he said.
You're inflaming everybody right here, right now with those words.
He said that Sanders is there to answer questions "and what you did is inflammatory to people all over the country who look at it and say, 'See, once again, the president's right and everybody else out here is fake media.' And everybody in this room is only trying to do their job".
Sanders said that "if anything has been inflamed, it's the dishonesty that often takes place by the news media and I think it is outrageous for you to accuse me of inflaming a story when I was simply trying to respond to his question".
The White House has been holding fewer on-camera briefings lately, and the press has been pushing for more. With that backdrop, it felt like the chief purpose of yesterday's on-camera session was to browbeat the press, Karem said.
Support
Karem, who was not at the White House on Wednesday, said he hasn't heard from the administration about the exchange and doesn't know if there will be repercussions. Sanders did not immediately respond to a request for comment.
While Karem said he'd received expressions of support from some fellow reporters, not all sympathetic observers like to see frustration boil over. Liberal former talk show host Phil Donahue, on MSNBC Wednesday, said reporters should stay above the fray.
"I don't think the press should get in the mosh pit," he said.
I think they have to be big boys and girls and take the hits.
"The best way to handle this is to just keep working," Donahue said. "Don't be so sensitive. Don't look like you have a glass jaw… I think the press has to be above that".
Karem said he always taught his children that the best way to handle bullies is to try and make friends with them and, failing that, punch back so they know you won't take their guff. Since it's a potent issue for Trump's supporters, he doesn't expect the administration's attitude toward the media will change.
"You think it's going to go away?" he said. "It's not. But I'm not going gently into the good night.
I'm not going to sit there and be told that I'm the enemy of the people and that I'm fake news.