Rob Dunlop, from the #Occupydamestreet camp, protests outside the Irish Banking Resolution Company (formerly Anglo Irish Bank) today
Image: Niall Carson/PA Wire/Press Association Images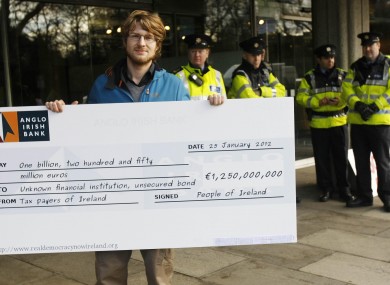 Rob Dunlop, from the #Occupydamestreet camp, protests outside the Irish Banking Resolution Company (formerly Anglo Irish Bank) today
Image: Niall Carson/PA Wire/Press Association Images
PROTESTS ARE TAKING place at the former Anglo Irish Bank building in Galway and the bank's former headquarters in Dublin.
Gardaí are currently at the scene outside the building at Dublin's Stephen's Green.
A garda spokesman told TheJournal.ie that there is a small number of protesters and that it is a peaceful protest.
A three-day protest has been planned by Occupy Dame St at the former Anglo building.
According to Occupy Dame St, the protest will take place from 7am today until 6pm on Wednesday 25 January, and will involve "music, teach-ins, talk open forum debate and a carnival".
There are currently 11 protesters at the bank in Galway, which is located at the city's Forster St.
Fia Borg, one of the protesters, said that it was a peaceful protest and that there were no gardaí at the scene.
Some of the protesters are from Occupy Galway while others are from the Socialist Workers' Party.
This week, a €1.25 billion payment is due to senior bondholders at the bank formerly known as Anglo Irish Bank, now called the Irish Bank Resolution Corporation.
The government has warned that if the payment is not met there could be dire consequences - but trade unions, opposition parties and independent TDs have called on government to default on the payment.
The protesters arrived at 8am in Galway at the former Anglo Irish Bank building, said Borg.
We have placards and some music going. We are planning to stay there to draw attention to the whole thing. What is happening is immoral. We are trying to stop people from going in.
The protesters are trying to prevent people from entering through the front of the building.
"Some managed to get in the back way," said Borg.
She added that around 30 to 40 drivers had beeped their horns in support of the protesters and there had been "no negative reaction".
The protesters will return to the bank on the date of the next payment to Anglo bondholders.
Occupy Dame Street - Dublin

Occupy Dame Street - Dublin

Occupy Dame Street - Dublin

Occupy Dame Street - Dublin