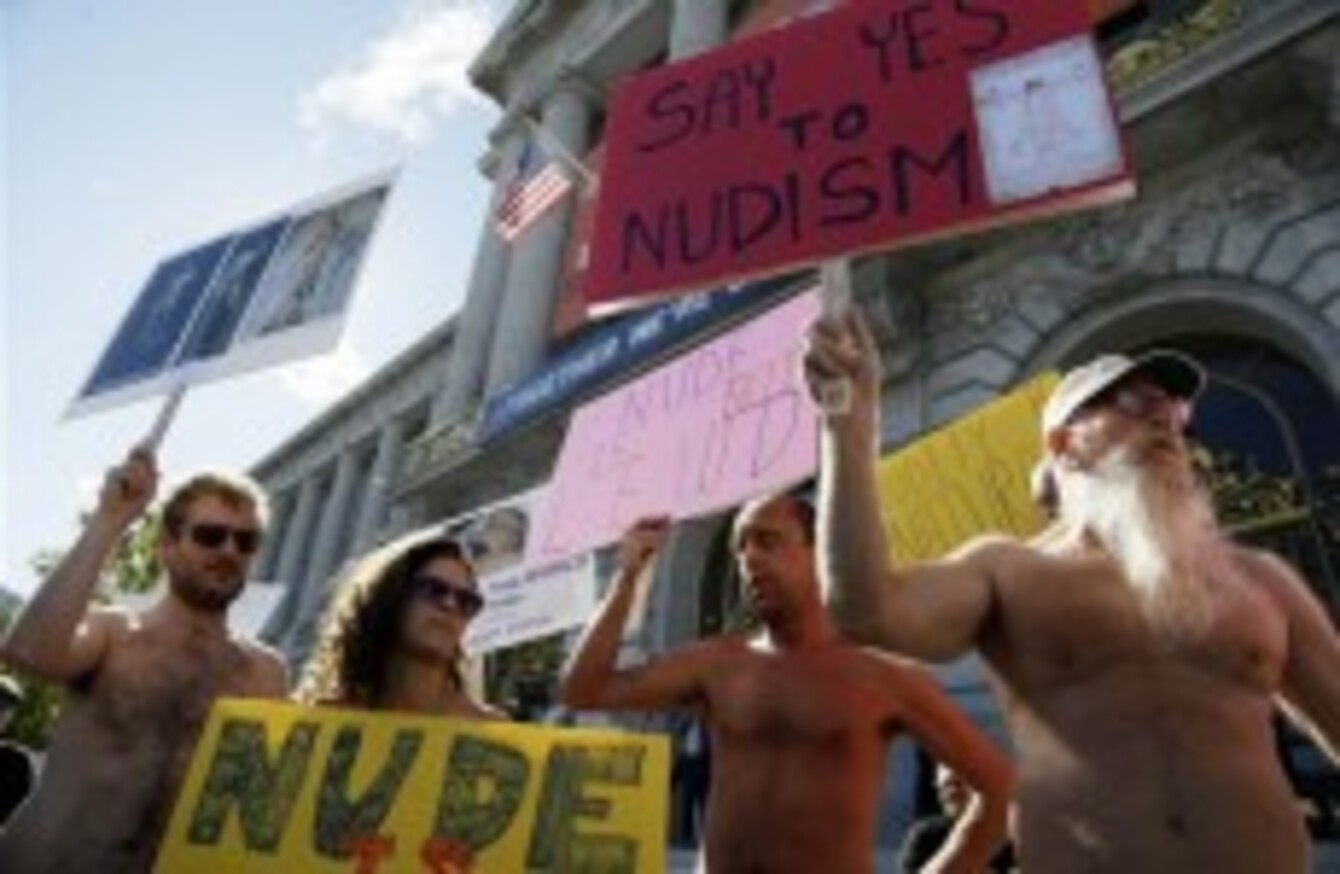 Naked protesters in front of San Francisco city hall
Image: AP Photo/Marcio Jose Sanchez
Naked protesters in front of San Francisco city hall
Image: AP Photo/Marcio Jose Sanchez
SAN FRANCISCO SHED a vestige of its free-spirited past as local lawmakers narrowly approved a citywide ban on public nudity.
Casting aside complaints that forcing people to cover up would undermine San Francisco's reputation as a city without inhibitions, the Board of Supervisors voted 6-5 in favour to prohibit exposed genitals in most public places, including streets, paths and public transit.
Exemptions would be made for participants at permitted street fairs and parades, such as the city's annual gay pride event and the Bay-to-Breakers street run, which often draws participants in costumes or various states of undress.
Protester Gypsy Taub speaks out against the Board of Supervisors decision to ban public nakedness while naked at City Hall in San Francisco. Image: AP Photo/Jeff Chiu.
Quickly, the nude activist was covered up by a San Francisco Sheriff. Image: AP Photo/Jeff Chiu.
Supervisor Scott Wiener introduced the ban in response to escalating complaints about a group of men whose bare bodies are on display almost daily in the city's predominantly gay Castro District. He said that he resisted for almost two years, but finally felt compelled to act:
It's no longer an occasionally and quirky part of San Francisco. Rather, in the Castro, it's pretty much seven days a week. It's very much a, 'Hey, look what I have' mentality.
Wiener's opponents on the board said a citywide ban was unnecessary and would draw police officers' attention away from bigger problems. Boos and calls for Wiener's recall filled the board's chambers after the vote yesterday.
A naked protester sits on the steps of City Hall in San Francisco. Image: AP Photo/Jeff Chiu.
Under Wiener's proposal, a first offence would carry a maximum penalty of a $100 fine, but prosecutors would have authority to charge a third violation as a misdemeanor punishable by up to a $500 fine and a year in jail.
The law still must pass a final vote and secure Mayor Edwin Lee's signature to take effect early next year.
A federal lawsuit seeking to block the ban already has been filed.