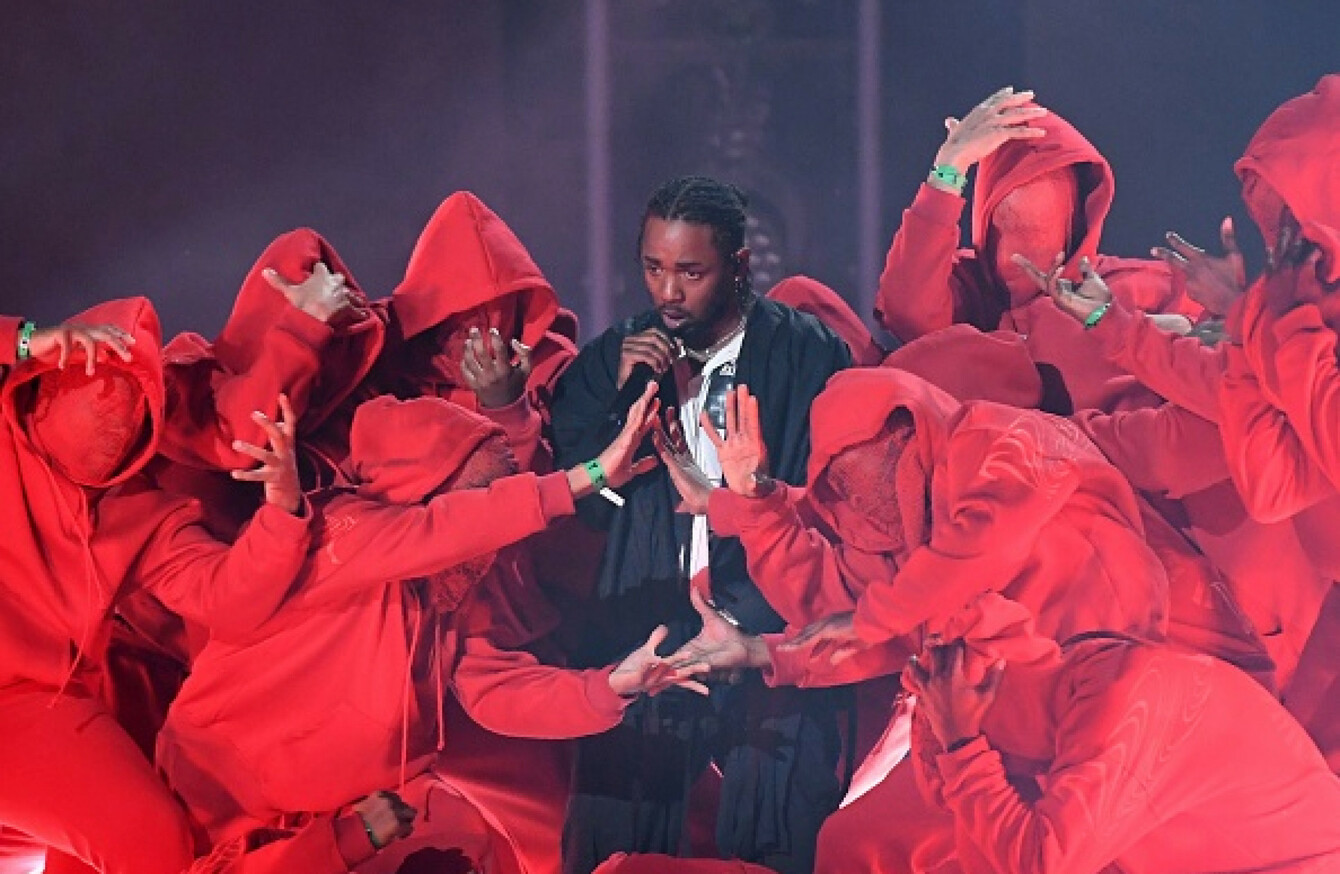 Kendrick Lamar performs during the 60th Annual Grammy Awards show on January 28, 2018.
Kendrick Lamar performs during the 60th Annual Grammy Awards show on January 28, 2018.
RAPPER KENDRICK LAMAR has won the Pulitzer Prize for music.
The Pulitzer board called the album DAMN a work that captures the complexity of African-American life. It's the first non-classical or jazz work to win the award.
Lamar has been praised and lauded for his deep lyrical content, remarkable live performances, and his profound mix of hip-hop, spoken word, jazz, soul, funk, poetry and African sounds.
His major-label albums good kid, m.A.A.d city, To Pimp a Butterfly and DAMN became works of art, with Lamar writing songs about blackness, street life, police brutality, perseverance, survival and self-worth.
His raps helped him become the voice of the generation, and easily ascend as the leader in hip-hop and cross over to audiences outside of rap, from rock to pop to jazz.
Meanwhile, the New York Times and The New Yorker won the Pulitzer Prize for public service for reporting that brought down Harvey Weinstein and spawned a cultural watershed on the issue of sexual harassment.
The prestigious prize was awarded to the Times team led by Jodi Kantor and Megan Twohey and New Yorker contributor Ronan Farrow, for reports that ruined the career of the Hollywood mogul and sparked an avalanche of accusations against other powerful men.
Since the Times and New Yorker articles last October, more than 100 women have publicly accused the producer of misconduct ranging from sexual harassment to rape, sparking the #MeToo movement that has gone global.
Weinstein's wife left him and police opened criminal investigations in London, Los Angeles and New York. The 66-year-old has been hit by a litany of civil lawsuits that stand to see him financially ruined.
Dana Canedy, the Pulitzer administrator, said their work "exposed powerful and wealthy sexual predators, including allegations against one of Hollywood's most influential producers, bringing them to account for long-suppressed claims of coercion, brutality and victim silencing thus spurring a worldwide reckoning about sexual abuse of women".
The Washington Post won the Pulitzer in the investigative category for relentless reporting that influenced the outcome of the 2017 Senate race in Alabama, revealing Republican candidate Roy Moore's alleged past sexual harassment of teenage girls.
Moore's opponent Doug Jones won the special election last December, becoming Alabama's first Democratic senator in 25 years and dealing a humiliating blow to President Donald Trump's administration.
With reporting by © – AFP, 2018