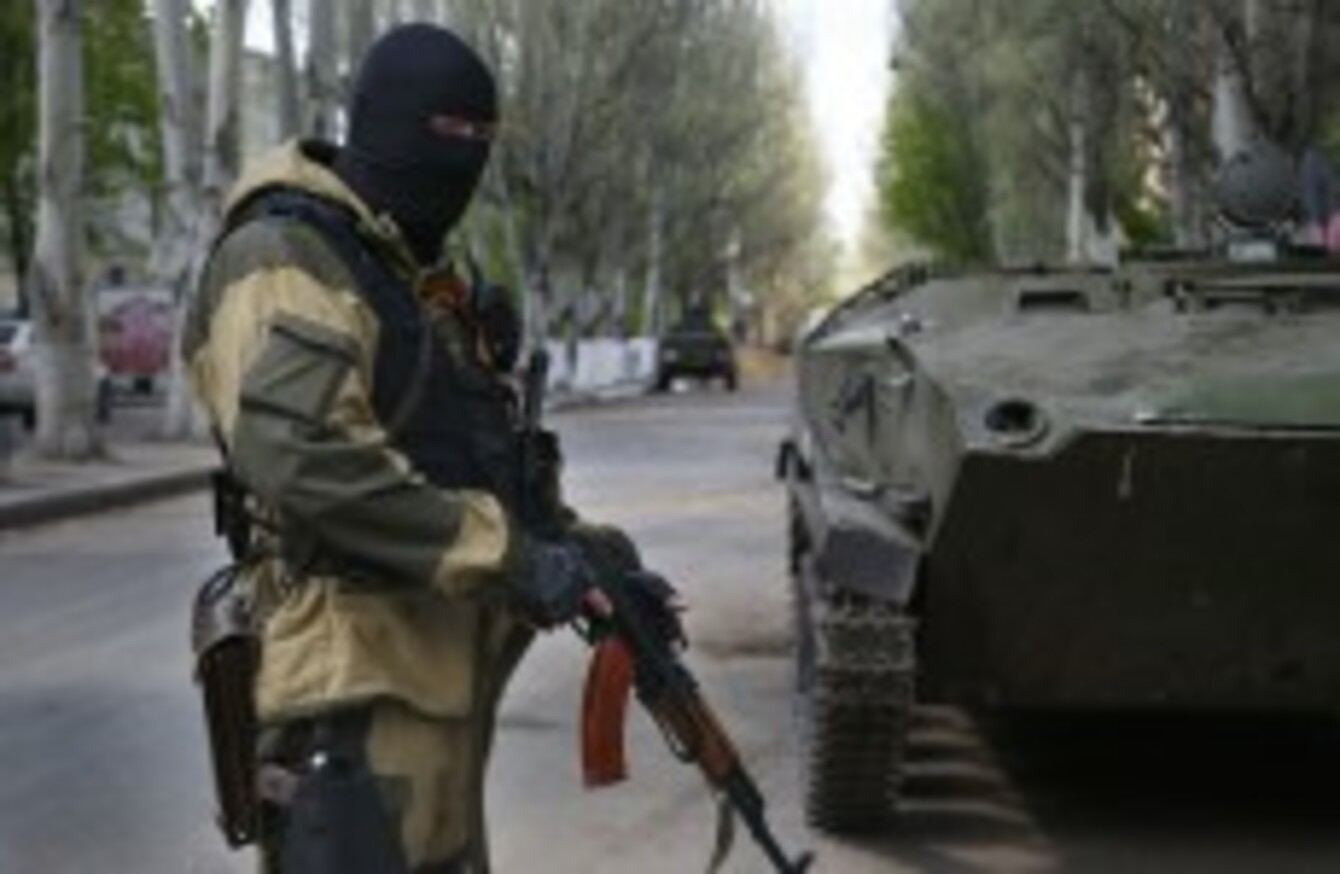 Image: AP Photo/Sergei Grits
Image: AP Photo/Sergei Grits
RUSSIAN PRESIDENT VLADIMIR Putin has said that deployment of military in east Ukraine by the Kiev authorities was a crime against its own people that will "have consequences".
The region is becoming an echo chamber of political dialogue as earlier this morning US President Obama's also issued a veiled warning of "consequences" if Russia does not play its part in deals to end the crisis.
Ukraine's military launched assaults to retake rebel-held eastern towns today in which up to five people were reported killed.
The offensive sent international tensions soaring and oil prices up, raising the prospect of Russia making good on its threat of a massive response in the ex-Soviet republic.
"If Kiev really began to use the army against the country's population… that is a very serious crime against its own people," Putin said.
If the pro-West Kiev authorities are resorting to force, "it is of course some kind of junta," he said.
That is simply a punitive measure that will without question have consequences for the people making these decisions, including for our inter-governmental relations.
However, he did not specify the nature of consequences.
Speaking at an event in Saint Petersburg, Putin also added that the Western sanctions imposed against Russia for the annexation of Crimea from Ukraine are not going to be effective.
"Everyone knows… that no sanctions are effective in the modern world, they never have an intended effect," Putin said, calling them "political".
"It is absolutely not critical," he said. "Though I would not say they are a positive thing either."
Washington has begun deploying 600 US troops to boost NATO's defences in nearby eastern European states.
Armoured military vehicles
In Slavyansk, a flashpoint east Ukrainian town held by rebels since mid-April, armoured military vehicles drove past an abandoned roadblock in flames to take up position, AFP reporters saw.
Shots were heard as a helicopter flew overhead, and the pro-Kremlin rebels ordered all civilians out of the town hall to take up defensive positions inside.
"During the clashes, up to five terrorists were eliminated," and three checkpoints destroyed, the interior ministry said in a statement. Regional medical authorities confirmed one death and one person wounded.
Earlier, Ukrainian special forces seized back control of the town hall in the southeastern port city of Mariupol with no casualties, Interior Minister Arsen Avakov said.
Separatist sources confirmed the loss of the building in the port city, whose population is 500,000.