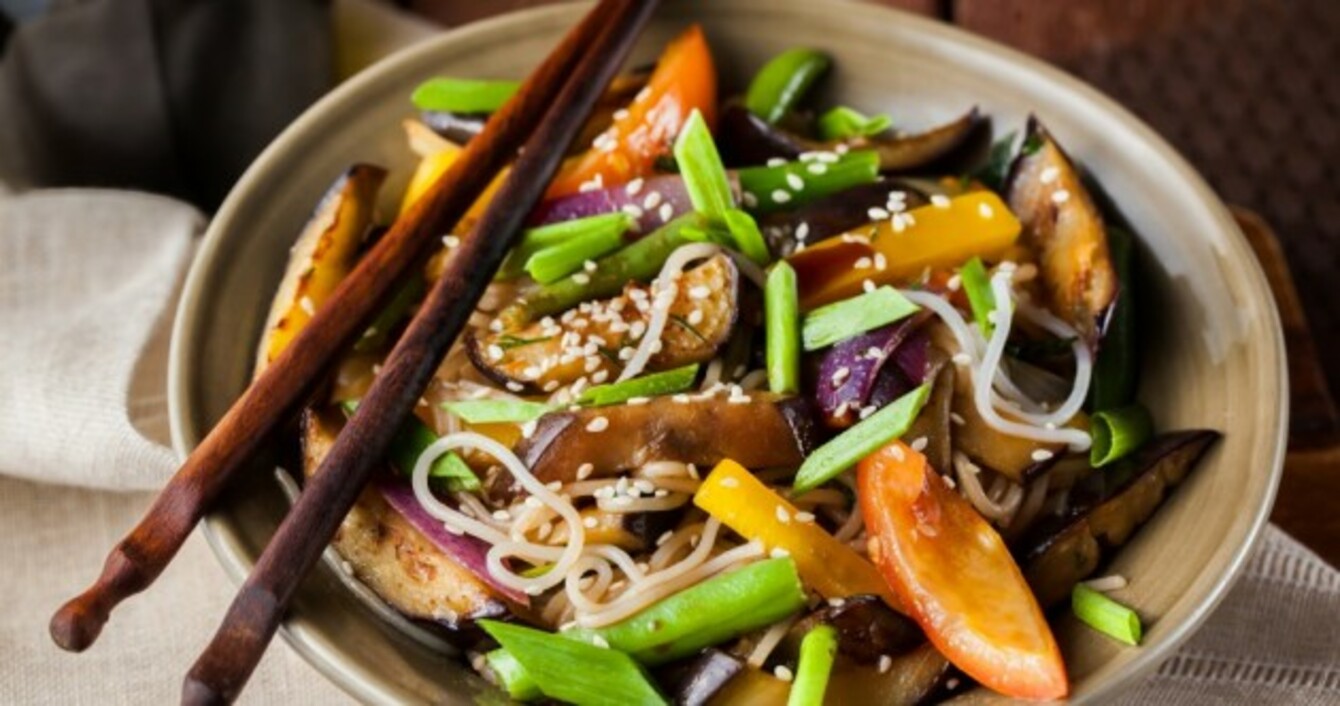 Image: Shutterstock
Image: Shutterstock
IT'S THURSDAY NIGHT. You're home late from work with a hankering for comfort food and immediately reach for the phone to order a take-away.
But if you can muster fifteen minutes and have a few ingredients in your pantry, you can whip up a mouth-watering Asian noodle dish that will far exceed take-away standards.
Every Asian country has its own specialty noodle dishes, from Japanese teppanyaki cooked on a searing hot griddle, to the aromatic phos of Vietnam. They offer the comfort of a take-away, but pack in healthy vegetables and soothing broth as well.
Here is a quick round up of speedy recipes inspired by my favourite Asian noodles. Grab a jar of peanut butter – let's go!
1. Chicken satay noodles: This noodle dish is inspired by savoury-sweet satay sauce. First, cook rice noodles in advance and keep them on the side. For enough sauce for a few people, fry a couple of diced and peeled garlic cloves, and a teaspoon of peeled, grated ginger. Add some diced chicken breast or thigh (one breast or two thighs should work for two people), and when the chicken is cooked all over, add three tablespoons of peanut butter, a tablespoon of soy sauce and 150ml coconut milk. You can mix these together before adding to the noodles to make it easier to incorporate. Stir the sauce through the noodles and finish the dish off with a squeeze of lime and sprinkle of fresh coriander. 
2. 15-minute pho: Traditional pho, or Vietnamese noodle soup, is a labour of love and takes hours to cook – but if time isn't on your side, this speedy soup should satisfy you. Cook rice noodles first and set them aside. Sear some steak for a minute on each side until brown (I like rib eye for this), just to brown it. Keep it very rare as it will continue to cook in the soup. Let the meat rest for a few minutes before slicing it thinly. Saute two cloves of finely chopped garlic and a teaspoon of grated, peeled ginger. Add some beef stock and bring to the boil. Season the broth with some fish sauce to taste – at least a couple of tablespoons – and a squeeze of lime juice. Add the rice noodles and steak, and finish the dish with fresh mint and coriander, bean sprouts, and some slices of optional fresh chili. 
3. Prawn and chili noodles: A classic noodle dish on the quick. Prepare either rice or egg noodles first and leave them to the side. In a dry frying pan, toast two tablespoons of sesame seeds – they burn fast so keep an eye on them. Fry a couple of chopped cloves of garlic and either chopped chili or sweet chili sauce – you determine how hot you want it. Then add the prawns, raw preferably, but defrosted if frozen, and cook until pink. Add a handful of fresh coriander and toss the prawns with toasted sesame seeds. 
4. Seafood laksa: You can use wheat or rice noodles for laksa, a dish eaten in many southeast Asian countries. You should be able to find laksa paste easily enough, or you can make your own. To make your own, simply combine a couple of chilies, some fresh ginger, a teaspoon of toasted coriander seeds, a stalk of lemongrass (remove the rough outer layers), two peeled cloves of garlic and a handful fresh coriander, and grind these to a paste in a pestle and mortar or blender. You can add a little water to get it moving, if necessary. Cook the paste in a tablespoon of neutral oil, like canola, for a few minutes, then add a 400ml tin of coconut milk. Fill the tin halfway with water and add this, too. Now, add the seafood of your choice; I like salmon or trout for this. Let the fish cook in the broth. Add a few dashes of fish sauce and squeeze in lime juice to taste, and finish with fresh mint and coriander. 
5. Pork yakisoba: Yakisoba takes its name from the Japanese word for buckwheat: yaki. You shouldn't have trouble finding soba noodles but if you do, swap in another noodle of your choice. As in the other dishes, pre-cook your noodles. Use pork fillet, or if you are feeling indulgent, some very thinly sliced pork belly with the skin removed will work nicely. Fry the meat until it browns, and then add one small grated carrot, some finely sliced mushrooms and a handful of shredded cabbage. Approximate the flavour of a classic Japanese yakisoba sauce with a generous splash of Worcester sauce mixed with a tablespoon of mayonnaise. It sounds odd but it works. Stir the sauce through the noodles and serve. 
6. Choose-your-own pad Thai: Prawns are traditionally used in pad Thai, but you can use chicken or tofu if you'd prefer. In Thailand, this dish is cooked in a fiery hot wok over roaring flames, so at home just get your pan or wok as hot as you can get it. Prepare some flat rice noodles according to packet instructions and leave to the side. Fry a finely chopped shallot and a couple of cloves of garlic in some neutral oil. Add the raw, defrosted prawns, or chicken or tofu – or a mixture if you like! Fry until the protein is cooked through. Add a beaten egg and stir through, then add some bean sprouts, chopped roasted peanuts, a good splash of soy sauce and a little vinegar to taste. Stir through the noodles and enjoy. 
7. Fancy instant noodles with a fried egg: Instant noodles – yes, those noodles beloved by college students the world over – are held in high regard in Asia and are available in many flavours. I like to make mine a little fancy for a five-minute supper by adding fresh coriander, sliced spring onion, and chili oil to the noodles, then finishing with a fried egg on top. Depending on the flavour, I add some soy sauce and/or sesame oil too. This is so good that I recommend it to everyone.