ON THE FACE of it, Glenroe and Fifty Shades of Grey might not appear to have much in common.
But we've discovered that sometimes the two are more alike than you'd think…
Can you tell your 'Holy Gods' from your 'laters baby'?
Take this quiz to find out.
"As far as I can see, you were having a lot more than your dinner"


"You should steer clear of me."


"It means I want you to willingly surrender yourself to me, in all things."


"When the chance comes, you have to take it… with both hands."


"I never thought that was something you craved." "It wasn't - that's the whole point."


"I've never wanted more, until I met you."


"I did it because I loved you and I didn't want to lose you." "Love, after what you've done? You don't know the meaning of love"


"If I were you, I'd take him literally. That might help."


"He said: 'I suppose a **** is out of the question'."


"Why don't you like me?" "Because you never stay with me."
PA Images


"Laters, baby"


"Well Holy God." Answer all the questions to see your result!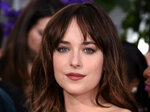 PA Images
You scored out of !
Anastasia Steele
Well holy God. You're either a MASSIVE 50 Shades of Grey fan, or spent most of the 80s watching Glenroe. Either way, your secret's safe with us.
You scored out of !
Biddy Byrne
You've a good idea of who said what, but sometimes Miley's way with words confuses you.
You scored out of !
José Rodriquez
Just like José in 50 Shades, you sometimes miss the most obvious signals. Time to swot up.
You scored out of !
Dinny Byrne
If it's not a lamb, cup of tae, or bottle of porter, you're not interested.
You scored out of !
Fidelma Kelly
You loved your copy of 50 Shades of Grey, but not enough to scoop the top spot. Saucy pup.