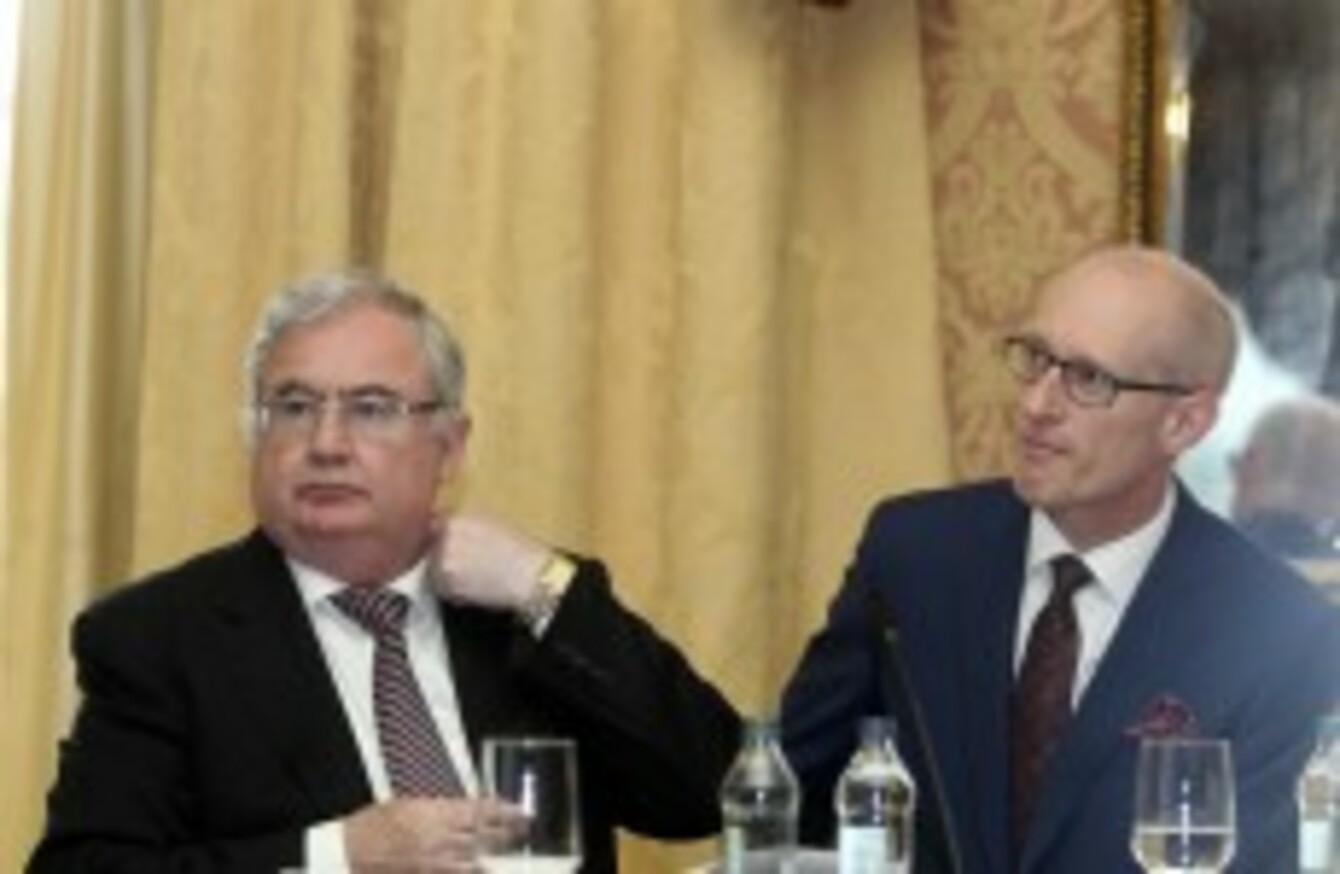 Communications Minister Pat Rabbitte with UPC's CEO Magnus Ternsjö at the launch of UPC's digital report.
Image: Sam Boal/Photocall Ireland
Communications Minister Pat Rabbitte with UPC's CEO Magnus Ternsjö at the launch of UPC's digital report.
Image: Sam Boal/Photocall Ireland
IRELAND HAS MADE significant progress in developing its digital sector but still has a "long way to go" if its to bring small businesses up to speed, according to the Communications Minister Pat Rabbitte.
Speaking at the launch of UPC's second report on Ireland's Digital Future, Rabbitte said that getting more small companies to do business online is still a major issue, with 47,000 SMEs and SOHO (Small Office/Home Office) not having a website.
Initiatives like the trading online vouchers programme, which is expected to be launched this summer, are expected to help encourage more small businesses to factor in online shopping into their overall business plan.
Broadly, I think we have made considerable progress, but if we are to stay competitive and keep up with our world peers, we have to accelerate that progress.
Another problem was that while overall broadband speeds have risen – 30 per cent of Irish adults now have access to broadband speeds of 30Mbps or higher compared to 10 per cent in 2012 – there was still a "significant divide" between the quality of service provided in urban and rural Ireland.
"In terms of the basic infrastructure itself… the average speeds increased but there's still a significant divide between urban Ireland and provincial Ireland," said Rabbitte. "We have sought to acknowledge that in government policy by agreeing an extensive state intervention program to the parts of rural Ireland that couldn't expect this service."
Rabbitte was hopeful that the rollout of fibre broadband across the country would help bring broadband to rural areas as well as facilitate economic growth by allowing more SMEs to develop a digital presence.
Despite the differences in broadband quality, Irish businesses were found to be far ahead of the EU average for social media adoption and 53 per cent of Irish firms said they are influenced by online feedback from consumers and customers.
Digital report
In UPC's digital report, it's estimated that Ireland's internet economy will grow from €8.4 billion this year to €21.1 billion by 2020, with consumer spending contributing to 60 per cent (€13 billion) of this figure.
Currently, more than 49,000 people work in the internet economy full time, and it's predicted that another 79,000 extra jobs will be created in this sector by 2020.
While Irish consumers are more savvy about researching products before buying, as much as 60 per cent (€3.5 billion) of the €6 billion spent by consumers goes abroad.
UPC's CEO Magnus Ternsjö said that education and assistance as well as incentives for SMEs, such as possible tax reliefs, could help encourage Irish businesses to increase their digital presence.
When asked how much they would want to be paid to go without the internet, most said they would want €130 a month, or €1,300 a year, as compensation, higher than the average subscription value of €37 per month.