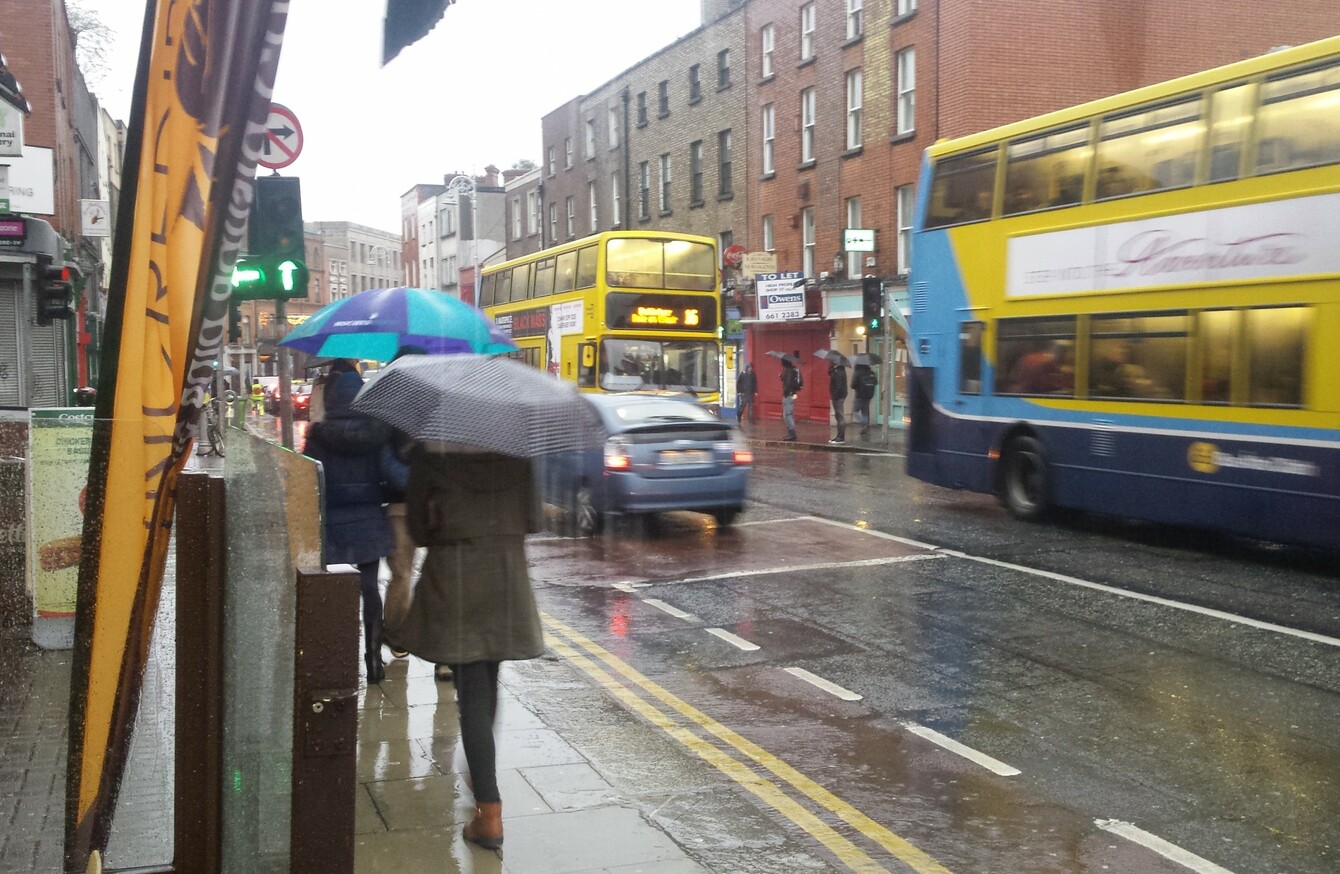 Image: Daragh Brophy/TheJournal.ie
Image: Daragh Brophy/TheJournal.ie
TRAFFIC ACROSS THE country has been disrupted this afternoon as rainfall warnings remain in place.
Met Eireann has issued a yellow wind warning for the entire country that will come into effect tomorrow at 12pm, while a yellow rain warning for Dublin, Carlow, Kilkenny, Wexford, Wicklow, Cork, Tipperary and Waterford remains in place.
That warning, which forecast up to 40mm of rain, will stay in place until 9pm tonight.
Already, though, roads have been flooded, causing traffic headaches.
In Dublin:
Flooding on the Navan Road outbound at the M50 interchange has closed the Blanchardstown village slip road
The River Road is flooded from past Coolmine Rugby Club
There is surface water on the M50 northbound after exit 13 Dundrum
The Strawberry Beds is impassable
Flooding is reported on the Carrickbrennan Road in Monkstown
There is flooding on the N81 Tallaght bypass outside Tallaght and at Cheeverstown
Driving conditions on the M50 are said to be hazardous with large amounts of surface water and poor visibility. Motorists are asked to slow down and take care.
In Leinster:
The N80 Portlaoise/Carlow road is flooded at Simmons' Mill. Gardaí say it is passable with care, AA Roadwatch reports.
The M7 Limerick to Dublin and M8 Cork to Dublin roads have standing water on parts in Laois
There is passable flooding at Olygate on the N11 Wexford to Dublin road
There is flooding on the Gorey/Ballycanew Road between Raheennagurren and Ballycanew.
There is flooding on the M9 at Athy, particularly at the off-ramp
The N3 is flooded at Dunshaughlin
There is flooding at Arklow on the M11
Brittas Bay is impassable
In Waterford:
The Cork Road at WIT is impassable
Barrack Street is flooded
There is surface water on Park Road
In Cork:
Traffic is down to one lane on the South Ring Road eastbound after Mahon Shopping Centre due to flooding. It is very busy before junction seven Douglas
The Bandon/Kilbrittain Road is impassible at Maulmane
There is flooding along the Carrigaline/Belgooly road
Traffic is very slow due to flooding on the N20 Limerick/Cork road outside Mallow at Kilnockan
How's the traffic where you are? Got a problem to tell us about? Email paulhosford@thejournal.ie