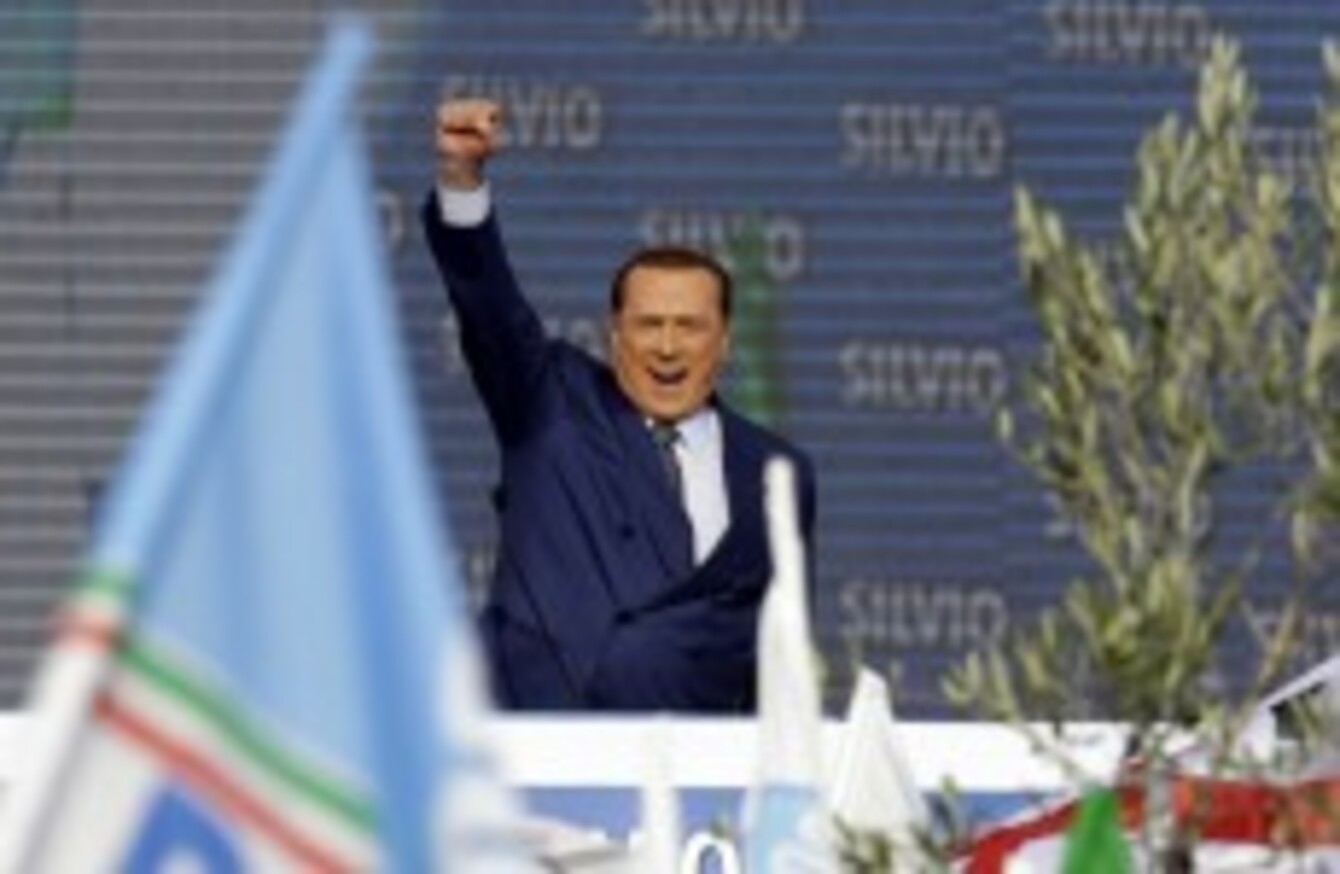 Silvio Berlusconi remains intensely popular in Italy, despite his numerous convictions over business offences. (File photo.)
Image: Andrew Medichini/AP
Silvio Berlusconi remains intensely popular in Italy, despite his numerous convictions over business offences. (File photo.)
Image: Andrew Medichini/AP
THOUSANDS OF SUPPORTERS of the former Italian prime minister Silvio Berlusconi have attended a rally to protest against his recent conviction by a Milan appeals court for tax fraud.
Supporters cheered their hero at Brescia's 'Everyone for Silvio' rally, as police in riot gear separated them from jeering opponents.
As some arrived, waving pro-Berlusconi banners, some detractors shouted "jail, jail." Helmeted police holding plastic body shields moved in between the noisy camps to prevent any physical violence.
The appellate court, in its ruling on Wednesday, also upheld a four-year prison term and a five-year ban from political office.
Berlusconi – who remains an MP while his party participates in Enrico Lette's coalition – is to appeal to a higher court. The statute of limitations could run out on the case before the final appeal runs its course, which would essentially make the conviction fall by the wayside.
"Thank you, thank you, thank you," Berlusconi told the crowd, almost drowned out by both applause and derisive hoots.
The billionaire businessman has regularly attributed his many criminal cases to prosecutors who he believes support left-leaning political rivals.
Detractors say his former governments made laws tailor-made to help his judicial woes, including one that said premiers can cite official duties as a "legitimate impediment" to put off trial hearings, delaying the end of trials and making it more likely statute of limitations could kick in.
Forced out – but became kingmaker again
Berlusconi was forced to resign in 2011 under the pressure of financial markets during the euro-zone sovereign debt crisis.
Pushing for a political comeback that has seen his popularity steadily rebounded in opinion polls, he saw his forces win enough seats in Parliament in elections earlier this year to make his People of Freedom party the main coalition partner in Enrico Letta's fledging government.
That made Berlusconi the coalition kingmaker at a time when the nation is counting on action to create jobs and enact political reform.
His supporters billed the rally as a pro-democracy event, dismissing criticism that it was a Berlusconi cheerleading opportunity.
Rally participants came "to say a flat 'no' to the political use of justice," said Mariastella Gelmini, who had served as a Cabinet minister for Berlusconi. "It's a problem regarding democracy, and not just Silvio Berlusconi," she added.
The show of support comes as another crucial verdict by a criminal court nears.
Berlusconi is on trial in Milan on charges he paid an underage Moroccan teen for sex during infamous "bunga-bunga" parties at his villa and then used his office while premier to try to cover it up. Prosecutors are set to wrap up closing arguments on Monday.
Berlusconi has denied ever paying for sex and both he and the woman, Karima el-Mahroug, better known as Ruby, deny having any sexual contact. A verdict could come later this month.