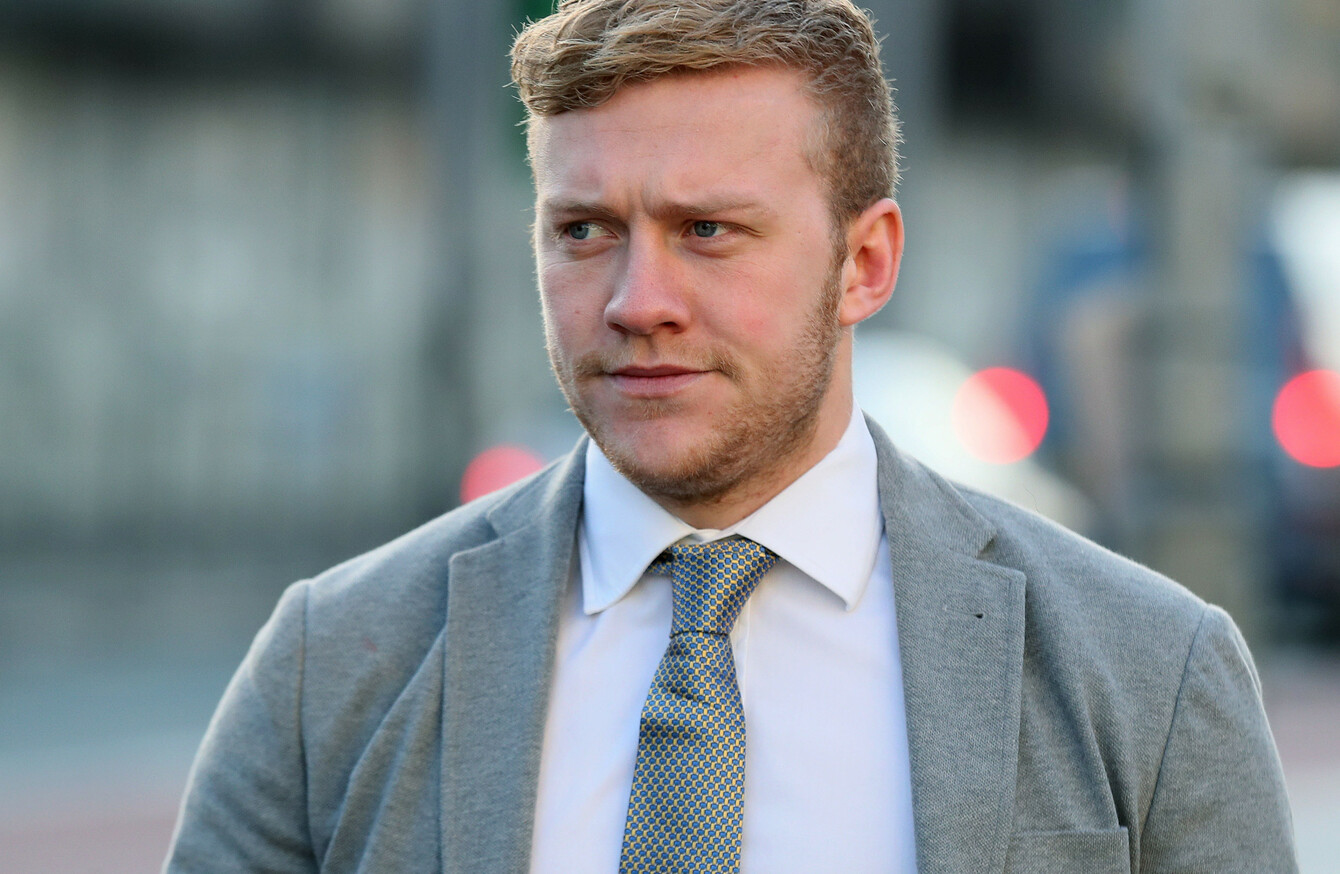 Stuart Olding arrives to court.
Image: Brian Lawless/PA Images
Stuart Olding arrives to court.
Image: Brian Lawless/PA Images
A FORENSIC SCIENTIST who examined clothes worn by the complainant on the night she claimed she was raped by two Ireland rugby players gave evidence today in Belfast Crown Court.
The senior scientific officer carried out tests on the woman's white jeans, a black top and a pair of pants.
After conducting tests on the clothes, the forensic scientist told the trial Stuart Olding's semen was located on all three items.
Ireland and Ulster rugby players Paddy Jackson (26) and Stuart Olding (24) both deny raping the then 19-year-old woman at Jackson's home on 28 June 2016.
The forensic scientist confirmed traces of Oldings DNA was located via semen on the white trousers, DNA matching Oldings profile was found on her underwear, and his semen was also located on her black top.
And while the top tested negative for blood, the complainant's blood was found on both her pants and white trousers, as well as a duvet taken from Jackson's bedroom.
The scientist said when the white trousers were presented to her, they were "grubby and stained" with visible areas of blood staining both on the inside and outside.
The complainant's pants were also blood-stained, with the expert determining that one stain bore a "transfer pattern."
As she sat in witness box, the forensic scientist was asked by Toby Hedworth QC, for the Crown: "Were you provided with items from Mr Jackson's house?"
To which she replied "yes."
She confirmed she was given a grey and white duvet cover to fit a double bed.
When Hedworth asked "was blood staining visible on that?", she answered "yes."
And when asked "was that tested and found to match the DNA profile of the complainant?", the expert replied "it was, yes."
In addition, the forensic scientist was also asked about "both external and internal" swabs taken from the complainant.
When asked about the presence of semen from the swabs, the scientist replied: "They were negative for semen."
Injury
Earlier today, a leading forensic medical expert voiced concerns over the finding of an internal injury in the young woman some 14 hours after she claimed she was raped.
She told Belfast Crown Court if she had found such an injury still bleeding, it would have given her "cause for concern" and would have immediately referred the patient for treatment.
However, she also said while bleeding injuries "are not common in this type of case", she had in the past referred two such cases for treatment in hospital to stop the bleeding.
The concerns of the doctor, now semi-retired, came as she was giving evidence on behalf of the defence.
She told the court she had reviewed the notes and a video of the examination carried out by a doctor at the Rowan sexual assault referral centre at Antrim Area Hospital, in which he documented an internal tear which he said had been caused by blunt force trauma.
Questioned by defence QC Brendan Kelly, the doctor said while a video showed an examing instrument in place, it was not noted in the notes, and although blood could be seen, there was no indication as to "where that blood was coming from".
She went on to agree with Kelly that the alleged external bruising found on the vagina, was "maybe of little relevance evidentially", and that the site of its description did not appear to coincide with the video and that the purple discolouration seen on the video, may have been caused by "the light source" used to film it.
'Worries'
However, the doctor said she had "worries" over the lack of any noted injury around this area, although in "most cases we examine, have no injuries, but when injuries are found these are the areas which most commonly are injured".
She went on to explain that the human male and female anatomy "are designed not to cause injury to one and other, otherwise procreation could not occur".
The doctor went on to agree with Kelly that it was "hard to believe there were injuries inside, and not injuries on the protective outside" in cases of excessively forceful or violent rape, although in cases of digital penetration there was a "risk" of injury occurring.
Alcohol
Defence QC Arthur Harvey for Blane McIlroy (26), who along Rory Harrison (25) is also on trial facing lesser charges, asked about the affects of alcohol on a person's behaviour.
She agreed that even after stopping drinking the alcohol level in a person continues to rise.
The alleged victim in this case agreed that she had been drinking before going back to Jackson's south Belfast home.
The doctor accepted "yes, most certainly", to Harvey's contention that continued rising alcohol levels could lead, among other things, to feelings of well-being, coupled with ill-judgement and reduced inhibition.
She further agreed "all that what happens on the way up, reverses on the way down", and could also result in fragmented memory loss and feelings of remorse in the aftermath which could lead to further problems.
However, in cross-emanination by prosecution QC Toby Hedworth, the doctor accepted that while people in drink sometimes "do things that are ill-judged ….. what is sauce for the goose is sauce for the gander".
The doctor also agreed that in the aftermath of a sex assault the initial disclosure from a victim was sometimes, "partial", to which the doctor added, "and piecemeal", and that also "further details come out later".
Before being excused for the day, the jury was told by Judge Patricia Smyth that they will be hearing police interviews conducted with the defendants during tomorrow's sitting.
The nine men and three women were again warned not to discuss the case with anyone, and to "be on your guard."