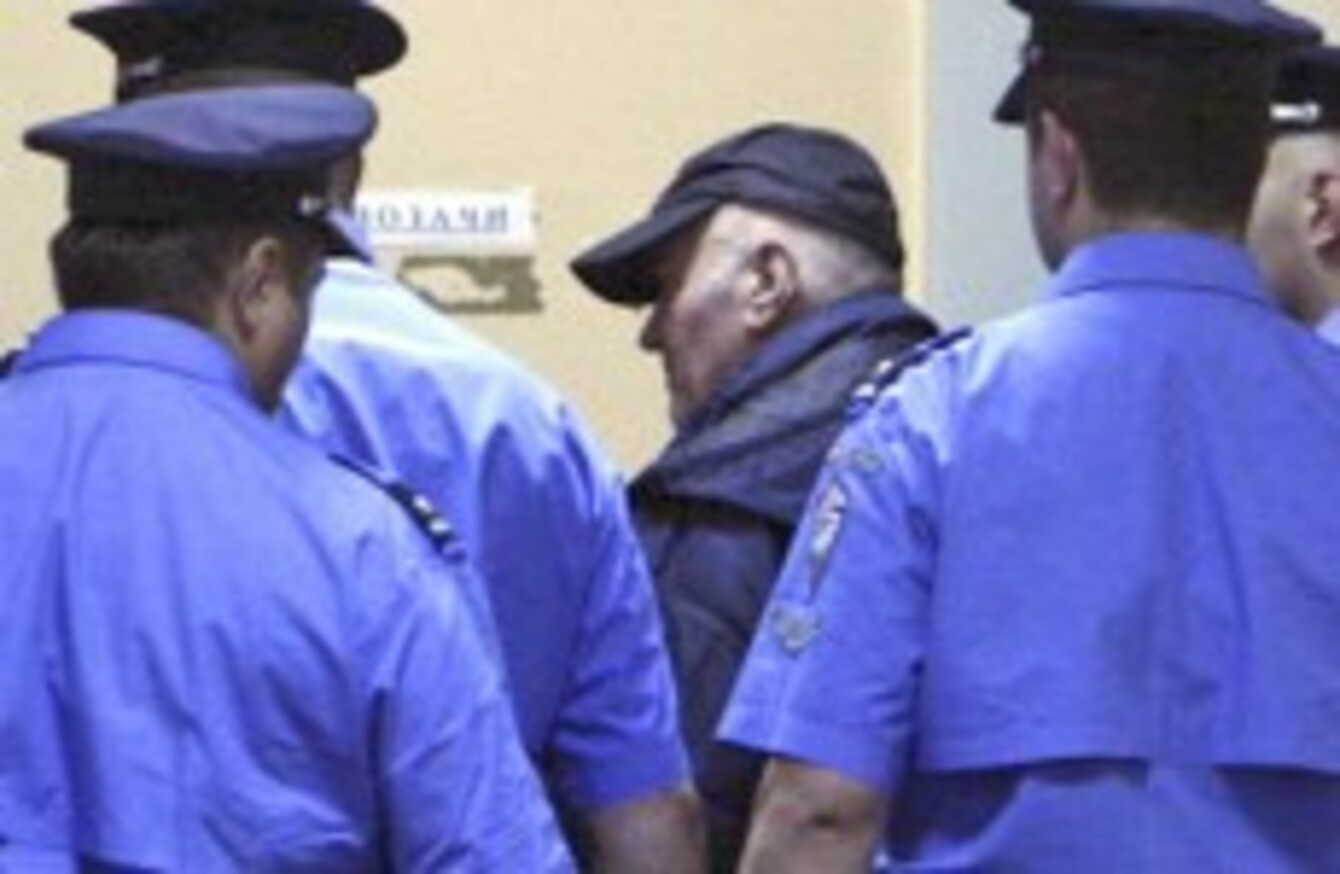 Mladic enters court on Thursday in Belgrade.
Image: Serbian Government/AP Photo
Mladic enters court on Thursday in Belgrade.
Image: Serbian Government/AP Photo
Updated 1.30pm
A SERBIAN JUDGE has ruled that war crimes suspect Ratko Mladic is fit to stand trial in The Hague and has given him until Monday to appeal the ruling.
Doctors were to decide today whether or not Ratko Mladic was fit to resume attending a hearing aimed at extraditing him to stand trial for war crimes at a tribunal in the Netherlands.
The former Bosnian Serb army chief, 69, appeared at a special hearing in Belgrade last night but this was halted when his lawyer said he was in a "poor physical state", reports BBC News.
Attorney Milos Saljic told the court:
He is aware he is under arrest, he knows where he is, and he said he does not recognise The Hague tribunal.
Yesterday, Mladic was arrested following 16-year manhunt in which he became Europe's most wanted man following the slaughter of some 8,000 Bosnian Muslims in Srebrenica and other crimes committed by his troops during Bosnia's 1992-1995 war.
Serbia has been under intense pressure from the international community to catch the fugitive as it bids to join the European Union.
In July 2008, the country arrested former Bosnian Serb political leader Radovan Karadzic after which Mladic became the most prominent Bosnian war crimes suspect at large.
Mladic was seized in the province of Vojvodina in the early hours of Thursday morning with Serbian security forces telling Agence France Presse that three special units descended on the sleepy village which is about 80 kilometres north of Belgrade
The house had been under surveillance for the past two weeks with indications that Mladic was not in disguise, unlike Karadzic who had a long beard and ponytail when he was captured.
The Guardian reports that at the hearing Mladic looked frail and was walking slowly. There are reports he is paralysed in both arms, the result of a stroke.
The paper publishes a picture of the man from the Serbian media where he is shown wearing a baseball cap. He could be heard to say "g0od day" to those present.
If and when he does arrive at the International Criminal Tribunal for the former Yugoslavia (ICTY) in The Hague, Mladic's trial is likely to be a lengthy process, reports ABC News.
Former Yugoslav president Slobodan Milosevic, the first to face trial for war crimes before the special court, died in 2006 whilst being detained in The Hague.