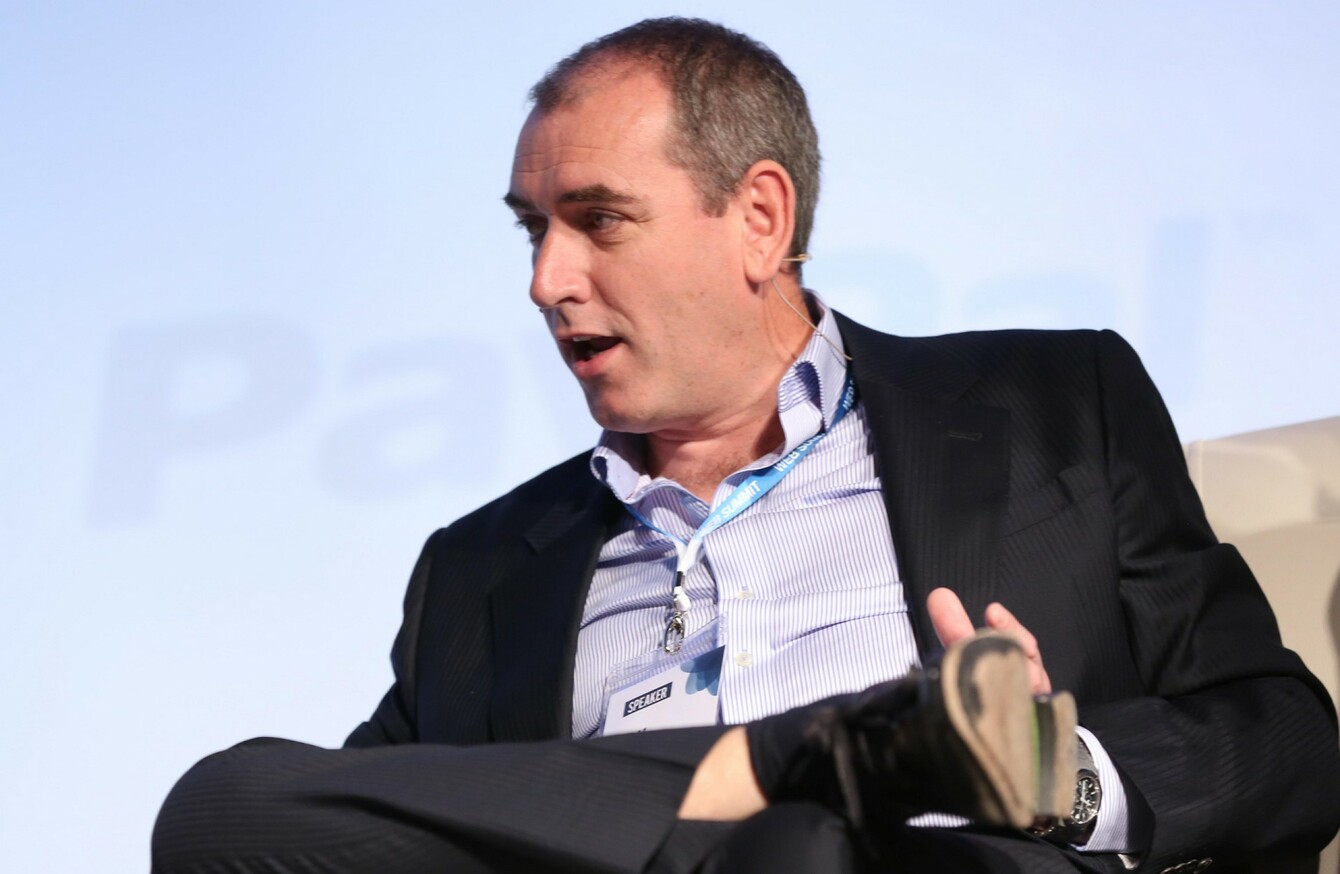 WHILE SOME ARGUE the modern trend of being 'always on' for work is a bad thing, serial entrepreneur and investor Ray Nolan sees things differently.
"This bullshit about 10-hour working day and 6am starts, I don't have a start at all or an end. It's not work, it's just what I do."
This year Nolan has taken on the chief executive role at his own e-commerce services startup XSellco, replacing Victor Corcoran. He describes it as his "first real job in six or seven years" during an interview with Fora.
The move back into the boss's chair comes after a long period of the 51-year-old wearing his investor's or advisor's hats instead.
Over the past several years, he has put his own money – not least the estimated €100 million he made from the sale of Hostelworld, the bookings site he co-founded - into a number of successful Irish startups, such as Mark Little's Storyful. He also backed Scottish tech star Skyscanner, which was sold for €1.7 billion last year.
Now his attention is back on XSellco, with the added diversions of Ultimate Rugby, a sports app he co-founded with Brian O'Driscoll, and his charity work with the Techies for Temple Street. All that leaves Nolan with very little time to spare.
"I'm not always on in a bad way. I'll be at a rugby match and have three to-do items on my phone – things I might have thought of that I need to get done.
"People perceive that as a bad thing, I just don't see it as work. There's no separation and I've never really had a job, so I don't know how that separation works because I've never had a 9-to-5 job, never had a CV, never worked for anyone else."
After years of doling out advice to entrepreneurs and startups, getting his hands dirty again in his own company is an opportunity Nolan says he couldn't resist.
He founded XSellco in 2012, with the company launching its first product two years later. Its services are used by companies to sell goods on their websites and on marketplaces like Amazon and eBay, and it also helps users manage customers.
"It would take a lot for me to go back to work, and going back to work for XSellco is probably an indication of where I think it's going, which is off the charts. I could probably fuck it up, but at the moment it doesn't look like that.
I have big visions for it. If it was going to be a little offering, I wouldn't have any interest in it. Once I saw there was a billion-dollar opportunity, I wanted a piece of it and wanted to drive it.
Jobs and the government
In the last two years, Nolan's company has been on a major expansion drive with staff numbers rising from six to more than 40.
Nolan even poached some top talent from two of Ireland's leading startups – Boxever and Storyful – to fill out executive roles in the company.
Even though his firm is filling up desks at its office very quickly, Nolan is frustrated at the lack of top-level tech talent – programmers and coders – in Ireland, something which has forced him to look further afield.
It's just difficult to get people – period – across the business. We've got people going to New York to open our office over there this week.
"In my office right now in Dublin, if half of them are Irish I'd be surprised. They're not, and that's not by choice, it's by who's applying."
Despite the apparent dearth of skilled staff, Nolan maintains that Ireland isn't a bad place to start a company – although he adds that the government does get "in the way" a lot.
"The idea that a company will succeed or fail because of the government and their (policy) is unlikely – they're not going to be the difference between succeeding and failing.
The best any government can do is simply not be in your way.
He added that the slow-moving machinery of state bureaucracy is something he tries to stay "as far away from as possible" after his previous experiences.
"We made phone calls to try simple stuff like, 'Do you know with your big database of companies of an Irish company that is doing this somewhere that we can piggyback off?' No comeback. It's just bonkers.
"I'm just asking for a favour, not money. I've never received money from them. It's not that I'd say no to free money, it's just that quite often the process of filling their forms out is such a distraction, we just get on with it."
Back to travel, some day
Despite seeing a billion-dollar opportunity with XSellco, Nolan says he also has a mind to get back into the travel-tech industry some day.
It still gives me cold sweats. The whole process of booking a trip is broken – I won't touch it. I literally won't make a booking. I just hate it. Some day I will fix that.
He says his former company Boo.com, a travel recommendation website that was bought by Hostelworld after Nolan's exit, was the beginning of what he thought travel planning should be like.
"Hostelworld closed it down after we sold the business to them. It was trying to be a social network around travel.
"It wasn't a big, broad Facebook network, but if you like five-star hotels and I know you and I trust you, I might take the suggestion of the hotel you stayed in then save myself the pain of looking at any other hotel except the one you said is good."
So the idea is there, but the issue of time surfaces again.
"It's a hankering I have. I just don't have time right now to draw up what I think is the beginning of a very, very tight social network for travel," Nolan says.
"The good thing now is that when we did Boo.com, Facebook wasn't really there, so now you wouldn't have to build the social network.
"You could just have people select some friends off their own Facebook and see what their decision is. All the data exists now, whereas on Boo.com we had to create it."
Techies for Temple Street will hold its annual Dublin city treasure hunt – Techies Treasure Trail – in aid of Temple Street Children's Hospital on 7 July.
Sign up to our newsletter to receive a regular digest of Fora's top articles delivered to your inbox.
Written by Killian Woods and posted on Fora.ie