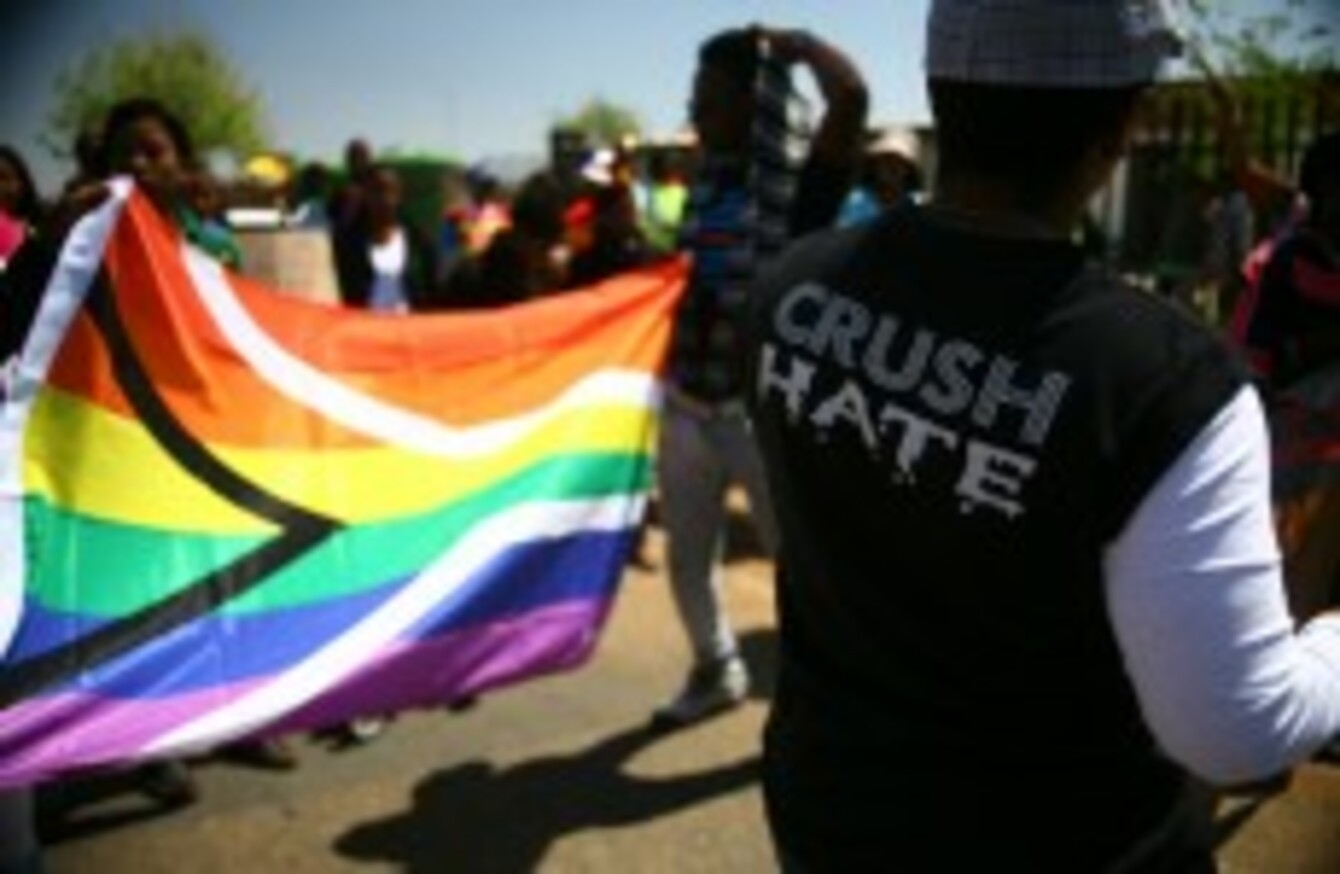 Image: Melanie Hamman Doucakis
Image: Melanie Hamman Doucakis
In her new documentary, African Pride, Laura Fletcher tells the painful and beautiful stories of LGBT South Africans. This compelling and thought-provoking film has just won Best Human Rights Documentary at the Galway Film Festival, and will be screened at the GAZE Film Festival today, Saturday 2 August 2014. 
Director and journalist Laura Fletcher spoke with Ali Watson about making the documentary…
LAURA FLETCHER, a journalist for RTE, took off time from the station to work in the communications office at the NGO Media Monitoring Africa in Johannesburg. Her primary goal: to see how peoples' voices were being represented in the media. "I wanted to take a story that was important and gave people who were working hard a voice," says Fletcher. "I have a natural draw to human rights stories and there were many reports of violence towards lesbian women in South Africa."
A history of struggle with a proud cultural identity
One might think that a country that has an ugly long history of suffering and segregation would be less susceptible to discrimination. This is very much not the case in South Africa. After apartheid, when South Africa constructed its new constitution, many liberal laws were introduced; this included the legalisation of same-sex marriage and protection clauses for LGBT citizens. Unfortunately the country's citizens were not as eager as the lawmakers about this new piece of legislation. "With a new democracy there also came unemployment, with unemployment there came poverty. Then cultural identity becomes very important," says Fletcher.
Cultural identity, especially in Africa, is and has always been incredibly important. This culture identity is similar, but more intense, to right wing conservative 'family values' in the United States. It is widely believed in Africa that marriage is between a man and a woman, and procreating, is a key part of being African.
Another belief is that being gay is 'un-Christian' or 'un-Islamic' – not to mention the common argument that there have always been heterosexuals couples and only heterosexual couples. The most common, and in someways most hurtful to LGBT Africans, is the idea that being gay is a western concept. Specifically, that the continent is somehow suffering from a colonial hangover left by previous western settlers. This concept, especially, is explored in African Pride as LGBT Africans stand up and say 'I am African and I am gay'.
Enforcing an unpopular law
The pending question: how does one enforce a law that the majority of the country breaks consistently? Andries Nel was the Deputy Minister of Justice and Constitutional Development between 2009 and 2013. This Department leads the National Task team looking at violence against lesbian women, gay men and transgender people. Problem solved… well not quite. "The task team have been criticised for being a 'mouth piece' and slow," says Fletcher.
This group of law enforcement officers have the difficult task of 'sanitising' the police and court system as well as challenging and changing the beliefs of the general public. The police force and court system may not be 'homophobic' but they can be incredibly sloppy and insensitive – not to mention any other stereotypes or other personal beliefs that, mainly men, will bring to the job about lesbian women. When a victim of a hate crime goes to the police station to file a report often times they will be revictimised.
Sharing a story
The majority of the women that Fletcher was interviewing were victims of hate crimes including stabbing and 'correctional' rape. "I had to work a lot to gain peoples' trust," she says, "I'm a white woman from the western hemisphere, who is also a journalist." The women Fletcher was interviewing had previous negative experiences with the media, who would often times revictimize them. "I've seen examples of journalism that were effective but didn't honour dignity. I had to ask myself, if this were me would I want someone asking me this?"
Interviewing the country
Throughout the film Fletcher travels around rural areas of  South Africa and (predominantly) interviews lesbian women. One of the first people that she met was Ntsupe Mohapi from a town called Kwathema, which is roughly an hour's drive outside of Johannesburg. "Ntsupe and her partner, Bontle Khalo founded the Ekurhuleni Pride Organising Committee (EPOC). The formation of this organisation was in response to the violent deaths of Eudy Simelane and Girlie Nkos both of whom were targeted because of their sexual orientation. Then, two years after they founded it, EPOC member Noxolo Nogwaza was murdered. Two men were convicted of Eudy's murder, but no-one has been charged in connection with Girlie or Noxolo's deaths."
#Open journalism No news is bad news Support The Journal

Your contributions will help us continue to deliver the stories that are important to you

Support us now
Laura also traveled to Soweto outside of Johannesburg, where "Nelson Mandela once lived, and Archbishop Desmond Tutu still has a house." They are home to the oldest running township Pride organisation, Empowerment of Women (FEW) which is a black lesbian organisation. "Nokuthula (Thully) Ncube volunteers with FEW," says Fletcher, "She describes herself as a 'proud black lesbian mother' and is a rape survivor. She believes that her activism is telling her story and participating in Pride in Soweto – which is both her home and where she was attacked."
Followed by Soweto, Laura filmed with Free Gender based in Khayelitsha which is a 50 minute drive from Cape Town. "Free Gender was founded by Funeka (Tafura) Soldaat following the killing of 19 year-old Zoliswa Nkonyana in 2006. The youth group within Free Gender was formed by Yonela (Small) Nyumbeka [pictured in the photo below clapping her hands], she was the one who told me that she decided to establish it because she felt that young people needed a voice, somewhere they weren't overwhelmed by 'bombastic words'!"
All of these women and many more are featured in African Pride. Their incredible stories of bravery, strength and perseverance are messages to us all.
African Pride hits the screen this Saturday at the GAZE Film Festival ,for a little taste take a look at the trailer below…

Source: Laura Fletcher/Vimeo
Laura Fletcher is a journalist, documentary film-maker, director and producer. Follow her on Twitter @fletchl.