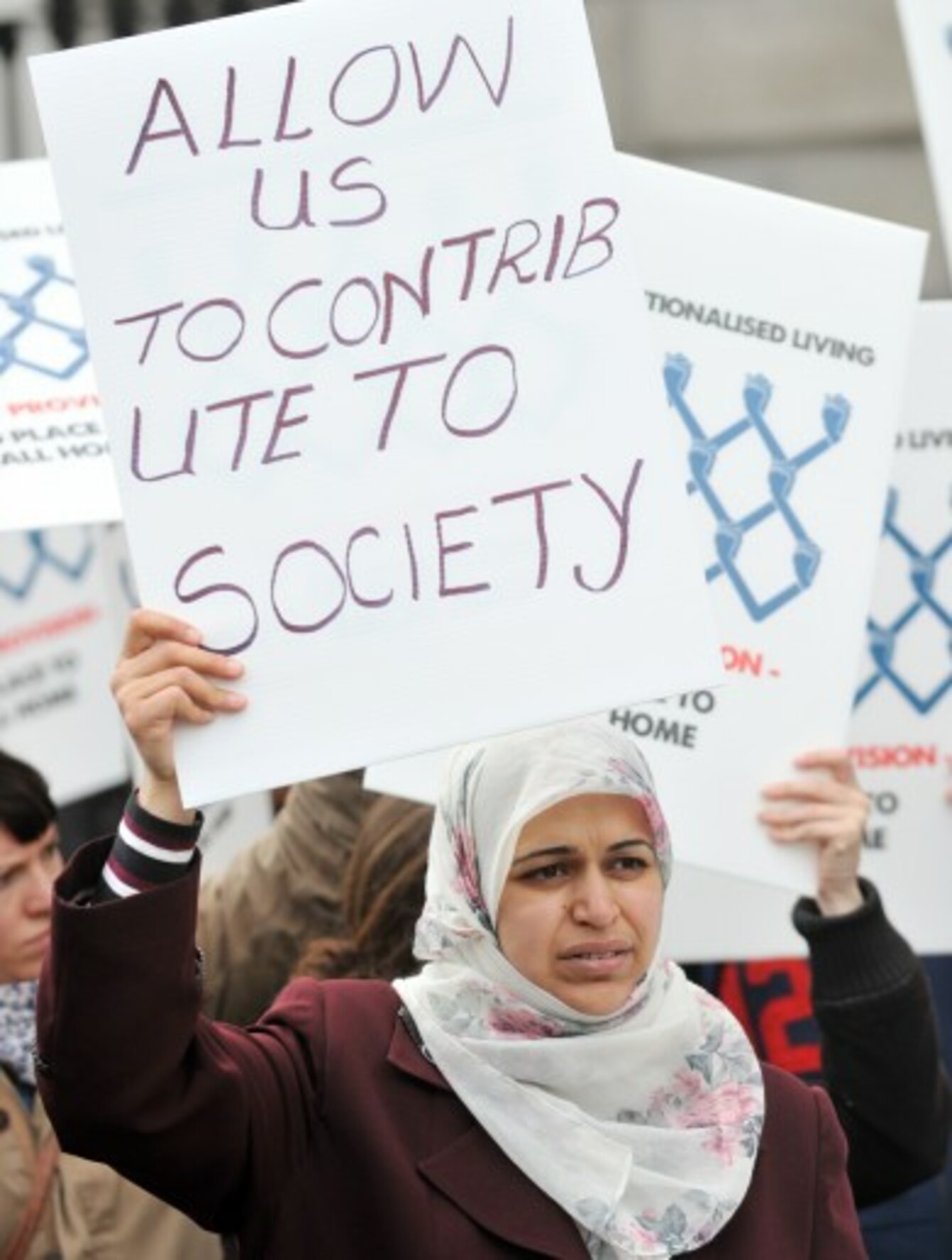 Image: Laura Hutton/Photocall Ireland
Image: Laura Hutton/Photocall Ireland
THE TREATMENT OF asylum seekers in Europe is shaped by a policy of deterrence. One consequence of this is that asylum-seekers are hidden away from society, excluded from work and education, and dispersed from urban locations and concentrated in holding centres.
Despite this invisibility, the living conditions endured by residents of direct provision centres in Ireland have over the last year received sustained, negative scrutiny, resulting in the announcement this week of a working group charged with examining ways of improving the system.
There are many reasons for this increase in national attention. Media investigations and criticism from international and domestic institutions have ensured a consistent focus on often appalling living conditions. The uncomfortable parallels between the ongoing scandals of the Magdalene Laundries and the mother-and-baby homes, and the Direct Provision centres, have been frequently registered.
Protests against appalling living conditions
Political support has also increased, with Cork County Council passing a motion this week opposing direct provision. However the most important factor has been the remarkable chain of protests organised by asylum-seekers themselves.
The current wave of protests began when four residents went on hunger strike at the men-only Mount Trenchard centre in Foynes. In early September the residents of Lisseywollen centre in Athlone protested their appalling conditions, refusing food from the centre's kitchen, locking out staff and organising a march from the centre to Athlone town.
Since then, asylum seekers in the Montague centre in Portlaoise, Kinsale Road and Ashbourne House in Cork, Ballyhaunis and this week Birchwood and Atlantic House in Waterford have protested not just against the inhumane conditions in which they are forced to live, but against the inhumanity of the Direct Provision system itself.
These eight hostels represent 20% of the 34 hostels in the country.  These protests are not isolated incidents and the demands emerging are unambiguous: the closure of direct provision, the right to work and to third level education, residency for all those in the system, and an end to deportation.
Demanding access to what makes us fully human should not appear strange
For some, the very idea of asylum seekers – as 'guests of the nation' – making political demands may seem ludicrous. However in a country where 100,000 people recently marched to protest about access to water, the idea of people demanding access to what makes us fully human should not appear strange. Moreover, in a system where fear and vulnerability renders collective action difficult, the recent protests represent a refusal to be ruled by fear or to accept the very conditions that have been subject to such relentless public criticism.
While the announcement of the working group has been influenced by the asylum seekers' direct action, its terms of reference exclude their stated needs right from the start. The Department of Justice and Equality is seeking ideas that would display 'greater respect for the dignity of persons in the system' and improve quality of life by 'enhancing the support and services currently available'. However, any such proposals will have to ensure that the overall cost of the system is maintained or reduced, and that "existing border controls and immigration procedures are not compromised".
This severely restricted remit ensures that the forced institutionalisation of asylum seekers in direct provision will continue. Given this, it is hard to see how limited 'reforms' can do much to tackle the damaging lack of autonomy and privacy that have been shown to be so damaging to physical and mental health.
While Junior Justice Minister O'Riordáin clarified this week that he can't and won't 'defend the system', the Department of Justice sees direct provision as part of a system of national defence. A less punitive system, officials noted, may increase the 'pull factor' for those who, in this form of official paranoid nationalism, are always regarded as looking to 'abuse the asylum system'.
#Open journalism No news is bad news Support The Journal

Your contributions will help us continue to deliver the stories that are important to you

Support us now
The real purpose of the direct provision system 
It is through these state pronouncements that the real purpose of the direct provision system can be understood. When asylum seekers describe centres as 'open prisons', they capture the political function that these institutions serve. Direct provision is not the gift of a charitable state, as Minister for Justice Fitzgerald suggests in claiming that it was adopted to prevent homelessness.
Direct provision in fact provides a holding pen where people are kept for efficient deportation. And addressing deportation – a violent, inefficient and hugely costly apparatus – is ruled out by the terms of reference, and rarely mentioned even by those NGOs that seek to end the direct provision system. Yet for protesters, who live with its constant threat in institutions designed to facilitate their removal, an end to deportation is the most important of their demands.
Given the indifference that this remit demonstrates to the testimony of those whose lives it administers, it is unsurprising that the working group includes no current asylum seekers. Just one person among the 11 appointed has experienced life in direct provision.
The Department of Justice may gesture towards treating asylum seekers with 'respect and dignity', but it is hard to imagine a greater indignity than constantly being spoken about and for. For this reason, the campaigning group Anti Deportation Ireland today called on the NGOs included in the working group to allow asylum seekers from the centres of protest to take their place.
Regardless, the protests will continue, as asylum seekers themselves will not return to the dehumanising and systematic silencing they have endured over the last fourteen years. As Lucky Kambula, a resident in Kinsale Road and member of KRAC Asylum Today, stated at the rally that marked their successful negotiations with the centre's' owners: "we achieved part of what we are fighting for. Now we are here today to say: round one is finished, we are going for round two."
Anne Mulhall is a lecturer in the School of English, Drama and Film in UCD. Gavan Titley is lecturer in the Department of Media Studies, Maynooth University. They have both been involved in Anti Deportation Ireland's activities.