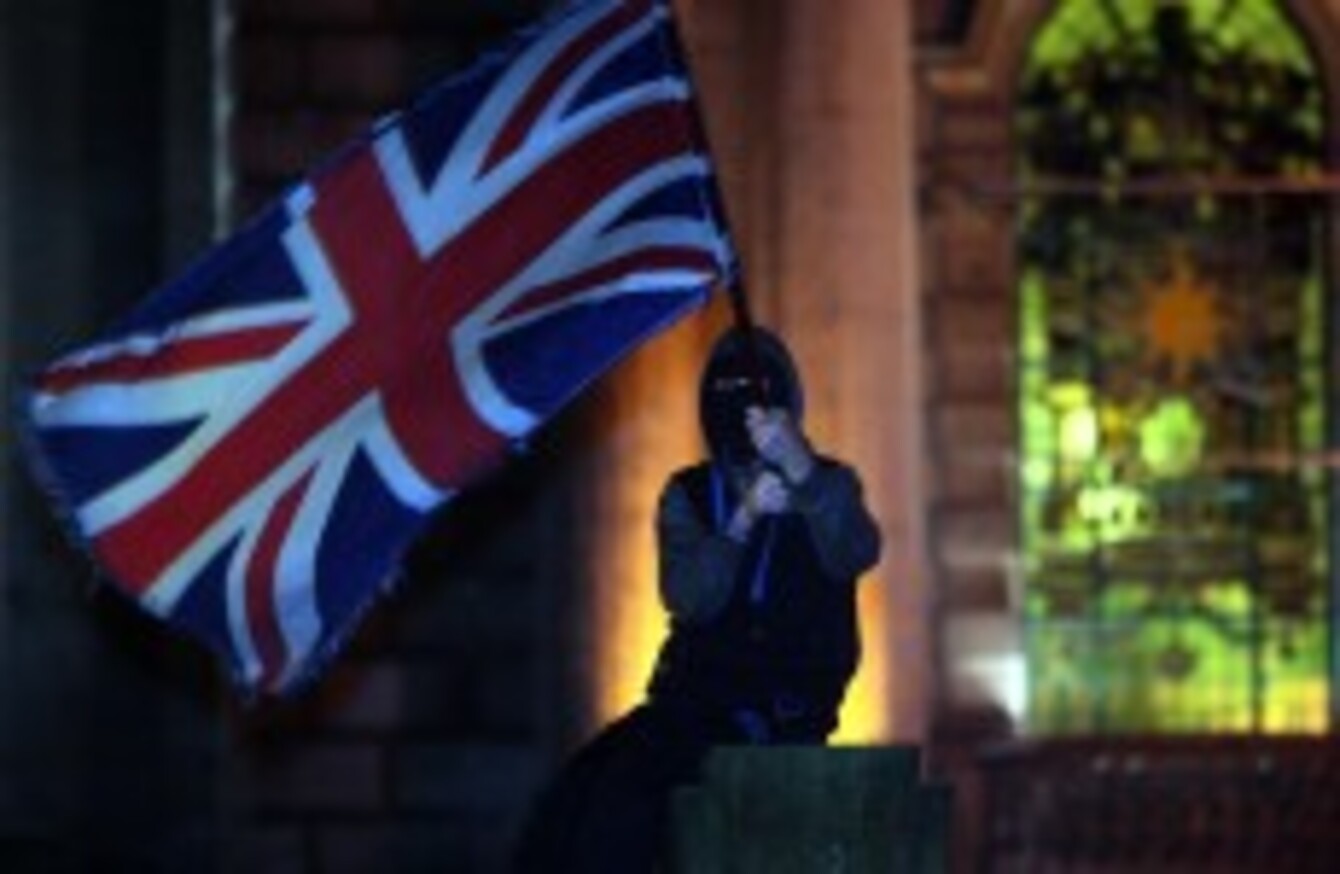 Image: Paul Faith/PA Wire/Press Association Images
Image: Paul Faith/PA Wire/Press Association Images
FOR MOST DUBLINERS, the idea of Willie Frazer and a busload of not particularly articulate Unionists marching on Leinster House seemed like a decidedly daft idea.They can be forgiven their amusement. But Enda Kenny and Eamon Gilmore cannot as easily afford to dismiss the concerns of Loyalists over the flag issue.
The Dublin government has surprisingly strong goodwill among the loyalist working class in Belfast. It has a responsibility to this expectant community – and to its legal and moral obligations under the Good Friday and St Andrews Agreements – to take an active role in taking the heat out of this situation.
Fraser's bombastic demands are unlikely to be helpful, but this should not deflect from the hurt that they represent. It is in our interest, and theirs, that our Government respond to the Loyalist cri de coeur. This is a time for quiet diplomacy, not grandstanding or lecturing. The solution is straightforward but the choreography requires skill that our Department of Foreign Affairs has in abundance.
Iconography
Belfast City Hall and the Union Jack are central to the ritual and iconography of Loyalism. City Hall is as sacred to Loyalists as the GPO in Dublin is to Republicans. It is perhaps Belfast's finest and best known building. It is here that Carson signed the Solemn Oath and Covenant that is a founding document of Northern Ireland. It is at City Hall that Belfast holds its Remembrance Day service to recall its sacrifice for that flag – its war dead, and particularly those of the Somme.  Where they can accept the removal of the Crown and British symbolism from many public buildings and institutions (eg the RUC), they have an understandable sensitivity about this flag on this building.
Loyalists want that sensitivity recognised. Willie Fraser may not be the most appropriate channel, or indeed the one that Belfast youth would identify with, but Loyalism in general is looking to Dublin with some hope. Failing to respond to this loyalist plea would be to squander a remarkable store of political goodwill and leverage that was quietly and meticulously built up with immense care and skill. It would also do a disservice to the little publicised, but immensely significant, role that Dublin played in bringing the loyalist paramilitaries into the Peace Process in Northern Ireland.
Dick Spring reached out to Loyalists in the dark days of the conflict in Northern Ireland. He and others in the Department of Foreign Affairs, and later the Taoiseach's Office, took huge political – and for the officials on the ground, real personal – risks in persuading these men of extreme violence to leave their weapons aside and try political dialogue.
Irish involvement
It is not an exaggeration to say that loyalist paramilitaries would not have so fully committed to the Peace Process, declared a ceasefire so early, or perhaps more importantly, remained so solidly in support of the Good Friday Agreement – despite setbacks, rebuffs and deliberate attempts to provoke them – were it not for the professionalism, dedication and talented interpersonal skills of a raft of Irish officials and public servants.
Loyalists were genuinely impressed and grateful for support from Dublin in getting a voice in the talks. Where London, and the dominant Unionist parties, were cold, Dublin was quietly respectful and genuinely helpful without being patronising. The goodwill towards the Dublin government in the heartlands of Loyalism, and among the most ardent of paramilitaries, is remarkable. Serendipity perhaps, but being dealt with by the Department of Foreign Affairs, as opposed to Home Affairs, is seen as a measure of Dublin's sensitivity.
If we learned nothing from the recent troubles it is that alienating a substantial segment of the population, giving their youth no outlet for their political frustration, and responding to protests with excessive force will provoke a violent backlash sooner rather than later. Small issues grow and escalate beyond containment.  More than 30 years of violence, 3,600 dead, 50,000 injured and at least two economies brought to their knees is the consequence of neglecting small issues and incremental grievances.
The Peace Process
The brilliance of the Good Friday Agreement and the Peace Process was that it offered a practical toolbox for tackling the problems at source and the machinery to solve the inevitable tensions and conflict that are bound to arise in a segregated and divided society. Realistically few on the ground, and probably none of the paramilitary combatants expected reconciliation; the plan was to fight the next round without violence.
Generations have repeated the pattern of using violence as a political response. Breaking embedded patterns of behaviour requires endless effort and patience and positive reinforcement. History tells us that London does not focus on Ireland unless it is obliged to. Stormont is often too preoccupied with political infighting and cannot be relied upon to respond to loyalist needs.
This is a dangerous time. Dublin cannot stand idly by; leaving it to London or Stormont to sort out loyalist issues is shirking our responsibility as a contracting partner in Good Friday. Dublin has the credibility with Loyalism to act as an honest broker. This identification with 'the other' was the critical difference that distinguishes the Good Friday Agreement and makes it so much a template for working the peace, as opposed to merely stopping the guns.
Sensitive cultural values
'Parity of esteem' means so much more than equal rights or equivalent goods. Not only does it recognise the right of the contracting parties to have different cultural values but it places an onus on everyone to be sensitive to these priorities.
Right now the Loyalist community is hurting and wants a way to show politics works for the loyalist working class. Dublin needs to recognise their needs and remind everyone that settling the Northern Ireland conflict is about more than ameliorating the grievances of nationalists. More importantly Dublin needs to broker a deal on the flags issue. Looking out for the needs of fellow Irish people, be they loyalist or nationalist, is after all what a republic should be doing.
Dr Michael J  Anderson is a political science lecturer and a Fellow at the Institute for British Irish Studies in UCD. His PhD thesis was entitled Identity Change and Power Shift: the Case of Loyalism in Northern Ireland. To read more from Michael Anderson click here.